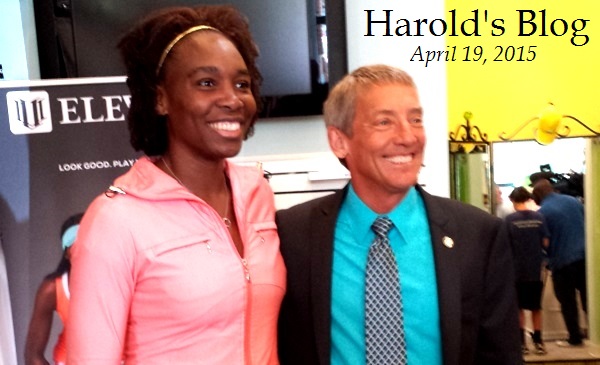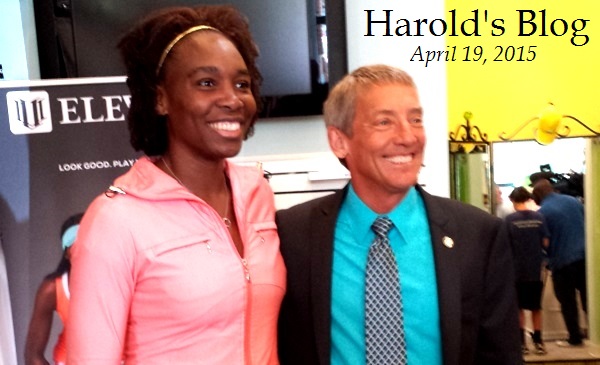 Cary, NC — After a week in Augusta, it was time to get back to work as mayor.
Monday
I was fortunate enough to start the week by having a photo opportunity with tennis legend and star Venus Williams. She and her sister have won several grand slam tennis tournaments and dozens of other tournaments. They will both be in the tennis hall of fame.
A Conversation with Tennis Legend Venus Williams
In my brief conversation with her, I welcomed her to Cary and talked about the excitement she generated. She mentioned that she had been to Cary before. I also talked to her about her last match, which was a semi-final loss, and her response was that there will be other opportunities. I thanked her for coming to Cary and wished her the best.
Town Meeting
Later Monday, I met with the town manager and deputy town manager. We talked about a personnel issue and other minor issues. Our meeting lasted about 20 minutes.
Tuesday
Tuesday, I met with a representative from Regency Office Park.
He had three main concerns: the paving of Regency Parkway, the crape myrtles along Regency Parkway, and the fence along Regency Parkway. Regency Parkway is a NCDOT maintained road and it is their responsibility to pave it.
Regency Parkway Issues
The town did contact NCDOT about the condition of the road but is still waiting on a response from them. The Crape Myrtles and the median along Regency Parkway are the responsibility of the Regency Park Homeowners Association. These trees became diseased and were a safety hazard, so the town asked the association to remove them.
They refused, and the town had them removed. The stumps remain, which is the responsibility of the association. The fence, which is disliked by the representative, is an aesthetic issue. With so many other significant needs and limited funding, we are not able to recommend funding in the budget to replace the fence at this time.
My meeting with the representative concluded after just a few short minutes. I made no promises or guarantees since most of these issues fall outside of the town's responsibility.
Thursday
Thursday, I talked with a developer interested in the Land Development Ordinance change which would allow redevelopment of the trailer park on Walnut Street.
In his conversation with me, he pointed out how the latest proposal would protect residents with larger buffers than the previous proposal from staff.
Friday
Friday, I participated in the Metro Mayors legislative update.
Metro Mayors Legislative Update
We reviewed about a dozen legislative bills that have been introduced. One bill would make local elections occur in even years and would make them partisan. It seems the legislators can't get enough of damaging local governments. And why they think making elections partisan would benefit Cary is beyond me. Our meeting lasted about 45 minutes.
Meeting with Commissioner Holmes
Later Friday, I talked with County Commissioner Holmes about the upcoming meeting between the Cary Council and the County Commissioners. We talked about items of interest to Cary (mainly schools) and the prioritizations of the commissioners.
Commissioner Holmes pointed out that it was early in the budget cycle, so the commissioners won't be able to provide a lot of information. She also said that there will be significant choices; some of which may involve significant tax increases. Our conversation lasted about 15 minutes.
Weekend Events
Saturday I participated in the Caring Community Foundation Bed Race for cancer.
Bed Race for Cancer
Since its inception, this organization has raised over a million dollars to fight cancer. There were fourteen beds in the race in this second year. All were fantastic, and the race heats were supported by dozens of people along Academy Street. In addition, members of the Cary High School Band provided drum rolls and trumpet charges.
It was a great time, and money was raised for a good cause. Please find it in your hearts to support Caring Community Foundation in its mission. Every little bit helps.
Children's Day Festival
Later Saturday, I gave welcoming remarks at the Children's Day festival. This event was put on by the American Turkish Association of North Carolina and Cary's Sister Cities organization. There were performances, crafts and entertainment of all kinds involving children.
It was a great time, and the children were absolutely adorable.
Heritage India Association of NC Festival
Sunday I gave remarks at the Heritage India Association of North Carolina's festival. There was a lot of great performances that I was blessed to observe. Here is an excerpt from my comments:
We know it takes a village to raise a child, and today's event is a great example of this. As citizens, we appreciate Heritage India Association's community outreach efforts. This area is blessed to have one of the highest qualities of life, and much of that is due to the volunteer support of our community organizations.

As these kids explore Indian Heritage, know that what you are doing for them today is shaping all of our futures. Dancing, fashion shows, and art competitions are on the agenda, and while they'll be fun and exciting, these activities will also help in building leadership skills, boosting self-confidence, and encouraging socialization. All skills that our leaders of tomorrow need, and all skills that these children will build upon today…
I was at this event for a little over an hour.
Emails from Staff
Emails from staff this week included an explanation of a maple tree removal at the intersection of Dry Avenue and South Academy. The tree was cabled a few years ago to defray some stress but it finally failed and was in critical condition.
Town staff indicated that this tree had already been identified for removal during the downtown park construction. However, staff felt the tree had reached a state where it needed to come down prior to the construction. Therefore, Town staff had an independent certified arborist confirm the degraded condition of the tree and it was removed.
Emails from Citizens
Emails from citizens this week include:
Comments about the Morrisville–Carpenter Upchurch intersection
A complaint about cigarette smoke coming through apartment walls
A complaint about a neighbor using something to make dogs bark
Comments about the new downtown library
Comments about a business site plan
Comments about the Cary Innovation Center
Get in Touch
Next week will be a busy week for me and will include a LONG council meeting, a meeting of the Wake County Mayors Association, a reception for elected officials, a budget preview meeting, and Cary's first Arts and Music festival.
Well, that is all for this week. My next post will be on Sunday, April 26th. Although I have Facebook and Twitter accounts those are not the best means of communications with me. Please send all Town of Cary questions or comments to Harold.Weinbrecht@townofcary.org and email personal comments to augustanat@mindspring.com.
———————————————————————————————————————————-
From the blog of Cary Mayor Harold Weinbrecht. Photo with Venus Williams courtesy of Mayor Weinbrecht.
———————————————————————————————————————————-
Harold's Blog on CaryCitizen is sponsored in part by TruOptions.
https://carycitizenarchive.com/wp-content/uploads/2015/04/HaroldandVenusWilliams2.jpg
365
600
Harold Weinbrecht
https://carycitizenarchive.com/wp-content/uploads/2020/03/cc-archive-logo-450-v3.png
Harold Weinbrecht
2015-04-20 16:07:48
2019-12-08 10:15:49
Harold's Blog: Venus Williams & Tree Problems