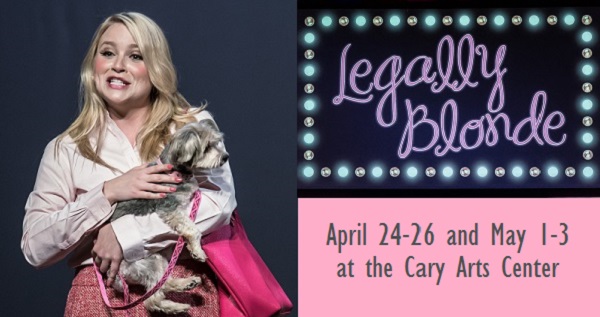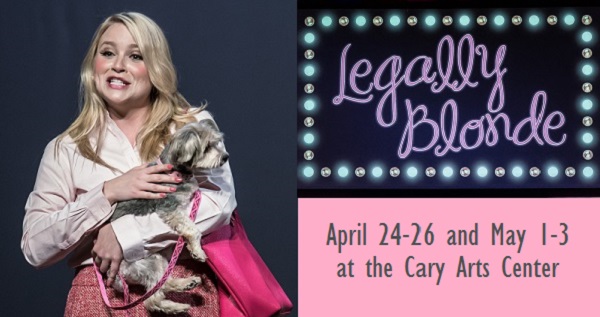 Cary, NC — The Cary Players will perform their rendition of Legally Blonde, The Musical starting this weekend, April 24-26, 2015 through next weekend, May 1-3, 2015 at the Cary Arts Center. 
Your Sneak Preview
Without a doubt, the movie Legally Blonde is a well-known chick flick, but you don't have to be a teenage girl to enjoy the story. This weekend and next, the Cary Players will provide a fantastic musical performance of this hit book and movie. Whether you're a long-time lover of the story or an adversary of girly tales, you won't be disappointed.
Here's your sneak preview of this feel-good musical that's entertaining for everyone.
Colorful, Hilarious & Heartwarming
Legally Blonde captivated me right away. Why? The color.
At the start of the musical, Elle Woods (A.C. Donohue) and the other girls of the Delta Nu sorority were decked out in a rainbow of pastel clothing with personalities to match. As the upbeat group sang the musical's signature song, "Omigod You Guys," they oohed and aahed over the possibility that Elle's boyfriend, Warner (Doug Price), would propose to her on a date that night.
If this sounds cheesy, it is, but that's why the musical is a "feel-good" hit. The cast is absolutely hilarious. Even though I was sitting alone during the performance, I laughed out loud many times. Over-dramatic expressions, silly lyrics and an old-fashioned, girly playfulness made this scene, where the girls help Elle prepare for her date, one of my favorites.
Backdrops & Costumes Set the Mood
I won't give the Legally Blonde story away, but the basic premise of the tale is that Elle Woods, a sorority girl, applies to Harvard Law School to win back her ex-boyfriend, Warner. Always-decked-out-in-pink Elle is silly, yes, but she is also smart and kind, and she quickly finds herself accepted to Harvard and ready to make a difference.
The photos below are from one of the first scenes at Harvard. I found the stark color contrast between the background and the costume choices in these scenes, as opposed to those that took place at the sorority house, to be quite clever in highlighting Elle's bubbly, stand-out personality. Elements like these make the musical fun to watch.
The Cast…& Real Dogs!
Legally Blonde is a great story in itself–the humor, the romance and the mystery make it an entertaining show to watch. The Cary Players cast only made this better.
Talent radiates from each and every actor, and I'm not just saying that to include everyone.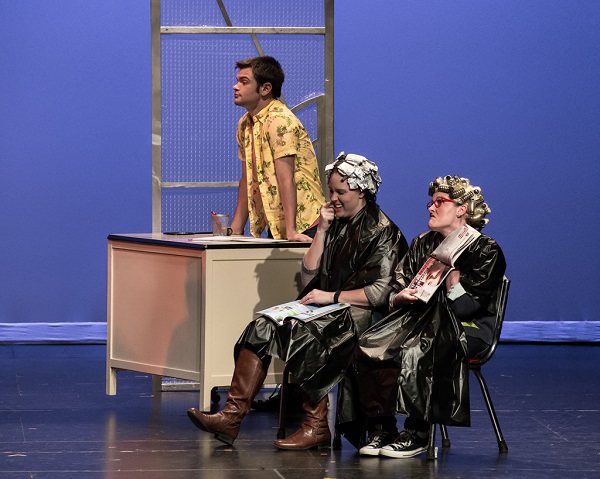 The above scene takes place in the salon where Elle meets Paulette (Natalie Turgeon), her new-found friend. Any girly girl knows that a salon isn't simply a place to get your nails and hair done; rather, it's a comforting environment to share your deepest thoughts and worries with others.
It is in the salon that Elle spends much time confiding in Paulette about her struggle to fit in at Harvard. And, despite the silly, girly lyrics and jokes that fill the musical, it is scenes like this one that show off the actors' talent. Many of the actors switched from silly to serious in an instant.
Legally Blonde, while a comedy, is also a heartwarming story. In the course of three hours, Elle gets her heart broken, she watches Warner date someone else, she stands up for Paulette, she experiences many discouraging happenings and she falls in love.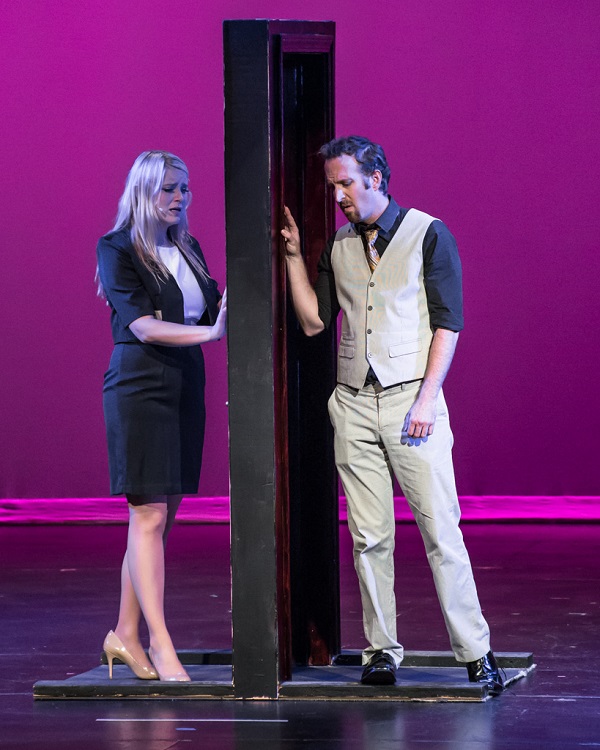 Not all the scenes in Legally Blonde are silly. In the photo above, Elle and Emmett (Daryl Ray Carliles) share an intense, emotional goodbye.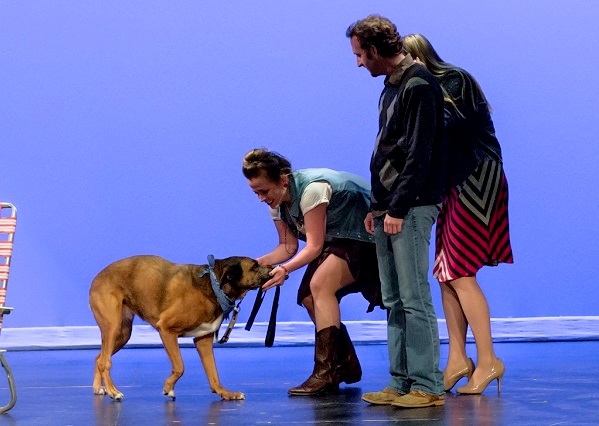 The talent doesn't just stop at the human cast–two real dogs act in the musical as well!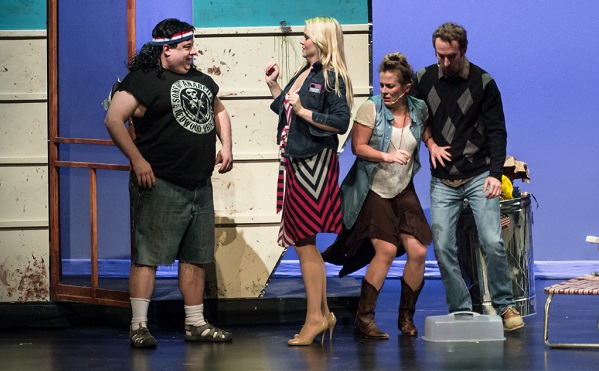 Elle and Emmett stand up for Paulette in the hilarious scene above.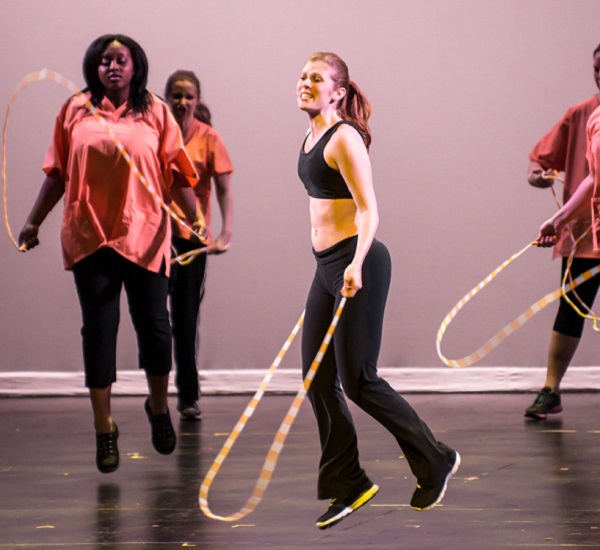 Legally Blonde is action-packed with impressive choreographed scenes, too.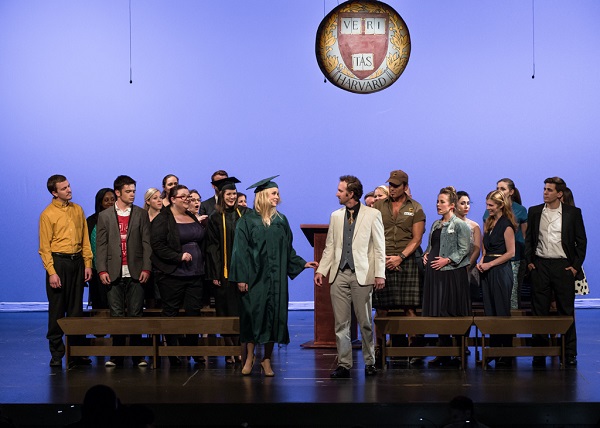 Want to see more photos? Check out Brooke Meyer's complete gallery.
Six Performances
Purchase tickets for Legally Blonde ($20 and less) online. Show date and times include:
Friday, April 24, 2015 at 7:30 pm
Saturday, April 25, 2015 at 7:30 pm
Sunday, April 26, 2015 at 3 pm
Friday, May 1, 2015 at 7:30 pm
Saturday, May 2, 2015 at 7:30 pm
Sunday, May 3, 2015 at 3:00 pm
All shows are held at the Cary Arts Center, 101 Dry Avenue in Downtown Cary.
————————————————————————————————————————————
Story by Jessica Patrick. Photos by Brooke Meyer.
https://carycitizenarchive.com/wp-content/uploads/2015/04/Legally-Blonde.jpg
317
600
Jessica Patrick
https://carycitizenarchive.com/wp-content/uploads/2020/03/cc-archive-logo-450-v3.png
Jessica Patrick
2015-04-24 09:43:56
2015-04-24 09:43:56
Theater: Legally Blonde Premieres Tonight