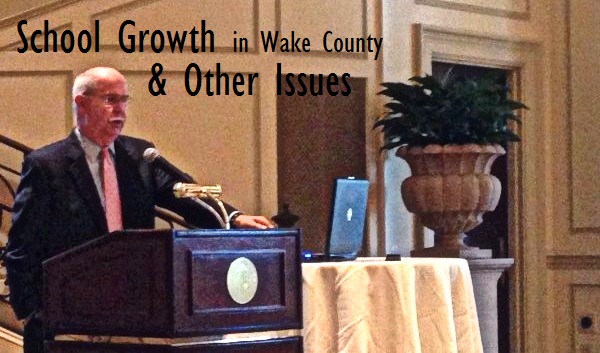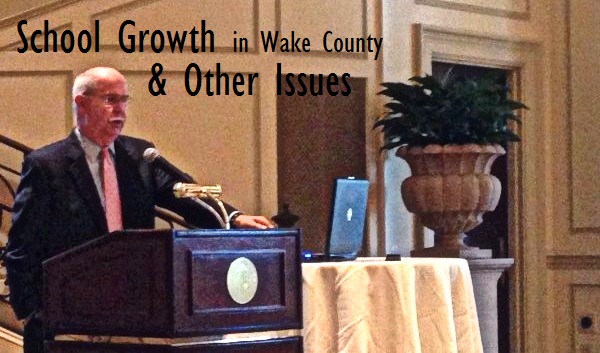 Cary, NC — Wake County Public Schools Superintendent Dr. Jim Merrill addressed Cary Chamber members at their recent Eye Opener Breakfast at Prestonwood Country Club. The hot topics? Growth and graduation rates.
Vision 2020
Merrill explained that the Board of Education recently conducted a survey that received over 11,000 responses from Wake County residents asking what their priorities are for the 16th largest school system in the nation. The results demonstrated that respondents want priorities to be workforce recruitment and pay rather than a sole focus on EOG and SAT results.
From the survey, a team of 35 built a plan called Vision 2020. The mission statement of the plan is that "all Wake County students will be prepared to reach their full potential and lead productive lives in a complex and changing world."
Goal to Graduate 95%
That said, the county has set an ambitious goal of having 95% of its students graduate from high school annually. Currently, only one high school in the system achieves that: Panther Creek, and Green Hope is at 94%. Both schools are located in Western Cary.
The graduation rate for the county is only 82%, and that number has not budged for years. Merrill stated that identifying students at risk for failing starts as early as eighth grade. He noted that grades in middle school are key indicators of how a student will transition to high school.
Help Failing Students
Upon reaching high school, if a student is struggling, or if they fail one or two courses in their freshman year, that is often a precursor to dropping out. Wake County must work, he added, to put systems in place to help those struggling students.
Deal With Growth
It's no secret that one of the biggest issues for the Wake County School district has been population growth. Currently, there are 171 schools, and 156,000 students fill them. Each year, the district adds an average of 3,000 new students. That is the equivalent of 1-1/2 high schools per year or three middle or elementary schools.
With the recent recession, the county fell further behind with school construction after completing the 2006 bond referendum budget. The latest 2013 bond referendum will put a dent toward catching up but won't solve all our capacity issues.
But, Merrill added, with reassignments and mobile units, they try to fill the gaps. Some schools are over-enrolled while others are un-enrolled. Sometimes, that means moving students from overpopulated areas to schools with empty seats.
Merrill displayed a map highlighting where the pockets of growth exist with the red areas showing most critical needs. As expected, those areas are located in Western Cary and to the south in Holly Springs and Fuquay-Varina with additional growth pockets in North Raleigh.
From these growth maps, WCPSS plots out needs and then prioritizes what will be built the the existing budget. Then, the land is purchased.
Map of Planned Projects
Here's a map of the current planned projects for the 2013 bond, which includes renovation projects. Only three new high schools are currently planned along with one major overhaul of Garner High. That led to my question:
With the recent legislative restrictions which allow Bond referendums only in even years, what does the school board plan to do for the future?
Merrill answered that there is work now for a referendum in 2016. He added that it is not prudent to continue to lurch from bond to bond every few years. He stated that the Board and county commissioners need to work on a continued funding model that would set aside money every year to handle construction costs to keep pace with growth. Dr Merrill stated they are working on a plan to have $300 million annually set aside for school construction and renovation.
We look forward to hearing more details about this soon.
————————————————————————————————————————————-
Story by Lindsey Chester. Photos from event presentation.
https://carycitizenarchive.com/wp-content/uploads/2015/04/Schools.jpg
353
600
Lindsey Chester
https://carycitizenarchive.com/wp-content/uploads/2020/03/cc-archive-logo-450-v3.png
Lindsey Chester
2015-04-27 09:23:37
2015-12-28 14:18:58
School Growth & Graduation Rates in Wake Co.