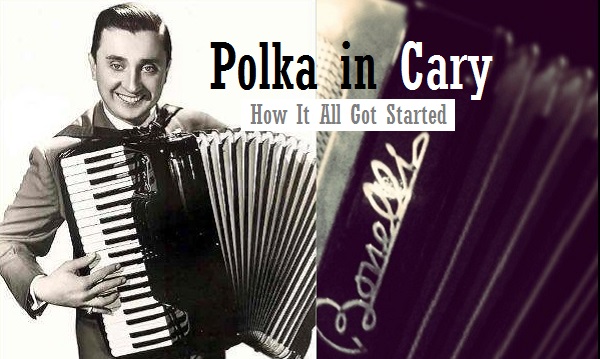 Editor's Note: Friday, May 8, 2015 marks the 20th anniversary of Yankovic Day in Cary. Dallas Foster of Cary's Polka Plus Band kindly shared with CaryCitizen the story of Mr. Frankie Yankovic, "America's Polka King," and how he came to be honored in Cary.
Cary, NC — On Friday, May 8, 2015, from 7-9 pm, Cary's Polka Plus Band will honor Frankie Yankovic, "America's Polka King," with a free concert at the Page-Walker Arts & History Center.
The Polka Plus Band
Polka Plus band members Dallas Foster, Dennis Bongiorni, Bob Gottlieb and Ed Galloway are musicians from different walks of life who all share a love of polka music.
In 1991, after moving to Cary from Pittsburgh, Foster took it upon himself to find other polka transplants who lived in the area to form the band. North Carolina, you see, while known for beach, bluegrass and country music, is not normally associated with polka.
The Polka Plus foursome, however, all grew up hearing and playing polka music, which is what drew the group together. Polka Plus has performed in multiple churches, festivals, legions, retirement homes, hospitals and bars around Cary, Raleigh, Durham and Fuquay.
Foster shared with us the story of how "Frankie Yankovic Day" became a tradition in Cary.
The Story of Frankie Yankovic
In May of 1996, "Frankie Yankovic Day" began in Cary. In that year, and in each year since then, Foster and the other members of the Polka Plus Band have celebrated the music of Mr. Yankovic, "America's Polka King," in Cary with a free concert. The Cary Mayor, at that time, was Mayor Koka Booth, and, as a big polka fan, he supported the event and helped keep it going.
In May of 1997, Mr. Yankovic and his wife, Ida, traveled to Cary for the second annual Yankovic Day. While in Cary, Mr. Yankovic was a radio guest on the WPTF Friday morning show. His appearance at the bandstand on Friday evening took him by surprise–1,000 fans were ready to meet and greet him. Some had traveled from across the state and from as far as Hickory, N.C. They brought records in faded jackets, seeking to have them autographed.
Mr. Yankovic accommodated as many as possible before and after the concert. He had been performing in the U.S. and abroad for 60 years, but this 1997 Cary performance was the first time that he had ever performed in North Carolina.
After Mr. Yankovic left Cary and returned home to Florida, he wrote this letter to Foster:
I certainly want to thank all the people who came out to support the band on Friday and those attending the dance on Saturday evening. These folks are hungry for polka music and it will be up to you to see that they continue to get this happy music. I can't tell you when I have had a more enjoyable weekend. The folks of Cary and surrounding areas sure know how to make a stranger welcome.
It was these kind words that have driven Dallas Foster and his band to play the "happy sound of polka" that they will continue to play for years to come. He added, "As long as there are people who enjoy polka music around we will be there to play for them."
Weekend Festivities
Frankie Yankovic Day kicks-off early this year. On Thursday, May 7, 2015 at 7 pm, The Cary Theater will show a documentary honoring former Polka Plus member Dr. Clark Wang. Dr. Wang played with the band from 1992-2003 and passed away in 2011 at the age of 49.
Then, on Friday, May 8, 2015, the Page-Walker Gardens in Downtown Cary will be the spot to see Polka Plus perform live. Free dance lessons will be offered at 7 pm, and the free concert starts at 7:30. The King's Authentic Cheesesteaks food truck will be on-site, and downtown businesses will stay open later for the celebrations.
Event Details
Polka Plus Concert: Cary's 20th Anniversary Frankie Yankovic Day 
Friday May, 8, 2015; 7-9 pm
at the Page-Walker Arts & History Center gardens (free)
————————————————————————————————————————————-
Story and Polka Plus photo contributed by Dallas Foster of the Polka Plus Band.
Lead photo by bethany.Hatch.
https://carycitizenarchive.com/wp-content/uploads/2015/05/accoridan.jpg
359
600
Community Contributor
https://carycitizenarchive.com/wp-content/uploads/2020/03/cc-archive-logo-450-v3.png
Community Contributor
2015-05-05 14:13:45
2015-05-04 16:31:20
Polka Music in Cary: How It Started