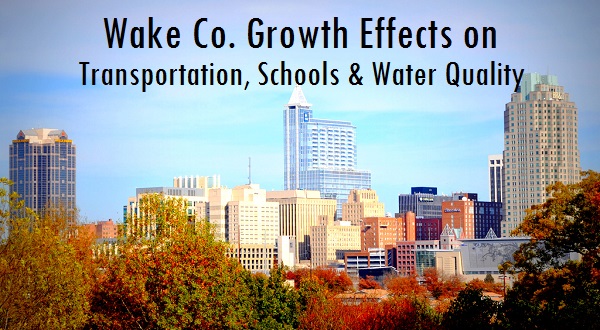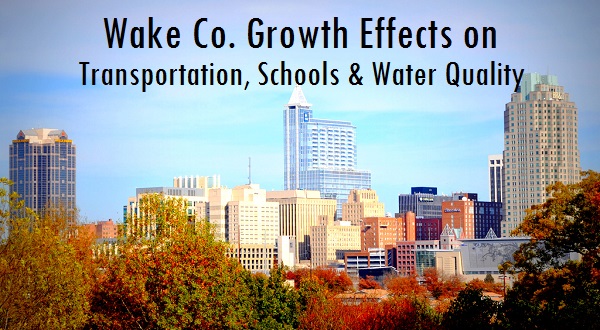 Cary, NC — Wake County topped one million residents last September. By 2045, that number is expected to double.
WakeUP Wake County
WakeUp Wake County held a public information session about our region's growth on Monday, May 4, 2015 at Park West Village's BlackFinn restaurant. The Wake County non-profit advocates for smart growth and holds public meetings to engage the public in these issues.
Growth Effects
Our growth, while making for a booming economy, effects our water quality, schools and transportation. WakeUP wants to educate the public about these problems and get the conversation started about how they might be solved.
On Monday, Jennifer Dean of WakeUP Wake County gave an overview of growth and demographics then introduced two Wake officials who would also answer questions: Morrisville Mayor Mark Stohlman and Wake County Commissioner Jessica Holmes, who represents Cary and Morrisville.
Focus on Transit
During the discussion, I heard plenty of questions, but few answers–with the exception of transit. Jennifer Dean stated that, "Our area drives more miles per day than any other region in the U.S. It is projected that, in 2040, the average commute time will double to 50 minutes."
After Wake County stalled for many years on any comprehensive county-wide transit plan, (earlier story on transit)the county commissioners moved forward last year with a plan for additional studies.
Options Will Be Revealed
All twelve municipalities of Wake County have been involved in this planning. After many public hearings and planning sessions (earlier story), WakeUp and its fellow planners are ready to unveil four transit scenarios at the Raleigh Convention Center on May 11, 2015. A special Cary session will be held on May 19, 2015 at the Cary Theater.
Paying for the Plan
Later this year, when a plan is finally selected, the commissioners will decide how best to pay for it. A voter referendum may come on the ballot as early as 2016 with a possible sales tax increase of 1/2 cent. Jessica Holmes stated that, as they prepare a bond to go before voters, they must be careful in how they propose to pay for transit.
"It's in no one's interest to put up a bond that fails," she said, as she referenced two failed transit bonds in Austin, Texas.
Schools
When the presentation turned to schools, our challenges were highlighted, but there was little in the way of solutions offered. Dean stated that Wake County ranks 46th in the nation for teacher pay and 48th for per pupil spending.
It is projected that the system, which currently has over 150,000 students (11th largest in the nation), will have to accommodate an additional 60,000 by 2020–that's only 5 years away! "While our attendance is up, our spending is down," Dean stated.
The current school board has requested a 14.8% increase for their 2016 budget year. A public hearing will take place on June 1, 2015. Will the Commissioners approve such a large increase when other areas are also requesting additional funds?
That was a hard question for Jessica Holmes to answer.
Water Quality
Water quality was also reviewed, but few solutions were discussed. Currently, Raleigh gets its water from Falls Lake, which is part of the Falls of the Neuse river basin. Cary and Morrisville get their water from Jordan Lake, which is part of the Cape Fear river basin. Both are dealing with levels of pollution from run-off from suburban sprawl which can cause algae blooms.
Dean pointed out that making use of storm water retention ponds can help filter the water before it gets to the streams and lakes. Towns with good development ordinances and developers who get creative can create lovely wetland amenities that also help ease pollution.
Another water problem is usage. Our water supply is not unlimited. On the bright side, our per capita water usage is down. The downside? Towns count on income from water and sewer fees. Towns like Cary have implemented a tiered water rate system and have enforced odd-even watering days. And, while our per capita usage is down, our population is still growing.
Long Term Practical Solutions
It was evident in this meeting that there are a lot of challenges due to our high rate of growth. Cary grew over 2.7 % last year, and the real estate market shows no signs of slowing down. What was not evident were the long term practical solutions to these growth issues, especially in the Wake County Public Schools.
Without more money, most likely in the form of a tax increase (whether that's property tax rates, sales tax or both), there is little that the county can do to improve our water quality, build schools, pay teachers more and get mass transit built to help ease the traffic. Growth is coming, and there is very little legally that municipalities can do to slow its rate.
Can't Stop Growth
Jessica Holmes made it abundantly clear that property owners have the right to develop their property, as the zoning allows, and that towns have little recourse in the approval process. Town officials can make sure their development ordinances put forth best practices in dealing with water run-off and enforce stream buffers.
With transportation, towns can ask for bus turnouts and shelters and request adjacent roadway improvements. As to schools and their capacity, towns have little or no say. There are no laws stating that there needs to be school seats for the homeowners who move into a development.
Upcoming Meetings
Upcoming meetings in this area will share public transit scenarios with the public:
Raleigh Choose Our Transit Meeting
May 11, 2015 at 6:00 pm
at the Raleigh Convention Center
Regional Choose Our Transit Meeting
May 19, 2015 at 6:00pm
at The Cary Theater
Additional meetings are being held in Holly Springs and Garner.
———————————————————————————————————————————–
Story by Lindsey Chester. Photo by James Willamor.
https://carycitizenarchive.com/wp-content/uploads/2015/05/raleigh.jpg
330
600
Lindsey Chester
https://carycitizenarchive.com/wp-content/uploads/2020/03/cc-archive-logo-450-v3.png
Lindsey Chester
2015-05-07 10:17:22
2015-05-08 09:40:11
Growth Effects on Transit, Schools & Water