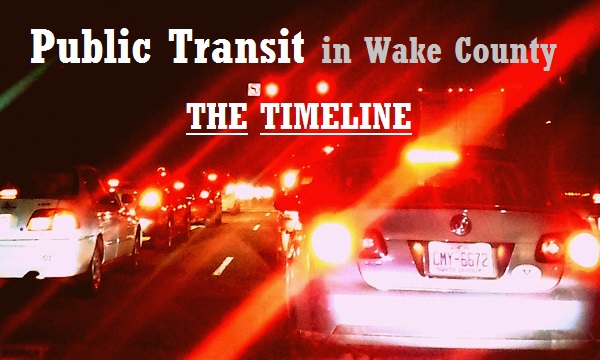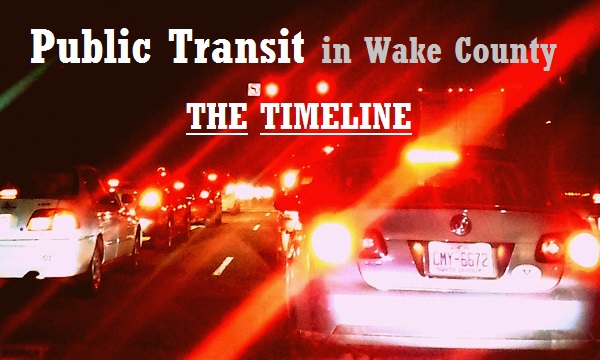 Cary, NC — On Thursday, March 5, 2015, at the monthly Heart of Cary Association meeting, Jennifer Dean of WakeUP Wake County discussed the benefits, goals, and timeline of the new public transit plan underway for Wake County.
WakeUP Wake County & Public Transit
WakeUP Wake County is a nonpartisan citizen group made up of individuals who are concerned about the growth and future of Wake County. The organization focuses on a variety of issues that affect the county; most notably those of transportation and land use, water quality and supply, and public schools.
WakeUP is a member of the Capital Area Friends of Transit coalition, a group of organizations, civic leaders, and citizens who are interested in transit and who are working to bring a strong public transit system to Wake County. Both groups believe that such a system could dramatically improve the health, economy, and quality of life in our community.
Traffic Congestion & Air Pollution
There are more people living in Wake County now than ever before–the "one million" mark was just hit last year. Despite this indicator of our positive economic health, with significant growth comes significant challenges. The most notable? Traffic congestion.
People in Wake County drive more miles per day than the national average–this is largely due to the fact that, in Wake County, many people live in one municipality and work in another. It's projected that, by 2035, the average commute time will double from 25 minutes to 50 minutes–and that's not the only challenge we're facing. In 2012, Wake County received an "F" in air quality from the American Lung Association.
Public Transit Benefits
The challenges are concerning, but these benefits of public transit combat congestion, air pollution, and several other issues as well. Public transit in Wake County would support:
Better air quality
Active lifestyles & healthy body weights
Fewer car crashes & pedestrian accidents
An increase in home property values
A healthy economy–every $1 invested in public transit brings $4 in economic returns according to a 2013 study by the American Public Transit Association
Light Rail in Charlotte
The population growth and urban development that Charlotte, NC has seen makes the city an often looked-at model for development plans in the Triangle. Cary Town Council and staff members even took a trip to Charlotte last month for their annual planning retreat. There, they rode the Charlotte LYNX–the city's new light rail line, which started small (with just one line in the downtown area) but quickly developed into a popular public transit choice.
Dean explained that the city is already seeing economic returns from the LYNX, and Charlotte residents use it often. Since the LYNX, Charlotte has seen $26 million in new tax revenue and a 121% increase in property values located near the light rail system. Cary Town Council members Lori Bush and Don Frantz shared their take and opinions on the LYNX last month in their personal blogs and on CaryCitizen.
Wake's Current Public Transit Status
Right now, the Wake County public transit system consists of numerous bus lines. Cary has our own bus line, C-Tran, and others in the county include Regional Triangle Transit, Raleigh's Capital Area Transit, the NCSU Wolfine, and the R-Line (for Downtown Raleigh).
What's the problem with depending on Wake County's current bus service for public transit? There are many limitations, the main being that connectivity is limited–meaning that not all municipalities in Wake County have access to bus service. Additionally, many of the buses don't run on nights or weekends and don't come frequently enough to really serve the community.
Three Transit Options
Looking ahead, there are three options for stronger pubic transit:
An expanded, more frequent bus service connecting all 12 municipalities
A commuter rail utilizing existing rail lines (passenger trains on existing tracks)
A light rail system similar to the Charlotte LYNX
What's Happening Now
Transit plans were discussed but not acted upon in the past, but now, in 2015, the county is taking a "fresh look" at transit. The Wake Transit Investment Strategy, a group of stakeholders including Raleigh, Cary, the Research Triangle Foundation, NC State University, RDU, and more are "putting everything back on the table" to take a serious look at improved public transit.
The kick-off of the new planning process was held in December at a meeting with over 600 people in attendance. The Transit Advisory Committee, a large group of 70 individuals from all of the towns and cities in Wake County, along with planners, elected officials, business people, and civic leaders are currently representing the people of Wake County and are discussing what kind of transit system would provide the most benefit to the community.
They've already met twice to go through some transit planning exercises.
Ridership vs. Coverage
In addition to the decision of which type of transit is best for Wake County, another important topic up for debate is the question of where transit should fall on the ridership vs. coverage spectrum. Dean explained that, when deciding how public transit should serve the community, there are two conflicting choices:
The ridership model is, essentially, a business model–and it is the most profitable transit option. This choice focuses the transit in high-use corridors (along busy roads; near areas of high population). In this case, lots of people would use transit, but not everyone (such as those in some rural areas) would not have access to it.
The coverage model is seen as an equity model–where everyone, everywhere has access to public transit. In this scenario, ridership would be lower, empty buses would be running, and the transit might not turn a profit.
Neither extreme is ideal. Popularity and high usage is a goal of transit–but it's also important to make sure the system serves both those who can't drive and those who can't afford cars. Citizens and officials will decide where on this spectrum transit should fall.
The Timeline
January 2015: Transit Choices Report & Survey Released (deadline March 22, 2015)
January-March 2015: Public Feedback
January-April 2015: Transit Advisory Committee Meets
April 2015: Technical Core Retreat
May 2015: Transit Scenarios Released
Spring/Summer 2015: Official Transit Plan Released
Summer/Fall 2016: County Commission Reviews Plan
November 2016: Sales Tax Referendum (likely)
Have Your Say in Public Transit
Take the Transit Survey by the March 22, 2015 deadline.
Then, comment on the transit system scenarios when they're released in April/May 2015. Four public transit choices, all different, will be available for public input. Stay up-to-date by monitoring the Capital Area Friends of Transit site or joining their email updates list.
———————————————————————————————————————————
Story and lead photo by Jessica Patrick. Additional photos from Capital Area Friends of Transit.
https://carycitizenarchive.com/wp-content/uploads/2015/03/Snapchat-7929580502582399257.jpg
360
600
Jessica Patrick
https://carycitizenarchive.com/wp-content/uploads/2020/03/cc-archive-logo-450-v3.png
Jessica Patrick
2015-03-06 14:18:26
2019-12-08 10:15:15
Public Transit in Wake County: The Timeline