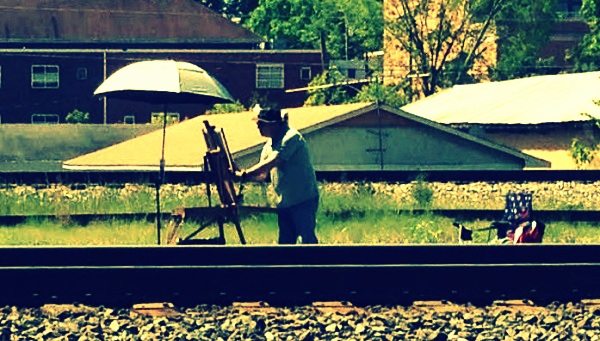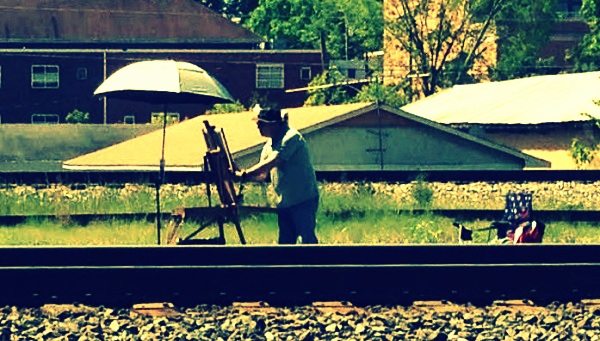 Cary, NC — On Saturday, May 2, 2015, over 20 artists brought their easels, canvases and palettes outside to paint along the streets of Downtown Cary. I talked to a handful of them and even ended up becoming a model in one of the paintings.
Artists Paint the Town
On May 2, 2015, I spent most of my morning in Downtown Cary. I had breakfast at Belle, wandered over to Herbfest at Page-Walker and then strolled along Academy Street, stopping to talk to some local painters along the way. It was a neat sight.
A couple of people asked me if I knew why the painters were out there. They had all signed up for Cary's "En Plein Air: Paint the Town" event and were in the process of painting landscapes of Downtown Cary to exhibit in businesses around downtown during the month of May.
On May 29, 2015, the paintings will be sold in a silent auction and gala at the Cary Arts Center.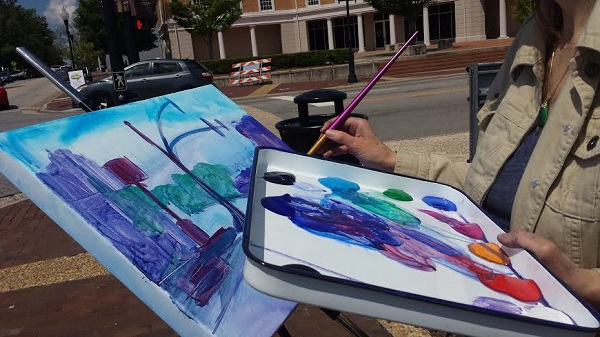 Meet the Artists
As I began my self-guided "artist tour," I had no idea that the last artist I'd meet that morning was already painting me into her landscape at that very moment.
Lyudmila Tomova
The first artist I talked to lives in Cary. Her name is Lyudmila Tomova. She was standing at the corner of Chatham and Academy, diagonally across from Ashworth's, painting the intersection. When I asked her what she would name her painting, she laughed and said:
This is probably going to be called the cross section of Academy and Chatham. I always come up with the most trivial names! I paint realistically, mostly, even though I used to paint abstract. I think it's important for realistic artists to explore abstract; to do whatever they want even if it doesn't look like anything.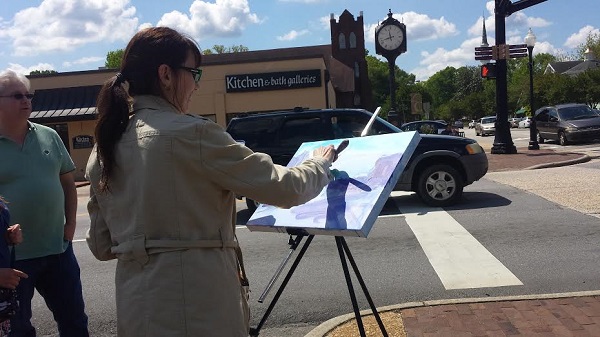 Craig Richards
Richards is a talented oil painter from Winston-Salem. His landscape, while not finished yet, was already full of detail. Instead of picking one particular building or landmark, Richards chose to paint a section of Academy Street that showed downtown's two churches–and a steeple–in the background. We talked about finding beauty in non-obvious places, and he told me that:
It's all about the lights. What light touches can make anything beautiful.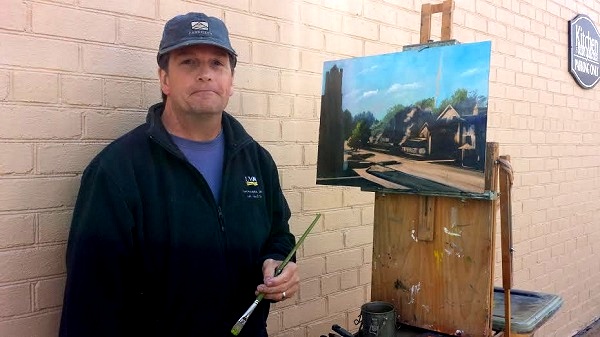 JJ Jiang
Jiang was also painting a church in Downtown Cary, but he was using watercolor. He works at the Village Art Circle gallery in Ashworth Village. Jiang told me that, as he drives to the gallery every day, he passes this scene and that, "It's just beautiful. But it has a lot of detail."
If Jiang was struggling to capture the fine detail in the baptist church, it didn't show.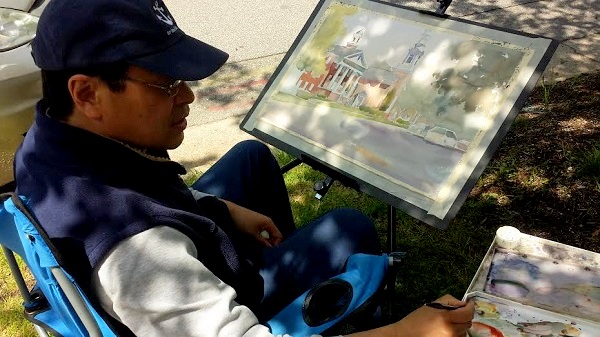 Medrith Nuttle
After I spoke to Jiang, I decided to call it a day. But, on the way to my car, I saw Medrith Nuttle painting Belle at the Jones House, Cary's historical home-turned restaurant. I decided to stop and say hi, and I'm glad I did. Medrith and I chatted about her painting–and about the fact that it had people in it–for five minutes before we realized that I was one of people.
Medrith had painted my family and myself into her painting!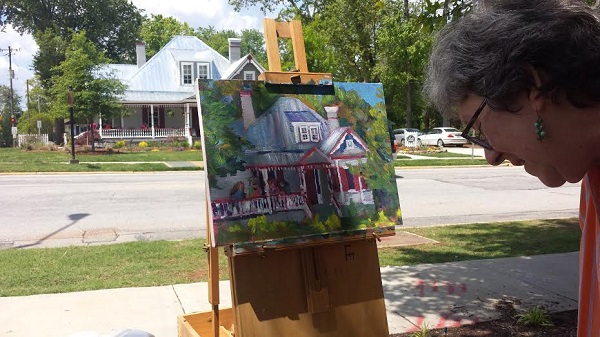 I was with my dad, who, as a fan of Impressionist-style paintings, was extremely excited to have been painted in such a piece. And, as he said, "On his birthday, nonetheless!"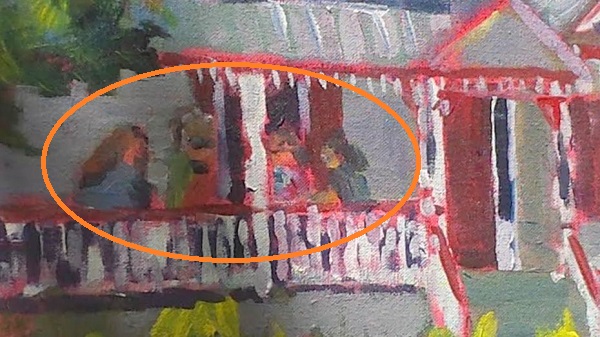 See the Finished Works
You can support these artists, and the others I didn't get to talk to, by attending a free gala on Friday evening, May 29, 2015 at the Cary Arts Center. Prior to that, visit Downtown Cary businesses to vote for your favorite piece. The winner will be announced at the event.
Who knows, maybe you'll end up buying a painting with me in it!
Find more information about En Plein Air online.
——————————————————————————————————————————–
Story and photos by Jessica Patrick. Lead photo by Lindsey Chester.
——————————————————————————————————————————–
Arts coverage on CaryCitizen is sponsored in part by Elegant Stitches.
https://carycitizenarchive.com/wp-content/uploads/2015/05/En-Plein-Air41.jpg
341
600
Jessica Patrick
https://carycitizenarchive.com/wp-content/uploads/2020/03/cc-archive-logo-450-v3.png
Jessica Patrick
2015-05-13 14:02:13
2019-12-08 10:16:03
Art: Meet the Painters of Downtown Cary