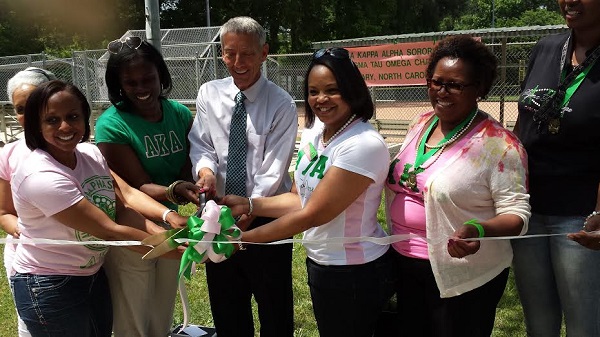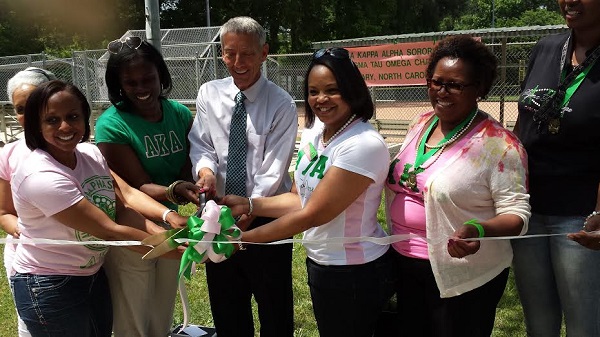 Cary, NC — This week was a typical week in the mayor's office.
Monday
Monday, I participated in the Cary Chamber's Honor a Teacher program.
Honor a Teacher 
Twenty-seven teachers from schools that teach in Cary's Western Wake area were recognized. The Honor a Teacher program strives to help our school system meet the challenge to recognize and retain some of the best classroom teachers.
All teachers and guests in attendance were treated to a nice meal, and then one teacher from each school received a plaque and a $1000 check. Cary businesses, including the Town of Cary, were sponsors. At the beginning of the program, I joined the chamber president and board chairman in giving welcoming remarks. Later in the program, I joined Mayor Pro-Tem Smith and council member Yerha in presenting Cary's recognition.
Tuesday
Tuesday, I gave the State of the Town address to approximately 50-75 residents of Searstone. This address was an update from the original State of the Town address given in January 2015.
Afterwards, I answered questions from the audience that mostly focused on roads and property around the Searstone area. The residents were very kind and great hosts. I enjoyed my visit and hope to be invited back in the future.
Wednesday
Wednesday, the town manager and I met for our weekly one-on-one. We talked about several issues including downtown parking, the budget, and a future capital project.
Our meeting lasted about 40 minutes.
Thursday
Thursday started with an interview by WTVD on the Privilege License Tax bill that eliminated $1.5 million in revenue for the Town of Cary. We discussed the impact of that legislative action and the proposed 1 cent tax increase to make up the difference.
Thursday night, the council held a quasi-judicial hearing to decide whether or not to allow a school use in the Cary Church of God building. The school will take up three classrooms and will focus on gifted children. The request was passed unanimously.
Friday
Friday I participated in a meeting of the Metro Mayors.
Some of the bills they are tracking include:
Moving municipal elections to even years (basically making them partisan)
Making judicial races partisan
Restricting municipal eminent domain
¼ cent sales tax for municipal governments
Zoning and aesthetic controls
Sales tax redistribution
Local incentives for historic preservation
The meeting lasted about an hour and had about two dozen participants.
Saturday
Saturday I had the opportunity to briefly visit the 4th Annual Wheels on Academy which was mostly on Town Hall campus. In addition to 146 amazing cars on display, there was a model T that was assembled and then cranked up.
At the conclusion of the show, dozens of awards were handed out.
Lexie Lane Playground Ribbon Cutting
Later Saturday, I had the honor and privilege of attending a ribbon cutting for a playground at Lexie Lane park which was renewed by sisters from Cary's chapter of Alpha Kappa Alpha sorority. Lexie Lane Park is Cary's very first park. It opened in 1972 with just one baseball field and was named after the town manager at the time.
It had no upgrades or improvements until 1980 when restrooms, the playground and the basketball court were added. The town reinvested in Lexie Lane's playground in 2009. We are grateful for the additional beautification projects by the Cary Chapter of Alpha Kappa Alpha.
Help from Alpha Kappa Alpha
Alpha Kappa Alpha's mission is to enhance the quality of life through program development and financial support in the areas of arts, economics, education, family and health.
They support our community with fundraisers and donations coupled with the timeless hours of volunteer service by their members. As a result, they have continued to provide and support a plethora of programs including a mentoring program, scholarships, meals at Thanksgiving and Christmas for several local agencies including the Carying Place and health fairs and support of community gardens just to name a few.
God bless the Sigma Tau Omega chapter of Alpha Kappa Alpha.
Help Fund Run for Currahee
Emails from citizens this week included an email from Kathryn Lindquist, who is raising money for an interesting cause. Here is an excerpt from her email:
I am the founder of Run for Currahee, a solo 800-mile run from Normandy, France to Berchtesgaden, Germany. This event will retrace the path that the famous "Band of Brothers" of the 101st Airborne Division took during World War II. It has never been done before. I will be running 13.1 miles (a half marathon) per day supported by a two person volunteer team in an effort to raise $50,000 for the World War II veterans' non-profit Camp Toccoa at Currahee of Toccoa, GA, as detailed below.

The "Band of Brothers," made famous by Steven Spielberg's HBO miniseries by the same name, trained at Camp Toccoa, GA before being shipped to Normandy. Their efforts led to the end of WWII in the European theater. They landed in Normandy on D-Day and ended the war on VE-Day in Berchtesgaden, Germany.

Camp Toccoa at Currahee aims to preserve the legacies of these veterans by rebuilding the historic Camp Toccoa site for educational purposes, building a memorial for the veterans of Camp Toccoa who gave the ultimate sacrifice, promoting wellbeing through athletic competition and protecting the natural environment of nearby Currahee Mountain for future generations to enjoy.

Run for Currahee has been met with great support, especially by World War II veterans themselves. That support has given me incredible access to their stories and the stories of the European civilians they freed.

I will meet and interview them along the way, combining their stories with my journey in a documentary called 800 Miles To Freedom…

I am seeking sponsors to help make this project happen and thought you may be interested, or know someone who is. In order to get my feet on the beaches of Normandy on D-Day, I must raise $5,000 to cover airfare, board and food costs, as I simply cannot afford to make the trip happen based on my own finances.

I need help getting there.
Lend Your Support
So, if you can find it in your hearts to help this worthwhile cause, please lend your support. You can view Lindquist's campaign and donate online.
Emails from Citizens
Other emails from citizens included:
A complaint about an abandoned property
A complaint about the intersection of McCrimmon Parkway and Lake Grove
A complaint about the lack of a traffic signals west of Highway 55
A complaint about scheduling at the Sertoma amphitheater
A question about golf carts on the road
A question about bicycles on sidewalks
A complaint about a U-Verse installation
A promise to open a negative campaign against the town because of the recently approved golf course ordinance.
Get in Touch
Next week will be another busy week for me. It will include the first budget work session, a taping of Cary Matters, and a regularly scheduled council meeting.
Well, that is all for this week. My next post will be on Friday, May 22nd since I will begin a two week vacation on the 23rd. Although I have Facebook and Twitter accounts those are not the best means of communications with me.
Please send all Town of Cary questions or comments to Harold.Weinbrecht@townofcary.org and email personal comments to augustanat@mindspring.com.
——————————————————————————————————————————-
From the blog of Cary Mayor Harold Weinbrecht. Photo of playground ribbon cutting at Lexie Lane Park courtesy of Mayor Weinbrecht.
——————————————————————————————————————————-
CaryCitizen is sponsored in part by TruOptions financial planning services.
https://carycitizenarchive.com/wp-content/uploads/2015/05/Harolds-Blog.jpg
337
600
Harold Weinbrecht
https://carycitizenarchive.com/wp-content/uploads/2020/03/cc-archive-logo-450-v3.png
Harold Weinbrecht
2015-05-18 15:36:17
2019-12-08 10:16:06
Harold's Blog: Ribbon Cutting at Lexie Lane Park