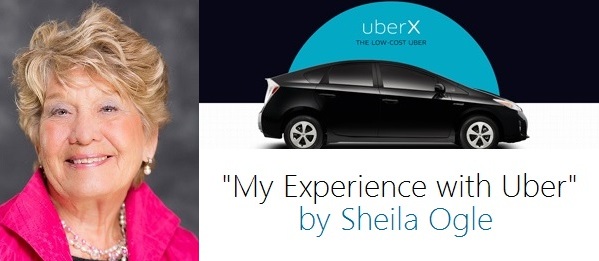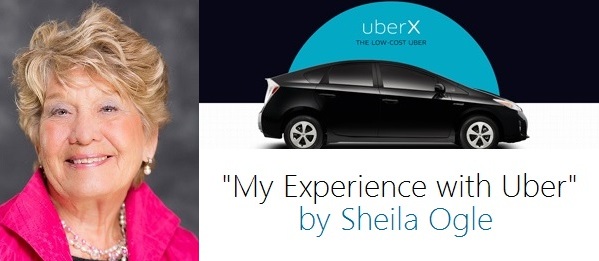 Cary, NC — Watch out, taxicabs! Uber, an alternative way to get around town, is growing in popularity, and it turns out that our friend Sheila Ogle is a big fan.
Sheila Ogle & Uber
Sheila Ogle, a good friend of CaryCitizen, stays busy.
She's the owner of The Matthews House in Downtown Cary, a Managing Partner at the Cary Innovation Center/Cary Coworking and she plays active roles in both the Heart of Cary Association and in the Cary Chamber of Commerce.
Right now, she also serves on a committee called the Transportation Innovation Academy, which is made up of people from Indianapolis, Indiana, Nashville, Tennessee and of the Triangle area.
Recently, Sheila had to travel to Indianapolis to meet with other committee members, and that's when she was first introduced to Uber, a phone application that connects users to drivers (who work for Uber as independent contractors at their convenience) in minutes.
Yesterday at The Matthews House, over coffee, she told me all about her experience.
"My Experience with Uber" by Sheila Ogle
As told to Jessica Patrick
My first [Transportation Innovation Academy] meeting was here in Raleigh, but our second meeting was in Indianapolis, so I had to fly out of RDU. My sweet husband wasn't here to take me to the airport, so I started to call a taxi, but my daughter said:
"Mom! You need to get with it and use Uber!" I said, "What is Uber?"
She showed me the app on her phone. When it comes up, you select your location, and everything is done by credit card, so there's no money ever exchanged. That day, I put in my location, it showed me where the cars were, and it said, "We'll be there in nine minutes."
Sure enough, here comes this nice little Mercedes and this cute little driver, and he picks me up and takes me to the airport. Once I was in Indianapolis, our group used Uber to go back and forth to restaurants and to the hotel. It's just a great convenience.
After your ride, you get an email to rate your driver, which is really kind of cool, and I think that the drivers can rate their customers, too. I made sure to tip well so that I could get a good rating!
Then, two weeks ago, my daughter had a big party at her house in Raleigh. A lot of people came in from Charlotte. They were staying at a hotel at Crabtree, and they had all used Uber to come from Crabtree to her house. We had wine and cocktails so, at about 11 pm, everybody was out on the front porch dialing up Uber, and here come three Uber cars to pick everybody up!
"The Cabs Need to Step It Up!"
Sheila knows how to run a business, and, in addition to just sharing her Uber experience with me, she gave out some great business advice. "Rather than remaining stagnant," she said, "businesses need to change with the times, always working to improve their company."
The map comes up, and you see where all the cars are, and it tells you exactly what time they will be there. I think it's great, and I think the cabs need to step it up! It's just like in any industry, it's just like here at The Matthews House–you can't keep doing what you've always done.
If the cabs are going to keep up with the times, they need to get an app out there to make it easier for people. I like the fact that, with Uber, there's no cash exchange. Uber emails you a receipt right after your ride so, after I returned from my Indiana trip, I could easily print all the receipts out to send in with my expense report.
That's much better than calling and waiting for a taxi, giving the cab driver your credit card or cash and waiting for him to give you a receipt. Then, you've gotta put all those receipts in your billfold and collect them all that way. Been there, done that. 
———————————————————————————————————————————–
Story told to Jessica Patrick by Sheila Ogle. Photo from Uber and Sheila Ogle.
https://carycitizenarchive.com/wp-content/uploads/2015/06/Sheila1.jpg
261
599
Jessica Patrick
https://carycitizenarchive.com/wp-content/uploads/2020/03/cc-archive-logo-450-v3.png
Jessica Patrick
2015-06-05 09:47:58
2019-12-08 10:16:11
"My Experience with Uber" by Sheila Ogle