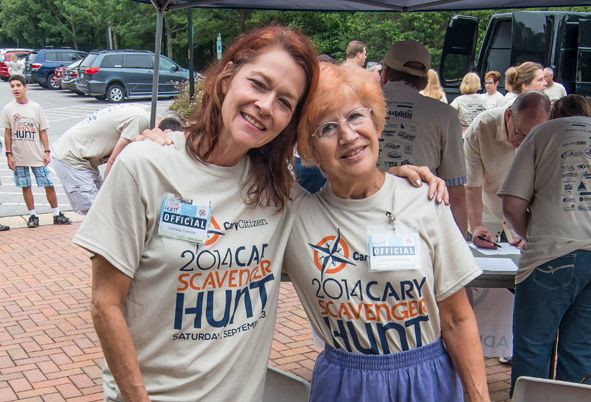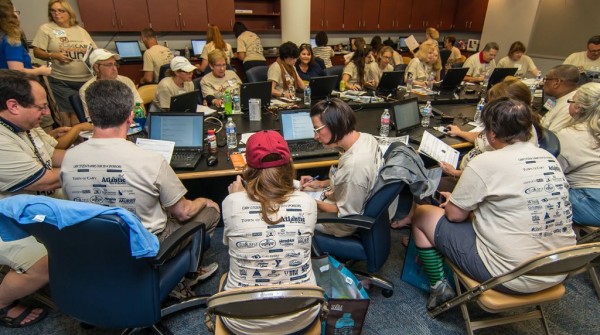 Cary, NC — Did you know that you can rub shoulders with Cary's celebrities at the Cary Scavenger Hunt? They're not movie stars, but, without them, Cary wouldn't be what it is today. 
Cary's Celebrities
In the past, we have had mayors, town council people, police and fire chiefs as well as Class A town staff who keep the town running. This year is no different.
Our judges will take your clue books, decide if your answers are right or wrong and score your points. It's a tough job, but they are up to the challenge.
Maybe you can ask about some pressing town business while you're there?
Introducing the 2015 Judges…
Lyman Collins, The Town of Cary's Cultural Arts Manager
Nancy Caggia, who is currently serving on the Town's Planning & Zoning Committee and who is also running for Town Council District D
Allan Cain, The Town's Fire Chief
Meredith Chandler, Town Planner
Marla Dorrel, former Town Councilwoman and Chair of the Kids Together non-profit
Don Frantz, serving as Town Councilman for Cary's District B and running for re-election
Tony Godwin, the New Chief of Police
Howard Manning, the President of Dorcas Ministries
Doug McRainey, Town of Cary's Parks and Recreation Department Manager
Brent Miller, past-President of the Friends of Page-Walker
Susanne Portonova, House Manager & Program Assistant for the Cary Arts Center
Jennifer Robinson, Town Councilwoman for District A
Peggy Van Scoyac, Town Historian and Author
Jack Smith, Town Councilman for District C
Mark Stohlman, Mayor of Morrisville
Doc Thorne, owner of the Cary Invasion Professional Basketball team and past-President of the Heart of Cary Association
Glenda Westbrook, owner of Cary Pottery
Ed Yerha, Town Councilman At-Large
Other Awesome Volunteers
Assisting our judges will be Joy Pike, past winner of Cary's Hometown Spirit Award, Chair of the Ole Time Winter festival and participant in numerous other causes and events – much too numerous to mention! As Chief Judge, she will rule on any questions that may come up.
You may also meet Ian Henshaw, Founder of Cary's Co-Working Space, as you wait to be judged. Our check-in team includes Barbara Shepard, President of Cary's Sister Cities Association, and her husband Phil Shepard, Chair of the Cultural Arts Committee as well as David Lindquist, Chair of the Parks & Rec Committee.
Other gracious volunteers include Joy's husband Dan Pike, Beth Hunt, David Prins and our own Jessica Patrick and Jillian Goodtree. You will meet Hal Goodtree and myself there, too!
Our Scoring Team
We have scoring help once again from the team of the Forge Downtown (formerly Wake Robotics). This team of students has programmed a simple way for our judges to take the scores and input them into computers so that everyone can view their team ranking and scores in real time during the event. Computers are donated by Kramden Institute for our use during the event.
Now that you have heard the hints and met the judges, what are you waiting for?
Get a team, come up with a goofy name and register today!
Event Details
The Cary Scavenger Hunt
Saturday, September 12, 2015
The Page Walker Arts & History Center, 119 Ambassador Loop in Downtown Cary
Check-in – 8:30-9:15 am
Teams depart – 9:30 am
Teams return – 1:30 pm
Winners announced – 3-3:30 pm
Register now – registration is $5 for a team of four
———————————————————————————————————————————-
Story by Lindsey Chester. Photos from CaryCitizen files.
https://carycitizenarchive.com/wp-content/uploads/2015/08/lindsey-barbara.jpg
402
591
Lindsey Chester
https://carycitizenarchive.com/wp-content/uploads/2020/03/cc-archive-logo-450-v3.png
Lindsey Chester
2015-09-02 10:22:55
2015-09-03 10:00:14
The Cary Scavenger Hunt: Meet the Judges