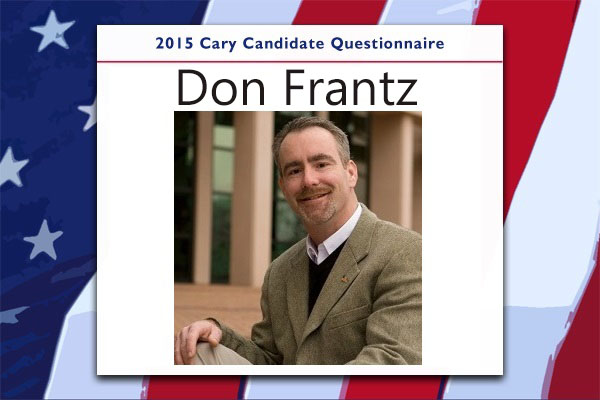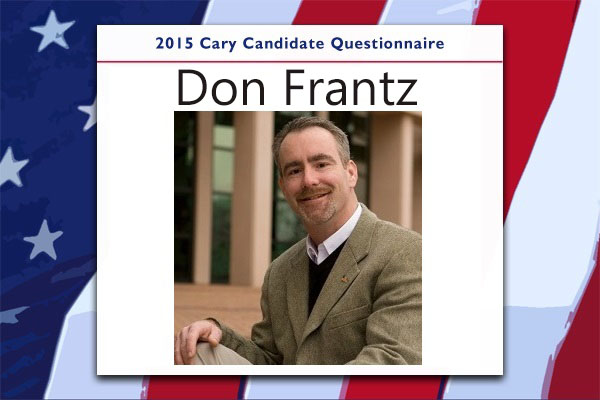 Cary, NC — This is the fourth installment of our Candidate 2015 series, in which candidates get to respond in their own words to the same three questions.
As usual, we publish the responses in the order we receive them. Next up is Don Frantz, running as the incumbent for Cary Town Council, District B.
Candidate Questionnaire
As we have done in previous election cycles, we sent a list of three short questions to all the candidates for office in Cary. We do not edit the answers but provide a forum for the candidates to speak to our readers in their own words.
We encourage all citizens to go to the polls in Cary on Tuesday, October 6, 2015.
Don Frantz
Q1 – Why are you running?
We are truly blessed to live in one of the greatest communities in America. I am running for re-election to continue to work to make Cary an even better place to live, work and play and to give back to the community that has provided so much for me and my family.
During my service on the council, I have focused on economic development and fiscal management. I have worked hard to provide the high levels of service that Cary citizens expect at the lowest possible cost to you, the taxpayer and to create an environment that encourages business growth and creates jobs. I have been a champion for our revitalization efforts inside the Maynard Loop and downtown and I have worked to bring accountability and accessibility to Cary government. Most importantly, I have listened and I have learned.
As a member of the council I have earned a reputation as a no-nonsense pragmatic leader. I say what I mean and mean what I say.
My values and life experiences are what guides me – not political ideology. Common sense solutions and principled leadership will continue to move Cary forward – not partisan politics.
I believe that a transparent government is an inclusive government. So do a number of my council colleagues. That is why we work very hard to communicate with Cary citizens both through our blogs and social media. You, the voters deserve to know what we are doing on the council and how we vote. We do work for you after all.
You may not always agree with every decision I make, but you will always know where I stand.
This council works very well together as a team. If you have paid attention over the years you know that hasn't always been the case – and while each of us are individuals of different backgrounds, beliefs and priorities, we also understand that this isn't about us – it's about community.
I believe our positive relationship to be largely responsible for our success. Of course we don't always agree with each other, but we do understand that compromise is a two-way street and we strive towards solutions that all of us can be satisfied with and that move our community forward.
I have had the privilege of meeting and hearing from so many of you during my time on the council and together we have worked to solve a number of issues in Cary. We have accomplished a lot, but we still have work to do.
That's why I am running for re-election; to continue to serve the citizens of Cary and bring common sense solutions to town government. I hope that I have earned your trust and support and I ask for your vote again on October 6th.
Q2 – What are your top three priorities and how will you accomplish them?
Economic Development and Job Creation
Quality of life begins with a good paying job. During my time on the council I have worked hard to create a business friendly environment here in Cary that encourages business growth and creates jobs.
Sound fiscal policy, low taxes and reduced government bureaucracies have resulted in significant business growth in Cary and at 3.5%, one of the lowest unemployment rates in the nation.
There are now more Cary citizens working in Cary than those who commute outside town limits for work. That was not the case before I was elected.  As a successful businessman I know what it takes to create jobs in a tough economy. As a parent of six I know how much that matters.
Cary is now a significant player in the state and southeast in regards to job recruitment and retention.
Downtown Revitalization and Redevelopment
One of the reasons I first ran for council was that I was disappointed with the town's efforts – or lack thereof – inside and around the Maynard loop and Downtown. The town sure talked a good game downtown, but nothing was happening. That is no longer the case.
I have worked hard to ensure that Downtown and old Cary receives their fair share of town investments.
I fought to make sure that Cary kept its promise to build a signature park downtown and not allow the majority of this land to be developed. I am pleased to report that Phase one of the park will begin construction in a few months. We also completed the long overdue Higgins Greenway improvements to better connect neighborhoods and promote walkability and healthy living.
I championed the redevelopment of old Cary Elementary into The Cary Arts Center. This project was completed on time and $3 million under budget and is now one of the crown jewels of Cary.
The Academy Street and streetscape improvements are currently under construction along with the Mayton Inn. I have also supported a number of infrastructure improvement projects, festivals, public-private partnerships, and the elimination of cumbersome regulations downtown to further promote private investment.
There is now a buzz and excitement in downtown Cary like never before. New restaurants, office uses and retail are locating in and around downtown – we even have a brewery on the way!
Great things are happening in and around downtown. With your continued support I promise to keep things happening.
Growth Management/Neighborhood Protection
The real question isn't will we grow, it is how we grow that matters. Let's be honest – Cary is one of the most desirable places to live in the country. The only way to stop people from coming to Cary is to make Cary a less desirable place to live. Nobody wants to do that.
As a member of the council I have promoted a balanced growth approach that supports quality development projects while maintaining a reasonable 3% growth rate. This helps to ensure that infrastructure and services keep pace with growth and that any new growth does not further burden surrounding communities. I support development that protects the character and charm of existing neighborhoods and I oppose that which does not. I know the word "NO" and am not afraid to use it when a proposed development does not meet the community's expectations.
Q3 – Give us a brief bio and tell us about your relevant experience.
My wife, Lisa and I are the proud parents of six children who were all born and raised in Cary. Two of our sons are currently serving our country in the United States Army.
Lisa and I are also successful small business owners in Downtown Cary. As such, my background gives me first-hand experience with many of the challenges facing small business today, as well as the role that good customer service plays in any organization's success. As a member of North Carolina's National Federation of Independent Business Leadership Council and the Cary Chamber of Commerce, I work very hard to support our local and regional business economy.
Lisa and I have always been very involved in our community. We have been active members of the Cary Elementary PTA, Cary IMP Club, and function as boosters for numerous area civic and youth groups. I have served on Cary's Planning and Zoning Board and Citizen Budget Review Commission and I also served as president of the Heart of Cary Association from 2005-2007.
As the District B Representative on the Cary Town Council I also serve as the council liaison to the Parks, Recreation, and Cultural Resources Advisory Board and The Friends of the Page Walker. I have also served on Wake County's Growth Issues Task Force and Transit Advisory Committee.
I have a proven record of working with Wake County Commissioners and School Board members both past and present to address a number of school related issues and I remain committed towards increased vocational education opportunities for students.
Professional Achievements:
Owner, Frantz Automotive Center
2010 NFIB Small Business Champion of the Year
Top 100 NC Small Business, Business Leader Media
Top 50 Entrepreneur of the Year, Business Leader Magazine
2008 Cary Chamber of Commerce Small Business of the Year
Top 10 Repair Shop in the Nation, MotorAge Magazine 2007, 2009
Voted "Best of Cary" Cary News, 2004, 2008, 2009, 2010, 2013, 2014 and 2015
Grand Marshal, 2010 Carquest 300 at Charlotte Motor Speedway
Public Service:
Member, Cary Town Council 2007 – current
Member, Town of Cary Planning and Zoning Board 2005-2007
Member, Town of Cary Citizen Budget Review Commission 2004-2005
Representative to the Triangle J Council of Governments Smart Growth Committee
Council liaison – Parks, Recreation, and Cultural Resources Committee
Wake County Growth Issues Task Force
Wake County Transit Advisory Committee
Cary Chamber of Commerce Community Service Award
Civic Involvement:
National Federation of Independent Business (NFIB) Leadership Council
Cary Chamber of Commerce
Heart of Cary Association, member and Past President
Cary IMP Club
Cary Elementary PTA
Friends of the Page Walker
Vocational Education/Career Training Advocate
Booster and Volunteer for Numerous Area Youth and Civic Groups
Candidate Information
Website: www.frantzforcary.com
Email: don@frantzforcary.com
———————————————————————————————————————————–
Read more in the Candidate 2015 series.
https://carycitizenarchive.com/wp-content/uploads/2015/09/Don-Frantz.jpg
400
600
Community Contributor
https://carycitizenarchive.com/wp-content/uploads/2020/03/cc-archive-logo-450-v3.png
Community Contributor
2015-09-14 19:14:08
2015-09-24 11:16:40
Candidate Questionnaire: Don Frantz