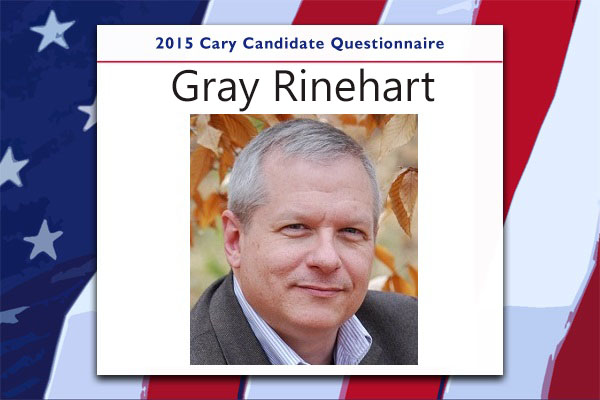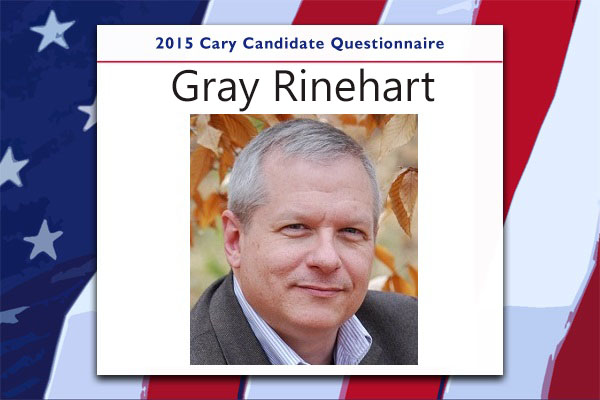 Cary, NC — This is the fifth installment of our Candidate 2015 series, in which candidates get to respond in their own words to the same three questions.
As usual, we publish the responses in the order we receive them. Next up is Gray Rinehart, running to fill the currently vacant District D seat in Cary Town Council.
Candidate Questionnaire
As we have done in previous election cycles, we sent a list of three short questions to all the candidates for office in Cary. We do not edit the answers but provide a forum for the candidates to speak to our readers in their own words.
We encourage all citizens to go to the polls in Cary on Tuesday, October 6, 2015.
Gray Rinehart
Q1 – Why are you running?
Why does anybody apply for any job?  (Yes, I consider running for office the equivalent of applying for a job; it just has a longer interview process and larger interview panel than most of us ever encounter.)  Sometimes you apply just because you need a job, but I already have a good consulting gig and occasionally take on freelance work; I don't need the Town Council job to make ends meet or to pad my resume.  So why have I applied, when I don't actually need the job?  Because the work—the idea of serving in public office—interests me, and I feel as if I might be fairly good at it.
My family and I moved to Cary after I retired from the Air Force, and we got involved in work and church and I even volunteered on the Public Art Advisory Board.  As you might imagine, 20 years of moving from assignment to assignment, some as short as a year, induces a bit of wanderlust, but every time we started to think about moving again, we looked around and realized that Cary offers everything we like:  a small-town feel with big-city conveniences, the right balance of activity and peacefulness, and friends and neighbors we genuinely appreciate.  As a result, we've lived here longer than we've lived anywhere—and I'd like to help preserve the qualities that have made Cary so attractive to us.
Q2 – What are your top three priorities and how will you accomplish them?
My top priorities are based on "certain unalienable rights" brought down to the personal level:  i.e., preserving (if not actually ensuring) my own, my family's, and others' life, liberty, and pursuit of happiness.  That should be the primary function of government.
Preserving life entails making sure that we are all reasonably safe and secure in day-to-day activities as well as emergencies.  Since my background includes serving as the Chief of the Disaster Response Force at a major Air Force laboratory, including handling the responses to two rocket propellant fires, I have insight into the planning and preparation needed to provide services in extreme situations, and would work to ensure our first responders and public safety personnel have what they need to protect all of us.
Preserving liberty entails making sure that government does not impose unreasonable or unnecessary restrictions on individual action, and also that it does not impose unreasonable costs on citizens.  On my blog I explained my approach to judging whether to support or oppose government action:  to evaluate, as thoroughly as practical, the costs and/or injury caused by such action, to weigh those costs against the advertised benefits of the action—asking questions like, Is the benefit worth the cost? Is the payoff worth the risk?—and, if the action hurts our citizens or restricts their liberties without a clear justification, to vote "no."  Applying that approach would enable me to be more accountable to my constituents; i.e., will enable me to give an account of why I chose my position.
Then there is the pursuit of happiness (which, it seems important to emphasize, is no guarantee of achieving happiness), an extension of the right to liberty that involves maximizing citizens' opportunities and their preparation to pursue them.  My background is well-suited to helping identify and promote opportunities for citizens to pursue their goals, including experience with economic development with the Industrial Extension Service at NC State University and extensive research into the problems and processes of education.  But while government may help citizens find opportunities and in some cases exploit them, government cannot guarantee particular outcomes and should not impose excessive costs or restrictions on others in the process.
Q3 – Give us a brief bio and tell us about your relevant experience.
I had a fairly quiet Air Force career: never fired a shot in anger, never served in a war zone, but in addition to fighting rocket propellant fires I refurbished space launch facilities, drove trucks, and did other interesting things, including commanding the Air Force's largest satellite tracking station (at Thule Air Base, Greenland).  At various points in my career I led groups of up to 100 people, and managed budgets of up to $120 million.  As alluded to above, after moving to Cary I volunteered for 3 years on Cary's Public Art Advisory Board, worked for 6 years in NC State's Industrial Extension Service, and for 5 years was the worship leader at North Cary Baptist Church.
Today I'm a writer, editor, and singer/songwriter.  My story "Ashes to Ashes, Dust to Dust, Earth to Alluvium" was a finalist for the 2015 Hugo Award for Best Novelette.  Since 2007 I've been a Contributing Editor for Baen Books, a major publisher of science fiction and fantasy novels headquartered in Wake Forest.  I have two CDs—2013's Truths, Lies, and Make-Believe and 2015's Distorted Vision—and two of my songs were played on Dr. Demento's nationally-known comedy music show.  Altogether, I offer a history of proven service, leadership and creativity to help Cary continue on its path of sustainable, intelligent growth.
Candidate Information
Website: graymanwrites.com/election
————————————————————————————————————————————
Read more in the Candidate 2015 series.
https://carycitizenarchive.com/wp-content/uploads/2015/09/Gray-Rinehart.jpg
400
600
Community Contributor
https://carycitizenarchive.com/wp-content/uploads/2020/03/cc-archive-logo-450-v3.png
Community Contributor
2015-09-15 14:21:38
2019-12-08 10:24:18
Candidate Questionnaire: Gray Rinehart