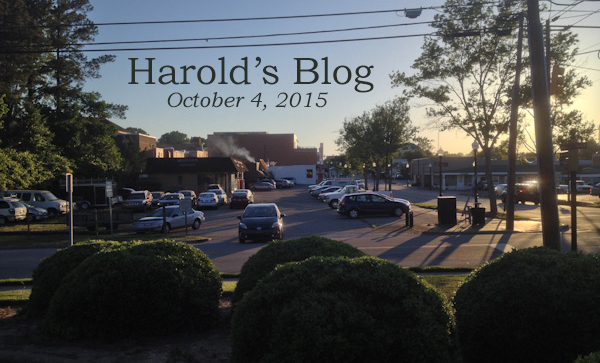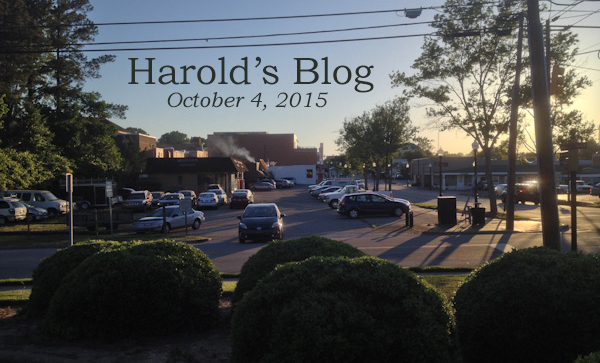 Cary, NC — This week was dominated by a couple of long nights and historic rainy weather.
Monday
Monday, I met with outgoing town manager Ben Shivar and interim town manager Mike Bajorek for our weekly one-on-one meeting. We spent most of the time reviewing a presentation that was to be given to the volunteers on the town's boards and commissions Tuesday night.
We also talked about a few other minor issues.
Candidate Forum in Downtown Cary
Monday night, I attended the Heart of Cary's candidate forum.
The forum was moderated by WRAL's Renee Chou. Ms. Chou has to get up every morning around 2:30 am, so staying up for this was way past her bedtime. Kudos to Ms. Chou for helping our community better understand the candidates. The format of the forum included opening and closing statements and questions with 30 seconds to respond. The following are my opinions of the candidates and how they performed.
Opinions on the Candidates
I will start with the District B candidates (disclosure – I am wholeheartedly endorsing Don Frantz, so my comments may be biased). Don Frantz performed the best of the three. He knew all the issues in-depth, and it showed in his answers. Mr. Lazzaro continues to base his platform on the belief that citizens are uninformed, that the town is not trying to communicate with the citizens and that the council is making decisions in secret. Wow! That couldn't be further from the truth.
Council is Accessible to the Public
The Cary Town Council has gone over and beyond making sure we are open and accessible to the public. We notify the public via an email list, bud newsletter and Cary TV. In addition, three council members regularly blog and tweet about issues.
Council members and staff also make sure to address issues sent to us by citizens. FYI, I have responded to every email sent to my town email since 2007. Council has never made a decision behind closed doors since that violates public meetings laws.
District B Challengers
Mr. Talton, the third candidate in this race, made comments that suggest he disagrees with pretty much everything the current council is doing.
While that is prerogative, I hope he realizes that it takes four votes to get anything done and that he will need to learn to work with others. I am not seeing that at all. During the question and answer period, both Lazzaro and Talton showed that they had little understanding about what authority the town does and does not have in relation to state government.
In addition, neither of them wanted to make a comment on roads saying they were not up on the issues. Again, wow! Roads have consistently been one of the top three issues since I have been involved in town government starting in 1997. Stating that you are a candidate for Cary council and that you are not up on road issues is almost unbelievable.
Don Frantz is a slam dunk in this race. Neither of his opponents comes close to having the knowledge to be an effective representative of their district.
District D Candidates
The forum was much more interesting for the District D race.
All the District D candidates seemed to do much better in this forum than they did in the Cary Chamber forum. Mr. Rinehart was the most improved. All the candidates did a great job answering questions, but, if I had to pick a winner, it would be Caggia, since she had the depth of knowledge in her answers and understood what authority the town has and does not have.
Mr. George, Mr. Rinehart and Ms. Cervania were all very solid in their answers. However, Cervania lacked understanding in what authority the town has on roads and what the legislature thinks about creating new school systems. Mr. George pointed out that the town and state have plans for road improvements but that adequate funding is not available.
This shows that he understands the authority the town and state shares and that roads are a huge expense that is usually handled with bonds. Interestingly, none of the candidates said they would sign a pledge not to raise taxes. So I guess none of them are tea party candidates. After this forum, I think District D would be well-represented by any of these four candidates.
Tuesday
Tuesday, I joined council members and staff members in a dinner to thank Cary board and commission members and to welcome new members. In the programming piece. Interim Town Manager Bajorek and I gave a presentation with updates that included a lot of information.
Cary Updates
Here are some updates that may be of interest:
Town Manager Ben Shivar Retired
Ben Shivar retired on September 30, 2015 after serving seven years as Town Manager, almost 20 years with the Town and over 39 years of service to NC local governments.
The recruiting process for a new town manager is underway. Council hopes to make a decision within two or three months.
What's Imagine Cary?
Imagine Cary is the most ambitious long-range planning effort in our community's history.
It's a wholesale update to our Comprehensive Plan and will be an integrated, policy-driven document that blends 13 existing separate plans into one with a time period spanning of 25 years. The project, which started in January 2013, is now nearly "two-thirds" complete.
The plan contains the key policy recommendations for land use, transportation, housing, economic development and other related components. Staff took this draft to Council on Thursday seeking comments on the format of the plan and some keys issues.
Based on this feedback, staff will finish off the draft and take it out for public comment. This is targeted to occur in December or January with the plan adoption in the Spring of 2016.
Website Overhaul is Coming
The Town of Cary is planning a major update to its website, www.townofcary.org. A complete overhaul of the website will result in a fresh design, new features and improved efficiency for staff and site visitors. This is the sixth redesign of Cary's website, which was created in 1997.
The last redesign was in 2009. This overhaul should take advantage of the opinions and expertise of our users. So far, we've heard from nearly 300 citizens, but there's room in the project for everyone – if you haven't gotten involved yet, please do.
The project is on budget and on schedule with a launch planned before the end of 2016.
Open Data
The town is moving forward on an open data initiative. Currently, we are looking at different software portals, researching the most requested data sets off other municipality websites and pulling together data sets we currently have available in addition to reviewing our open data policy. This site will be up and running prior to the end of the June 2016
High-Speed Internet
AT&T, Google and Time Warner (and a couple other smaller companies) are working hard to connect the region to gigabyte speed internet. Google alone has over 60 crews working in Cary. The Town has established a webpage to help citizens know who is working in front of their homes and how to contact them.
Road Construction & Improvements
Realignment of Carpenter Fire Station Road from NC 55 to Morrisville Carpenter Road will include a new four-lane, median-divided roadway with paved shoulders for bicycles and a new underpass below the CSX railroad. This project costs $17 million and is funded through the 2012 Community Investment Bonds. Construction should begin in the spring of 2017 with completion scheduled for spring of 2019.
Widening the eastern segment of Green Level West Road from the newly constructed northbound ramps located at NC 540 interchange to NC 55 will create additional roadway capacity for Cary commuters, continuation of sidewalks along the corridor and wide outside lanes to accommodate experienced cyclists. Funding for this project is $14 million through CAMPO and Community Bonds. Construction is expected to begin spring of 2017.
The Cary Parkway at High House Road intersection improvements will incorporate an additional left turn lane on both High House Road approaches and the northbound Cary Parkway approach, an exclusive right turn lane on all approaches and an upgraded traffic signal with new decorative traffic signal mast arm poles. It is scheduled to begin in the Spring of 2017.
The Academy Street Streetscape will cost about $8 million (approved by voters as part of 2012 Community Investment Bonds). Construction began in the Spring of this year and expected to end Spring of 2016.
Fire Station #2 has an estimated project cost of $8,172,000 and is partly funded by the Community Bonds referendum. Construction began early 2015 and will be completed in the winter of 2016. The old Fire Station #2 will continue to operate after the new one has opened.
The Walnut Street Pedestrian and Traffic Improvements will include an additional northbound travel lane and sidewalks on Walnut Street across the US-1/64 overpass. It is expected to be completed by the summer 2016 at a cost of $7,000,000 which is shared by NCDOT and the Town of Cary.
Parks & Greenways
The Downtown Park will begin construction this fall and is scheduled to be completed in the fall of 2016. Features include a large fountain, outdoor performance space and open lawn areas. A total project budget of $5,200,000, which includes design and construction, was approved with the 2012 Community Investment Bonds.
The Jack Smith Park will include a 50-acre tract that was formerly the Bartley Family Farm. The park will have playground, dog park, public art and picnic shelter among other features. It is currently under construction and expected to be complete by the fall of this year. Funding was approved by Cary voters as part of the 2012 Community Investment Bonds.
Carpenter Park is a 16-acre parcel designed as a future neighborhood park. Features will include a children's play area, a multi-sport court, a community garden and a picnic shelter. Construction is expected to be completed by winter of 2016. Design and construction costs total $2,983,000.
Cary Tennis Park improvements include eight new tennis courts that will be covered for year-round play and expansions to the clubhouse. Construction is expected to begin in the winter of 2016 and last until the winter of 2017. The estimated of the park is about $4.5 million.
The Old Reedy Creek Road Trailhead improvements will include 82 parking spaces and a restroom with a trail connection to the end of the Black Creek Greenway. Construction is expected to be complete by the summer of 2016. The construction budget is currently $1,310,000 and includes some grant funding.
Water Plant Expansion
Cary's Water Plant Expansion includes a new raw water ozone structure, filters, water chemical building and administration building. Current the town's capacity is 40 MGD, and this expansion will give us a capacity of 56 MGD. The total cost is $62 million including the plant and associated raw water pump station expansion. Estimated completion date is currently the fall of 2016.
Overall Statistics
Over the last two years, Cary has repaved and improved the largest amount of streets in the Town's history. These improvements also include 25 miles of sidewalks, which is a 6% increase of our existing miles. The dinner concluded after about two and a half hours.
Wednesday
Wednesday, I was scheduled to meet with a Raleigh council member who had to cancel. Instead, I met with town staff to go over new software which will be used for council agendas.
Thursday
Thursday, the council held a work session on the Imagine Cary process and the Wake Transit Investment Strategy. The purpose of the Imagine Cary work session was to present the work conducted by the Committee for the Future, the staff and consultant team. This was a two-thirds draft of the final product which will be called the Cary Community Plan.
Imagine Cary Work Session
The presentation was divided into five main topic areas – foundation for today and tomorrow, how we will live, how we will work, how we will shape our community and a future growth map. Some of the biggest changes recommended include:
There are 36 activity centers which would be reduced to 5 intense development areas.
Currently there are about 20 types of growth. This will be changed to about 10.
Neighborhoods will not change much and character will be the focus. Council emphasized the need to protect the character of all neighborhoods.
Older neighborhoods will become a higher priority.
There will be special planning areas like downtown.
Office parks will be transformed into mixed-use employment centers.
New employment centers will be created through public-private partnerships.
New policies will be created to protect and nurture small businesses.
This part of the work session concluded after about two hours. Council will have another work session in November. The Committee for the Future will review the latest in October. There will be an open house for the public in December and January.
Wake Transit Plan
The second part of the work session was on the Wake Transit Plan.
The feedback for this plan has been underway for over a year. It will determine the county's future transit needs that will meet a rapidly growing population expected to increase by one million citizens by 2054. The final determined strategy is anticipated to be funded through passage of a half-cent sales tax referendum by Wake County registered voters.
As part of this funding plan, the Wake County Commissioners also have the option of increasing annual vehicle registrations fees by $7 a year without a voter referendum. Council's review of this plan unanimously stated that ridership should be the focus. The majority believed that rail should be included in the plan understanding that light rail is currently not being considered.
Some interesting data related to the plan's outreach showed that more non-riders participated than riders and that Cary had one of the highest participation rates. The current schedule is for the referendum to be held in November 2016 contingent upon final approval by CAMPO, Wake County and GoTriangle per State legislation. Wake County staff, along with project consultant team, will develop the final draft plan based on all feedback received.
The Wake Transit Plan Advisory Committee is scheduled to reconvene in mid-October 2015 to assist in the development of the final draft plan.
The draft plan is anticipated to be released for final public comment in December 2015.
Friday
Friday, I participated in the last NC Metro Mayors meeting of the year. These meetings are held while the legislature is in session and summarize what is going on. This meeting focused on our successes and failures and what to expect next year in the short session.
Saturday
Saturday, I had the honor of taping the keg at the Triangle Oktoberfest, which was held at Koka Booth amphitheater. This festival was put on by the Apex Sunrise and Cary MacGregor Rotary Clubs in collaboration with the Town of Cary.
Not only was it a lot of fun, but it raised money for Alzheimer's of North Carolina. There was a live German band, a kid's zone, traditional Bavarian food and fare and plenty of local and authentic German beer. I was honored to receive a traditional gingerbread heart from Annelore's German Bakery which will soon be located on Chatham Street in Cary.
The gingerbread heart is similar to a giving of a valentine. I wore it the entire time I was there. What a great time. Next year, I will need to wear lederhosen.
Rain, Rain, Rain
As I write this, the town is experiencing its 10th consecutive day of rain.
The record for consecutive days of rain is 11. It will be interesting to see if we beat it. During this time, I have measured over 7 inches of rain at my house. This should have alleviated any shortages we had at Jordan Lake but has created the opposite problem of flash flooding.
It will be nice to see the sun again.
Tree Removal at Town Hall
Emails from staff this week included notification of a large tree removal on town hall campus. After a storm several weeks ago, public works staff discovered that one of the two mature Willow Oaks on the west end of the Herb Young Community Center had been struck by lightning.
The lightening caused significant damage to the stem. Additionally, infestation of stem boring insects and the drying of foliage led to the decline of the tree. An independent Arborist provided a health assessment and determined that the tree is considered high risk.
This means it has the highest likelihood of failure and the consequences of failure due to its location could be significant. For that reason, the town will have to remove the tree.
Emails from Citizens
Emails from citizens this week included a request for subsidized senior housing in downtown, a concern about the disposal of leaves, a concern about median maintenance, a comment about an abandoned car and questions about a future downtown development.
Get in Touch
Next week is election week. Be sure to vote on Tuesday, October 6, 2015. 
Other activities include a talk at Davis Drive Elementary, participation in the SAS Championships, a regularly scheduled council meeting and Diwali.
Well, that is all for this week. My next post will be on Sunday, October 11th. Although I have Facebook and Twitter accounts, those are not the best means of communications with me. Please send all Town of Cary questions or comments to Harold.Weinbrecht@townofcary.org and email personal comments to augustanat@mindspring.com.
———————————————————————————————————————————
From the blog of Cary Mayor Harold Weinbrecht. Photo by Hal Goodtree.
https://carycitizenarchive.com/wp-content/uploads/2015/10/Harold14.jpg
363
600
Harold Weinbrecht
https://carycitizenarchive.com/wp-content/uploads/2020/03/cc-archive-logo-450-v3.png
Harold Weinbrecht
2015-10-05 09:46:36
2016-01-09 11:59:09
Harold's Blog: Candidates, Google Fiber, Roads & More