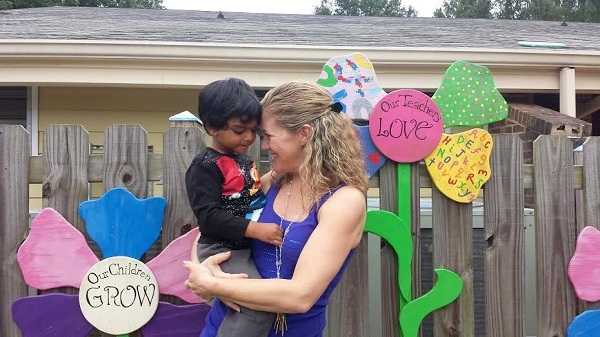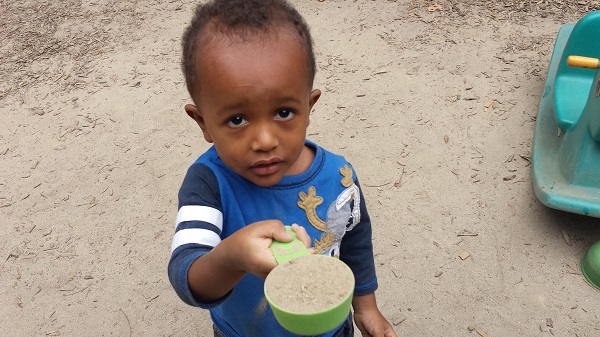 Cary, NC — Nestled inside the White Plains United Methodist Church on SE Maynard Road is a special childcare center where kids of different development stages play and learn together.
White Plains Children's Center
Recently, I took a tour of the White Plains Children's Center (WPCC), a non-profit childcare center that prioritizes inclusion, or the creation of an environment where children of all physical and mental abilities and socio-economic or cultural backgrounds can learn play and together.
Wendy Partin, the center's Executive Director, gave me the grand tour. Partin, who grew up in Cary, first became involved in WPCC as the parent of a child with speech delays. Soon after, she added a birth-kindergarten licensure on to her degree in Special Education to become the center's special education coordinator and, eventually, the director.
It wasn't just Partin's educational background that got her involved in working with students with developmental delays, though. Partin grew up watching her sister be placed in non-challenging classes because of her Attention Deficit Disorder. "She was extremely bright, but they put her in average programs, which never made sense to me," Partin said. "I wanted to change that."
How It Works
At WPCC, Partin is making strides as a leader and an advocate for inclusion. The little ones at White Plains are about a 50/50 mix of children who have development delays and children who are developing typically. The center, which serves children ages 1-5, is a year-long, developmental day program, meaning that childcare is provided five full days a week all year.
The majority of the children with developmental delays have down syndrome or autism. Many were born prematurely, and some have other special needs like feeding tubes. "One of the things I love most is that you can't look in the classroom and tell who is who," Wendy said.
The idea is to teach children to accept differences at an early age.
"I believe that the inclusion program is even more beneficial to the children who don't have special needs," Partin told me. "This program is bully-proofing – stating from the start that we are all different and that is okay."
The White Plains Children's Center was founded by members of the church 33 years ago who, much like Partin, believed in the importance of inclusion. "This group was very forward-thinking, because the government didn't catch on to inclusion until 1988," Partin told me. White Plains partnered with Wake County Public Schools in 1988 to provide special education services for pre-elementary children (ages 3-5) in their program.
"We're not a faith-based program," Partin said. "But we're still very much a mission of the church. They donate this space to us."
Small Ratios & Lots of Care
Partin told me that, at White Plains, there is an emphasis on working with the kids' families. "Yes, we're with these children all day, but we're just a snapshot in their lives," Partin said. "We always take input from our families as opposed to saying that we know what's right."
Parents with pre-school children of any developmental level can look into the White Plains Children's Center. Four classes are grouped by age, but family and staff will work together to determine which class is the best fit for a child with developmental delays.
Child/teacher ratios are kept low with a maximum one teacher to six children in the whole center. The younger classes operate on a 4:1 ratio. Each class has a lead teacher and two co-teachers who are all either education-certified or who possess extensive childcare experience.
Music therapists, occupational therapists, speech therapists and other specialists visit White Plains constantly to work with children who require special services.
The center is open and bright with special additions like relaxing rooms just for napping, two playgrounds for different age groups and, most importantly, caring staff and teachers.
The day I visited, a little boy in one of the classes wasn't feeling well. The small teacher-to-child ratio enabled one of his teachers to spend the morning giving him one-on-one attention to make sure he was okay. All of the teachers, in fact, were showing that same care for their kids.
Visit or Learn More
As a non-profit, White Plains relies on support from the community.
Girl scouts and boy scout troops have built bridges and gardens, and additional projects are always underway. You can donate to WPCC though their current fundraiser or learn about the center online or on Facebook.
————————————————————————————————————————————
Story and photos by Jessica Patrick.
https://carycitizenarchive.com/wp-content/uploads/2015/10/Plains.jpg
337
600
Jessica Patrick
https://carycitizenarchive.com/wp-content/uploads/2020/03/cc-archive-logo-450-v3.png
Jessica Patrick
2015-10-08 14:12:36
2019-12-08 10:24:28
A Look Inside White Plains Children's Center