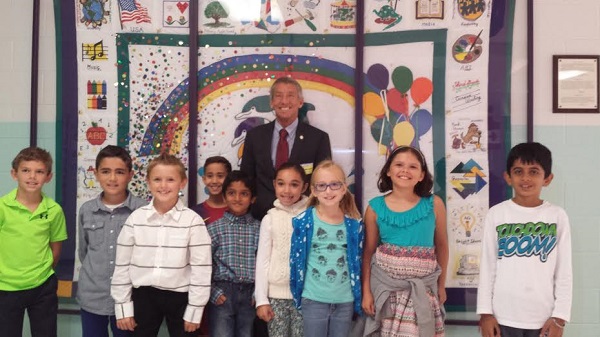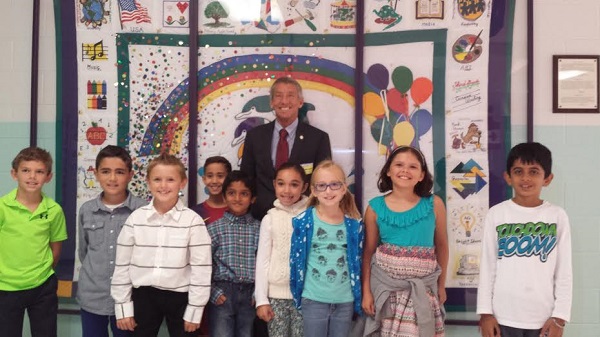 Cary, NC — This was a busy week, even though much of it was event-related.
Monday
Monday started with calls to all council members to hear of questions or concerns about Thursday's upcoming regularly scheduled council meeting. I was able to contact all council members except Bush. Since we had such a short agenda, there were no questions or concerns.
Later Monday, I met with staff to go over the agenda. After our review, we believed the meeting would be under an hour. My last meeting on Monday was with the interim town manager and assistant town managers. We discussed a preliminary proposal for the Cary Town mall and staff reorganization. Our meeting lasted about half an hour.
Tuesday
Tuesday started with a visit to Davis Drive Elementary.
Visit to Davis Drive Elementary
First, I spoke to classroom-elected mayors, and then I spoke to the entire third grade class. I spent a few minutes talking about my mayoral duties and then answered questions from the 3rd graders. After the question and answer, I took pictures with each of the individual classes.
It was a lot of fun, and I look forward to my next visit.
SAS Championship
Tuesday night, I briefly visited the SAS Championship pro-am party but was unable to stay since it was election night.
Cary Town Council Celebration
After the pro-am party, I headed over to Rally Point and joined Don Frantz and Lori Bush in celebrating our reelection to the Cary Town Council.
There were about 50 or so supporters there joining in the celebration. I am very humbled and honored that the citizens of Cary believe in me and this council and the direction we are going. I think the last eight years have been good ones for the town, but I believe that, if we all continue working together, the next four years will be even greater.
I look forward to serving the next four years. Thank you Cary for your belief and trust in me.
Wednesday
Wednesday afternoon I joined Mayor Pro-Tem Smith, Cary Chamber president Johnson and a friend in participating in the SAS Championship pro-am. We were fortunate to play with professional golfer Steve Pate. We had a great time, and the weather was perfect.
Thursday
Thursday at 7:30 am, we started with our second round of the pro-am.
Golfing
For this round, we had professional golfer Carlos Franco, who was a hoot. A great time was had by all, and we actually finished in 4th place. Thursday afternoon, I did a taping for the golf channel to welcome everyone to Cary and the SAS Championships. My message was about 30 seconds long and played at the beginning of the broadcast on Friday.
Council Meeting
Thursday night, the council held their first council meeting of the month. At the meeting, we unanimously approved an economic incentive of $104,000 for DB Global, who committed to adding 250 new high-paying jobs and over $9 million in additional investments.
Council also reviewed the covered tennis courts planned for the Cary Tennis Park. There was some confusion that these were indoor courts and that they would be used to draw additional events. These courts will be covered courts that may or may not be converted to indoor courts in the future. They will be used mostly for citizen recreation and programming.
However, they may be used for existing events in case of rain. These covered courts will not be heated or have air conditioning. Staff reported that the design is 80% complete, which means construction should follow soon. The council meeting concluded after a length closed session.
Saturday
Saturday, I attended the noon and evening sessions of the Diwali festival at Koka Booth. Diwali is one of the largest Indian cultural celebrations in the southeastern United States. It's also the town's largest fall cultural festival and the largest event we host at Booth Amphitheatre.
Cary Diwali at Booth Amphitheatre
Diwali has received the "Arts and Humanities Award" from the North Carolina Recreation and Park Association. The theme for Diwali this year was Mahotsav, which means "grand celebration." The main attraction in the evening was musical artist Kavita Krishnamurthy.
Krishnamurthy has been called a Bollywood legend, and she has sung in six continents and in some of the world's finest venues including the Royal Albert Hall in London, Madison Square Gardens in New York City and The Kennedy Center in DC.
Kavita sang with Shurjo Bhattacharya, who has performed in North America and Asia. The day was capped off with a great display of fireworks. Despite the cool, rainy weather, there was a good crowd, and everyone seemed to be having a great time.
Sunday
Sunday, I attended the final round of the SAS Championships at Prestonwood Country Club. This was the 15th year SAS has sponsored this senior PGA event.
There was fantastic golf and good crowds. We are lucky to have this event that showcases Cary as one of the most beautiful places in America.
Emails from Staff
Emails from staff this week included the construction activity report.
Construction Activity Report
In September, the average single family dwelling was 3,377 square feet compared to 3,656 square feet in September 2011. 104 certificates of occupancy were issued in 25 neighborhoods, two were issued for 51 multi-family units and two were issued for nonresidential purposes.
Through August, single family permits were up 2.8% nationally, 5.2% statewide and 13.5% in Cary from the previous month.
Legislative Updates
Other emails from staff included legislative updates. They include:
Cary aesthetic controls have been eliminated. This removes our anti-monotony, garagescapes and slab-on-grade requirements.
Cary's protest petitions were also eliminated. Now developers only need a simple majority even if surrounding properties object to the development.
Local governments are now prohibited from requiring compliance with state rules for Jordan Lake.
Our 100 foot stream buffers, used to protect water quality, may now be eliminated since they are stronger than the state requirements.
Developers may now include stream buffers in their buffer requirements, basically allowing them to build right next to the buffer. This will likely create future flooding events for those new residents.
The town may no longer require developers to have stormwater protections greater than the state. This is another rule that will likely create future flooding events for residents.
There are a whole host of changes, and the legislature continues their assault on our right to govern ourselves. For Cary, this means a "dumbing down" of the rules, which puts our quality of life in jeopardy.
Emails from Citizens
Emails from citizens included a thank you to the council for all we do, a complaint about my last journal where I summarized candidates at a forum, a concern about crossing Cary Parkway on a bicycle, a concern about the lack of information on road closures and a complaint about the lack of information on elections.
Get in Touch
Next week's activities include a visit to Cary Elementary, a trail head dedication, a legislative campaign kickoff for a friend and several meetings.
Well, that is all for this week. My next post will be on Sunday, October 18th. Although I have Facebook and Twitter accounts those are not the best means of communications with me. Please send all Town of Cary questions or comments to Harold.Weinbrecht@townofcary.org and email personal comments to augustanat@mindspring.com.
——————————————————————————————————————————-
From the blog of Cary Mayor Harold Weinbrecht. Photos contributed by Mayor Weinbrecht. 
https://carycitizenarchive.com/wp-content/uploads/2015/10/Harold11.jpg
337
600
Harold Weinbrecht
https://carycitizenarchive.com/wp-content/uploads/2020/03/cc-archive-logo-450-v3.png
Harold Weinbrecht
2015-10-12 10:06:15
2016-01-09 11:59:10
Harold's Blog: Diwali, Golf, School Visits & More