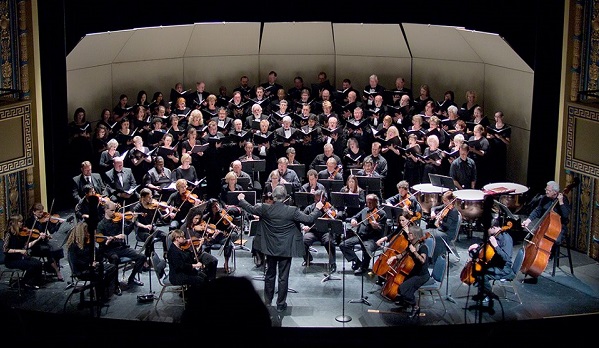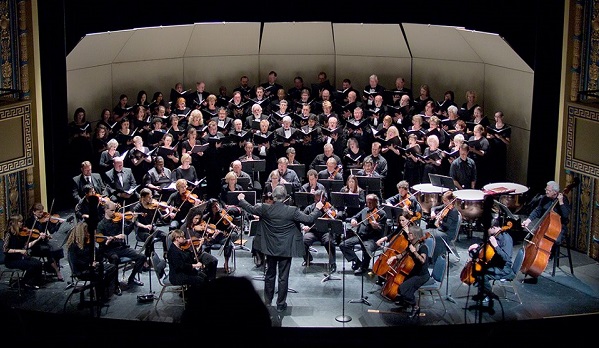 Cary, NC — The Concert Singers of Cary are celebrating 25 years of performances.  
Establishing Roots
I interviewed Larry Speakman to learn about the Concert Singers of Cary's origins and to find out what the organization is up to right now. Speakman currently serves as the General Manager and Principal Conductor for the Concert Singers of Cary, and he's served as the group's Artistic Director since he co-founded the group with four other people in 1989.
At that time, Cary's art scene hadn't yet taken off.
"The Town of Cary had just issued an invitation to the community to suggest the formation of arts groups," Speakman told me. By the fall of 1989, a committee was established for the Concert Singers of Cary. "Early art groups like ours were called local legacies."
Speakman and the other co-founders talked about their goals for the Concert Singers of Cary for almost two years before they held their first concert. "It took a lot to get our first concert up and running," he told me. "We wanted to do this right. We wanted to promote longevity."
First Concert
The Concert Singers of Cary took the stage for the first time on October 20, 1991. The concert was held in the newly-established Herb Young Community Center as part of the building's dedication. Herb Young was Cary's first community center.
"Once we realized we had some energy behind this, we organized more concerts for the year," Speakman said. From there, the group really flourished. When the directors held their first set of auditions, they only expected about 30 people to try out. 89 people showed up.
Concert Singers of Cary Style
Though the Concert Singers have been successful from the beginning, the now 150-member group only continues to grow in strength. Why? They're constantly mixing things up.
"We've decided that we don't like limitations," Speakman said. "Similar organizations in the Triangle are strictly dedicated to one kind of music, usually classical. We've made classical music a cornerstone of what we perform, but we're not limited to it."
The Concert Singers perform music of all styles and traditions, and they often join with orchestras, jazz bands and other musical groups to produce outstanding shows. They've performed with Raleigh's Moonlighters Orchestra, the NC Symphony, the Chamber Orchestra of the Triangle and the internationally-known pop group Stomp just to name a few.
There's challenge and a bit of danger in trying to appeal to all tastes of all people. No one can do that. But we do what we can do, and, when we're thoughtful about it, we can cover a wide swatch of things.
The Concert Singers of Cary also place an importance on connecting with their community. "We want to serve the community and provide opportunities for community members to participate," Speakman said. "We've stayed a Cary group while setting the bar high on the quality of what we were doing so we could become a player of the arts scene in the Triangle."
We're a Cary group all the time, but we bring Cary to other communities, which is something we're proud of.
Through the Artist's Eye
The Concert Singers of Cary also strive to engage audiences and to teach them about the performances they witness. Speakman calls this mission Through the Artist's Eye. "One of my frustrations as someone who loves classical and traditional music," he said, "is that many groups like ours do a miserable job historically of pulling audiences into the performance experience."
Usually, details about the history of the songs are printed in tiny font on the programs and are rarely talked about at concerts."My goal instead is to have audiences leave understanding what they heard," Speakman said. "In our more intimate concerts, we'll pause between numbers to tell the crowd what they're listening to – its background and what makes it special."
Get Involved
"This is a wonderfully exiting time for the group," Speakman said. It is indeed – several exciting Cary shows are coming up in the next several months, including:
Cloudburst: Music of Our Time, November 8, 2015 at 3 pm at The Matthews House
Holiday Pops, Sunday, December 13, 2015 at 3 pm at The Cary Arts Center
Keep reading CaryCitizen for more Concert Singers of Cary updates. If you're interested in auditioning, email info@concertsingers.org or like the Concert Singers of Cary on Facebook.
———————————————————————————————————————————
Story by Jessica Patrick. Lead photo by Denny Colvin. 
———————————————————————————————————————————
CaryCitizen is sponsored in-part by the Concert Singers of Cary.
https://carycitizenarchive.com/wp-content/uploads/2015/10/Concert-Singers.jpg
348
599
Jessica Patrick
https://carycitizenarchive.com/wp-content/uploads/2020/03/cc-archive-logo-450-v3.png
Jessica Patrick
2015-10-15 14:46:29
2019-12-08 10:24:29
Concert Singers of Cary Celebrate 25 Years