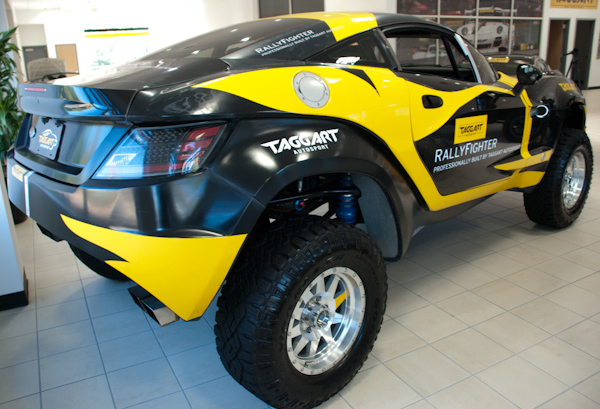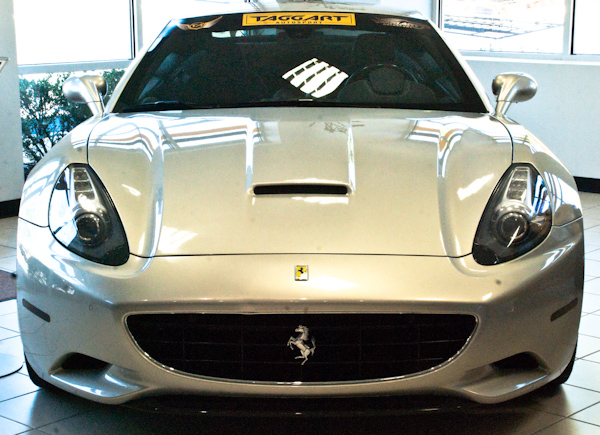 Cary, NC — Something extraordinary just opened in Cary, and there's nothing in the area like it.
Taggart Autosport Opens in Cary
In front of a 20,000 square foot building on NW Maynard Road, the sign for Taggart Autosport boasts "Exotic Supercars and Off-Road Vehicles." But that's only half the picture.
Taggart Autosport is now open in Cary, and to say that the business is fascinating is an understatement. Taggart is both a showroom and a factory where high-performance vehicles are all either customized or made-from-scratch to customers' preferences.
It All Happens Here
From design to construction, cars are created from start to finish right in the Cary building.
Between its built-in factory and showroom, Taggart Autosport has 18 or more vehicles on-site at all times, and each and every one is personalized by owner Jim Taggart himself. With Taggart and his team, customers can either pick a vehicle they love or design one from scratch.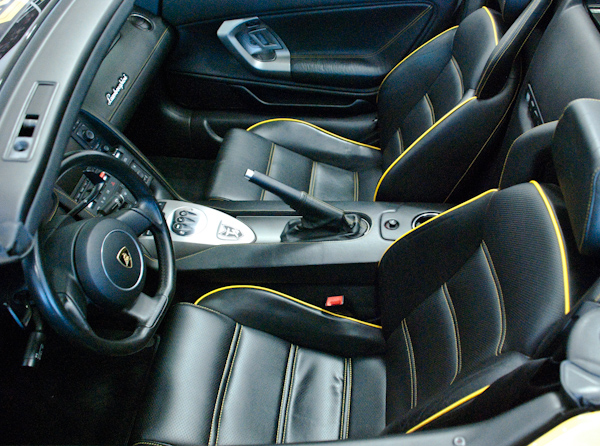 All the vehicles in Taggart Autosport are either bought brand-new from other dealerships or assembled right in the Cary building. "Our high-end exotic cars, among others, are bought new, and then we add our own touch," Taggart explained as he showed me a striking Lamborghini. Other vehicles at Taggart are built from scratch, including Jeeps and the Taggart Rally Fighter, an off-road vehicle designed to go over rough terrain as fast as a race car.
Taggart and his team make it a priority to artfully craft and test each vehicle.
"I have the terrible job of driving everything we make or buy to make sure it drives perfectly," Taggart joked. He told me that, whenever they get a new car in, they'll take the wheels off, put it up in the air and give it a deep clean. Every painted surface is waxed. "Most dealers buy cars at auctions, bring them on their lot, wash them and get them out there to sell," he said. "We want to take our time and make sure the car is just right for the customer."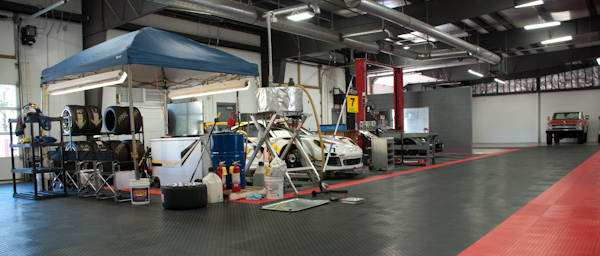 From there, Taggart and his team add sporty embellishments – like carbonfiber accents – to make the cars personalized and distinguished. They might powdercoat the wheels black or re-do the interior – with a large factory on-site, the possibilities are endless.
Inventory & Pricing
The big question is, what exactly can you find in the showroom?
Taggart is constantly adding to his inventory, but some of the exotic cars he sells include Jaguar Coupes, Lamborghinis, Ferraris and Porsches – all of which are "ramped up" with his personal touch. Off-roading enthusiasts can enjoy specially-designed Jeep Wranglers and Ford trucks made anyway they want, and most every customer will want to check out the Rally Fighter, which can rocket from 0-60 in six seconds flat and, virtually, travel anywhere.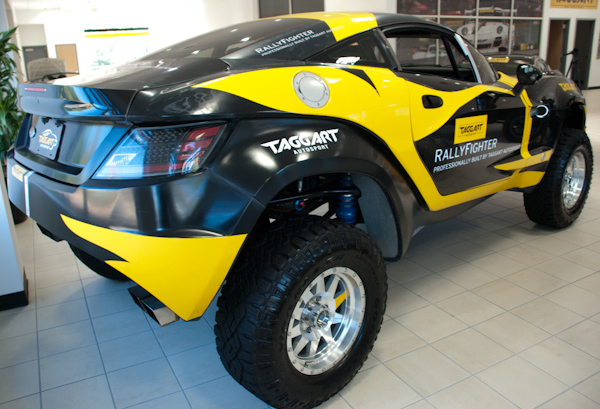 Like at any dealership, Taggart's prices vary depending on the vehicle. In his line of exotic supercars, Porsches can start in the $30,000's and go all the way up to the Lamborghini, which averages around $152,000. Jeeps can start in the mid-40's and go to the $70,000's.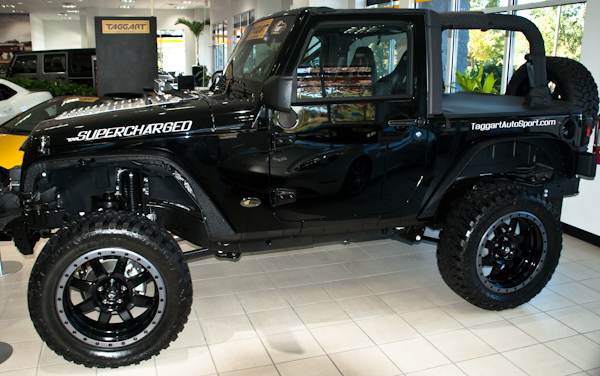 Taggart takes pricing and customer service seriously. "I spend a lot of time making sure our cars are priced right, and I also want to win by having superior service," he said.
You can find more details about Taggart's inventory online.
A Passion for Driving
Though Taggart Autosport is brand new, Jim Taggart's passion for the business is not. Taggart lived in Cary for 28 years before he closed his high-tech pharmaceutical company and pursued his dream of opening the showroom and factory. As a race car driver himself, Taggart appreciates the design, speed and quality of a good car and, now, he gets to help customers build their dream vehicle from the ground up.
Taggart started racing on road courses in 2011. Just last weekend, in fact, he competed in a race at the Virginia International Raceway, where his car drove for 13 hours straight. "The endeavor took four drivers, 300 gallons of gas, three sets of tires and an eight-person crew," he told me. Taggart's true passion for the sport – and for the vehicles he sells – is obvious.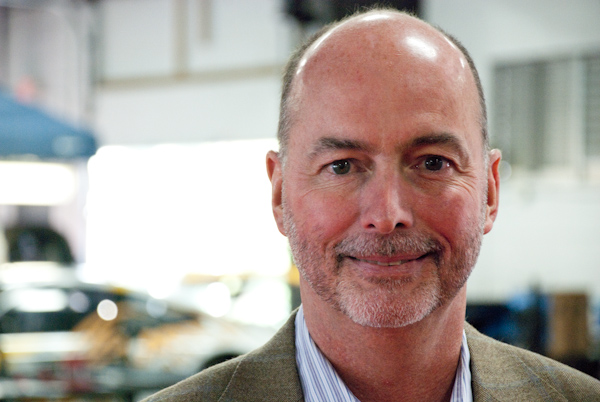 Personalized Appointments
Back in the showroom, Taggart wants his customers' car-buying experiences to feel just as fun and personal as he feels when he's behind the wheel of his own cars. That's why a visit to Taggart Autosport is usually by appointment only.
"When customers come into the showroom, they have the whole place to themselves," he told me. "They can test drive anything they want. We want people to come here and have a different experience of buying a car, especially when they're buying cars like these."
Some customers will see a car they like and buy it as is, while others may want a variation on something they see – or something entirely new. At that point, Taggart works with his engineer and designer to plan and sketch out a personalized vehicle for his customer.
Grand Opening Hours
During the month of October, Taggart is celebrating his grand opening by keeping the showroom open house-style. On Mondays through Fridays from 10 am to 6 pm, the community can stop by to check out the showroom and manufacturing space. Individual, personalized appointments are still available by request during the open house.
Taggart Autosport
1640 NW Maynard Road, Cary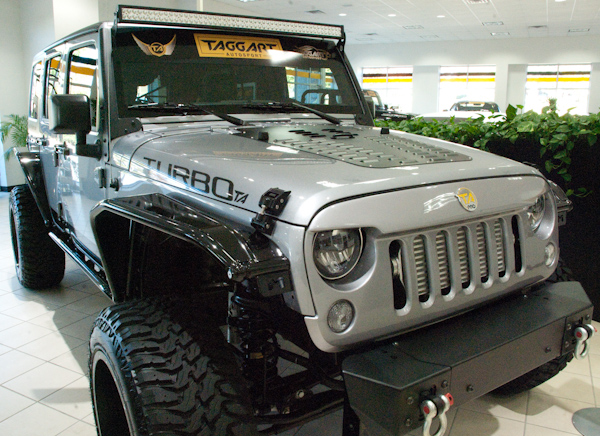 ———————————————————————————————————————————
Story by Jessica Patrick. Photos by Hal Goodtree.
https://carycitizenarchive.com/wp-content/uploads/2015/10/taggart-auto-0049.jpg
409
600
Jessica Patrick
https://carycitizenarchive.com/wp-content/uploads/2020/03/cc-archive-logo-450-v3.png
Jessica Patrick
2015-10-26 14:41:37
2016-01-09 11:39:13
Taggart Autosport Opens in Cary