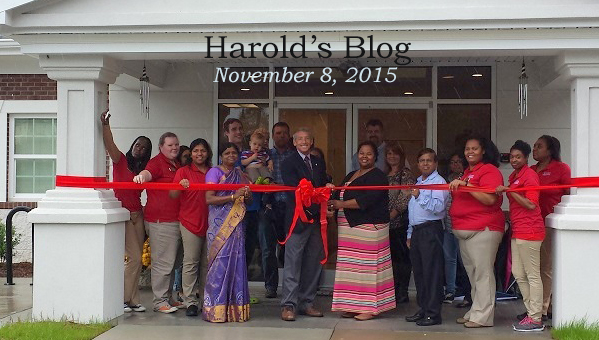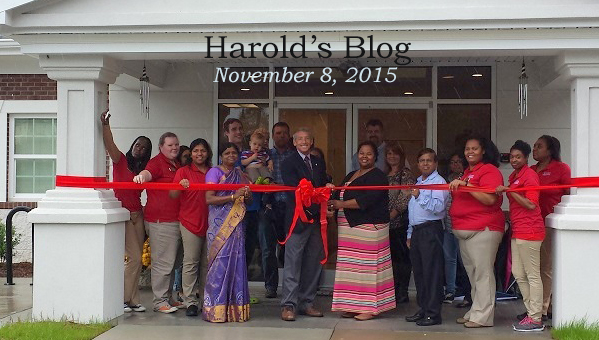 Cary, NC — This week included a few meetings and several events.
Monday
Monday, I met with the interim town manager for our weekly one-on-one. We discussed several items, including potential businesses in the core of downtown. We also discussed future proposals that staff is preparing to bring to council for a decision.
Our meeting lasted about half an hour.
Tuesday
Tuesday, I met with the president of Cary's Sister Cities organization.
Big Ideas for Lazy Daze 2016
She pointed out that next year will be both the 40th anniversary of the Lazy Daze arts and crafts festival and the 25th year of Cary's Sister Cities. Her plan is to bring the four sister cities mayors to Cary during that time. The sister cities organization and Cary Chamber of Commerce members will be working to finance and help with the activities associated with the visit.
Cary's New Sister?
We also talked about an additional sister city in India. This potential sister city is planning a research park similar to RTP but with more of a mix of uses. It is my understanding that to add a sister city will require that city to meet certain requirements and then have council approve.
We'll see if that happens.
Thursday
Thursday, the council held a Quasi-Judicial Public Hearing to consider a sketch site plan to develop a commercial building on a 3-acre portion of the Cary Towne Center property located at the intersection of Southeast Maynard Road and Cary Towne Boulevard.
New Proposal Near Cary Towne Center
The proposal includes modifications to the Town's development standards, including streetscape widths, disturbance within the thoroughfare corridor buffer, parking maximums, pedestrian connectivity, roadway setbacks, intersection spacing and right-of-way easement dedication.
The council agreed to the applicant's request to continue this hearing until January to allow the applicant to consider the modifications approved and denied by council. Since this hearing is still pending, I can't discuss it further. The council adjourned after two hours.
Friday
Friday, I was one of the featured speakers at Cary Academy's celebration of creativity and innovation. I talked about the way Cary attracts companies and individuals in creative or innovative fields. I also talked about the way we use creative and innovative ideas in the creation of town facilities. My talk lasted about 15 minutes.
Other speakers included the Chief Medical Officer and Senior Vice President of Flatiron Health, the Director of the Institute for Emerging Issues at North Carolina State University, LS3P Architects, a Theoretical Physicist and Associate Professor at University of North Carolina at Chapel Hill and several past and current Cary Academy students.
Saturday
On Saturday, I attended two ribbon cutting ceremonies.
Ribbon Cuttings
Saturday morning, I attended the ribbon cutting for the Children's Lighthouse Learning Center on McCrimmon Parkway. The learning center accommodates children from six weeks to the 5th grade and is based out of Texas. Their capacity is about 170 children, and they have a very low teacher-to-child ratio. They opened on September 3, 2015. I had the honor and privilege of cutting the ribbon to officially open the center. I wish them the best of luck and success.
Later Saturday, I attended another ribbon cutting at Ten Thousand Villages in the Shoppes of Kildaire. They are a non-profit that sells unique gifts, home décor, jewelry, art and other treasures handcrafted by artisans from all over the world. I was joined by a couple of dozen people as we cut the ribbon and officially opened this store.
Based on their success in Cameron Village, I am sure they will be a huge success.
New Accolades
Cary was recognized twice this week by publications. WallStreet.com named Cary as the #6 best city to live in America, and Triangle Business Journal recognized Cary as the smartest city in the state. Cary is blessed to receive numerous kudos each year.
3rd Quarter Report
Emails from staff this week included the 3rd Quarter Report.
Notable Items:
As of October 1st, our population is 154,671, which is a 2.7% increase in the last 12 months.
Our incorporated land is now 58.57 square miles.
Third quarter plan submittals included 159,500 square feet of office, 113,869 square feet of educational institutional, 79,545 square feet of commercial, 144 single family lots, 190 townhomes and four multi-family units.
Water demand was 2 million gallons a day higher than the 3rd quarter last year.
During the last 12 months, violent crime was down 29% and property crime was up 7% with the largest property crime increase being motor vehicle theft which had a 13% increase.
Community Center attendance increased by 3.4% and associated revenue increased 8.3%.
Major Construction Projects
Recent Accolades:
#2 up and coming for tech jobs (Zip Recruiter July 2015)
#11 population and wealth growth (Self-Storage July 2015)
#3 where white collar employment is booming (Forbes July 2015)
#2 Life Sciences employment (Biospace August 2015)
#4 Technology Jobs (Simply Hired July 2015)
#3 finding a job (Career builder July 2015)
#6 economic growth (US Conference of Mayors July 2015)
#8 healthiest housing (Wallet Hub August 2015)
#7 economic potential (fDi American cities of the future September 2015)
Website Update
The Town of Cary's website overhaul is underway with a completion by the end of 2016.
To read the entire third quarter report, visit the town website.
Tennis Championships Summary
In other staff emails, a summary was sent for the Cary Tennis Championships. Here are some of the budget versus actual spending from that tournament:
Ticket sales budgeted at $5000 and actual was $11,069
Merchandise was budgeted at $0 and actual was $1,104
Event licensing was budgeted at $0 and actual was $15,425
Sponsorships were budgeted at $189,500 and actual was $192,756
Total revenues were budgeted at $214,500 and actual was $221,554
Expenses were budgeted at $222,003 and actual was $203,797 for an event net of $17,758
We hope this tournament will be even a bigger success next year.
Emails from Citizens
Emails from citizens this week included a complaint about urban sprawl, a comment about greenways and a comment about mulching on private property.
Get in Touch
Next week will include two talks and interviews of town manager candidates. My talks will be at NC State and with the seniors at Prestonwood.
Well, that is all for this week. My next post will be on Sunday, November 15th. Although I have Facebook and Twitter accounts those are not the best means of communications with me. Please send all Town of Cary questions or comments to Harold.Weinbrecht@townofcary.org and email personal comments to augustanat@mindspring.com.
———————————————————————————————————————————–
From the blog of Cary Mayor Harold Weinbrecht. Photo of the Children's Lighthouse Learning Center ribbon cutting courtesy of Mayor Weinbrecht.
https://carycitizenarchive.com/wp-content/uploads/2015/11/Harold16.jpg
340
599
Harold Weinbrecht
https://carycitizenarchive.com/wp-content/uploads/2020/03/cc-archive-logo-450-v3.png
Harold Weinbrecht
2015-11-09 10:37:09
2016-01-09 11:59:10
Harold's Blog: Construction, Town Stats & Accolades