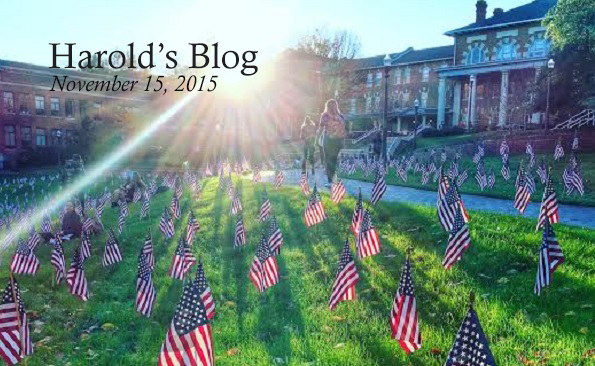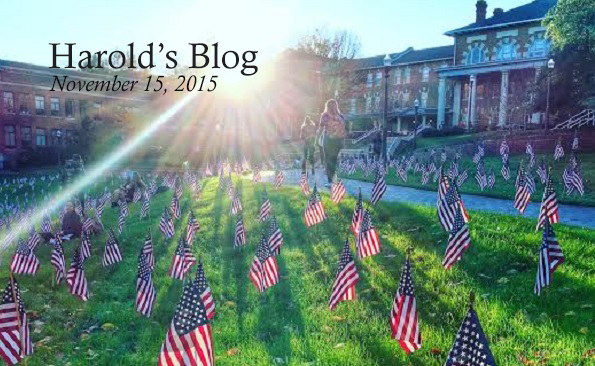 Cary, NC — This week consisted mostly of presentations and the interviewing of town manager candidates.
Monday
Monday, I talked with the interim town manager about several issues during our weekly one-on-one meeting. Topics included the sewer spill in Lochmere, getting information to the council-elect member, transportation development fee credits, noise complaints about Kellogg and the upcoming rezoning for the new library.
Wednesday
Wednesday, I had the privilege to join council member Bush in a visit to NC State. We spoke to the Media and Politics class, or COM498.
Questions from NC State Students
Some of their questions included:
If you could think of one person who had the biggest impact on your decision to become an elected official, who would it be and why? What aspect of your campaigns have been the biggest success? What do you think caused the people of Cary to elect you?
Who were the strongest opponents that you have faced? What campaign methods did they use that differed from yours? What issues are the most difficult to campaign for when it comes to persuading the people of Cary? Why do you think this is the case?
As a mayor, do you think that there are terms or phrases politicians should avoid? If so, are there any examples you have come across in the past?
If not, how do you go about crafting your campaign messages?
Some politicians struggle to relate their somewhat complex political ideas to the public when they are trying to rally support. How much have you struggled to disengage from "political" talk when you are speaking with the public? How much importance do you place on the role of media as a way of informing the public and getting people involved?
What kind of mass media do you believe is most worth the campaign dollar in political advertising (radio, TV, newspaper, etc.)? How have you used political advertising in the past? What overall effect did you feel this had on your campaign?
One article we read says that there is a lot of strategy into when and where to place "on-air" ads. In your campaigns, have you targeted multiple demographics at any given time? Or do you align a campaign with your selected demographic and discuss issues important to them? Have you ever felt it was necessary to run negative ads against your competitors? And how have you responded to negative ads run against you?
Have you ever had a situation where you felt you made a mistake in conveying a message? If so, what would you do differently?
In one of our readings, Frank Luntz says, "You also have to consider the knowledge and frame of reference – the context – of your listener." How do you get a grasp on the knowledge of your audience?
Some of the research we've read indicates that many times citizens will only become involved in politics or elections towards the very end of a campaign. How do you go about mobilizing your intended audience to take action more proactively? What methods and strategies do you use to measure the persuasive impact of your individual political advertising or messaging?
We had a great time answering the questions and discussing issues related to communications and politics. The class seemed engaged and interested and even gave us applause in the end.
Veterans Day
Wednesday was also Veterans Day.
And as we were headed back to the car from speaking at NC State, we couldn't help notice the beautiful display of flags honoring all our Veterans. God bless each and every one of them for putting their lives on the line so that we can remain a free people.
Thursday
Thursday I met with a group of seniors from Prestonwood to talk about current issues going on in the town and in their area of town, which is district 2. Here are some of the updates I provided:
Town Manager Search
The town manager search is in the interview stage. We may or may not choose from the candidates we are interviewing.
We have a goal of appointing a town manager before the end of the year.
Google Fiber
Google Fiber started construction in the Triangle in June. Town staff and Google Fiber continue to work closely to manage the impact on residents during this process.
For information on who to contact at Google for construction questions, please see the Town of Cary website and search on "gigabit fiber."
High House Road/Cary Parkway Project
The Cary Parkway and High House Road Intersection Improvements Project will improve traffic flow and ease congestion through the intersection, especially during the morning and afternoon work commute times. This will be done by adding a second left turn lane on both approaches of High House Road and the southbound approach of Cary Parkway and adding a right turn lane to all four approaches.
Many of the existing trees and shrubs will be preserved and those impacted will be replaced in kind. All impacted sidewalks will also be replaced and the existing clock tower and walls at the intersection will be preserved.
The current schedule is for construction to be completed in 2017.
The project schedule was adjusted to accommodate DOT's detour from the Morrisville Parkway railroad grade crossing project.
Chart of Other Construction Projects
I also told them about these other projects.
Financial Status
We have lowered debt over 20% in the last 5 years.
The fund balance is close to 80% of the operating budget.
The fund balance is required to have a minimum is $33 million.
Currently the town has about $75.4 million.
Town's debt is 11% and will go to 13% when we issue bonds the next round of voter approved bonds. Our ceiling is 15%.
Financially we are in a good position and have improved our financial position based on bond rating agency criteria (Moody's, standard and Poor, Fitch).
We have over $300 million worth of projects to select from and to implement within the next five years.
Council reviewed capital projects and unanimously asked staff to look at spending capital on the library structured parking and capacity.
District 2 Statistics
Overall District 2 crime numbers are up for Part I crimes, mainly due to a rash of burglaries we had in the beginning of the year (Jan, Feb). Since then we have made several arrests and increased our efforts in the overall area, to include Preston.
District 2 burglaries in recent months have been lower than the same months compared in 2014. An example is the month of September is down in 2015 compared to 2014 by -29%.
District 2 violent crime is down -15% in 2015.
The Barbee Farm development's western half of the tract was rezoned from R-40 (Residential-40) & PDD (Planned Development District) to R-12CU (Residential-12-Conditional Use) on September 11, 2014. Conditions include a maximum density of 2 units per acre and a minimum lot size of 13,000 square feet with an average lot size of 15,000 square feet.
This group was very gracious and kind, and I thoroughly enjoyed my visit. We are already scheduling my visit for next year around this time.
Friday
Friday, we began the interviewing process of the six candidates for town manager.
Interviews for Town Manager
This decision will be one of the biggest decisions the council will make during our time in office. The implications for the staff and town are huge. Friday's process began at 4:30 pm and ended a little before 9 pm. Two of the candidates were reviewed during this time.
Continued…
Saturday, we reviewed the remaining four candidates starting at 9:15 am and ending at 6:00 pm with an hour and a half for lunch. One interesting characteristic of multiple candidates was that they hadn't interviewed for more than a decade. Many of them also said Cary was a premiere community with a well-known reputation. I am not allowed to say much else since our discussions were in closed session, and this is an ongoing process.
Construction & Activity Report
Emails from staff this week included the construction and activity report. Items of note included:
In October, the average new single family dwelling was 3,695 square feet.
Compare it to an average of 3,818 square feet in 2011.
Cary had 13.5% of new single family permits in Wake County in the month of September.
Raleigh and Fuquay had more.
85 CO's were issued for new single family dwellings in 25 neighborhoods.
CO's were issued for 24 multi-family units at Parkside Town Commons.
C0's were issued for 59 multi-family unitsat Chatham Point Apartments.
Six new nonresidential CO's were issued for the Restaurant Depot, the Children's Lighthouse Daycare, and a new shell building.
Single family permits were down 26% from the previous month.
12 new development plans were submitted in October that included 21,313 square feet of commercial and 139 hotel rooms, 145 single family dwellings, and 163 townhomes.
Approved plans in October included the Prestonwood fitness center, White Oak Elementary Road improvements, Crosspointe Church expansion, and the town's downtown park.
See all approved plans for 2015 and all plans currently under review.
Emails from Citizens
Emails from citizens this week included a complaint about sprawl, a complaint about someone's neighbor, a complaint about MI homes, a complaint about crossing Cary Parkway between Evans and Norwell and several invitations for events.
Get in Touch
Next week will be a very busy week for me as we try to cram everything in before the Thanksgiving holiday week. Activities include:
A Mayors Association outing
Council pictures
A council work session
A taping of Cary Matters
A meeting of the Capital Area Metropolitan Planning Organization
A regularly scheduled council meeting
The Waverly tree lighting ceremony
Well, that is all for this week. My next post will be on Sunday, November 22nd. Although I have Facebook and Twitter accounts those are not the best means of communications with me. Please send all Town of Cary questions or comments to Harold.Weinbrecht@townofcary.org and email personal comments to augustanat@mindspring.com.
——————————————————————————————————————————–
From the blog of Cary Mayor Harold Weinbrecht. Flags at NC State photo by Lori Bush.
https://carycitizenarchive.com/wp-content/uploads/2015/11/Harold17.jpg
366
595
Harold Weinbrecht
https://carycitizenarchive.com/wp-content/uploads/2020/03/cc-archive-logo-450-v3.png
Harold Weinbrecht
2015-11-16 10:25:24
2019-12-08 10:14:41
Harold's Blog: Construction Report & a Visit to NC State