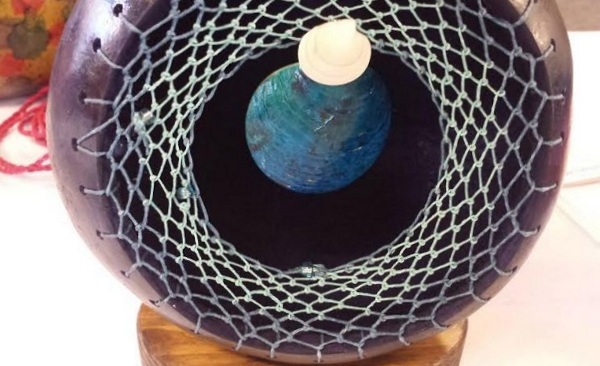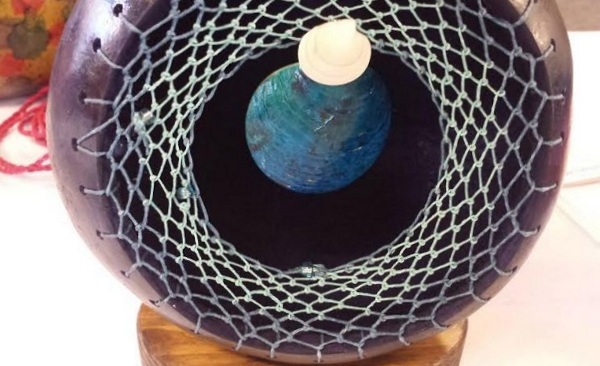 Cary, NC — Cary was once known as "The Gourd Capital of the World." While that reputation hasn't lived on, it turns out that gourds – and gourd art – have.
Gourd Capital of the World
It's true – Cary, once famous for its annual gourd festival, was "the place" for gourd growing and gourd art. Our original town seal, which was adopted in 1964, even came complete with a border of gourds. The bottom of the seal read "Gourd Capital of the World."
Cary's gourd fame took root in the 1930's, and, by the 70's, it was flourishing.
The main reason for this was the fact that Cary hosted an annual gourd festival, which displayed gourd art – gourds made into lamps, baskets, doorstops, birdhouses, rings and toys. At the festival, exhibitors and shoppers could also buy gourds and learn more about gourd growing. The 1990 Gourd Festival was held in Cary's Jordan Hall, which is still around today.
Why aren't more people in Cary aware of this history in 2015?
At the time the gourd festival took off, Cary didn't have many large venues, so, eventually, the gourd festival outgrew the town and moved to Raleigh. It's still around today. In fact, the 75th annual NC Gourd Festival will be held in September at the NC State Fair Grounds.
Gourd Art
Although the festival moved to Raleigh, Cary's gourd roots have remained.
Gourd growers and artists are still in our community, and I met two of them at West Regional Library in Cary. The library brings artists in to talk about their works each month, and this month's featured artists were gourd artists Vanya Elliott and Barbara McGeachy.
Barbara told me the the NC Gourd Society, which started in Cary, is the oldest gourd society in the U.S. The group meets four times a year in Raleigh to talk gourd growing, to practice gourd art and to plan for their annual gourd festival.
In front of Barbara and Vanya was a collection of their gourd art.
Barbara and Vanya had used gourds to create Christmas ornaments. "Gourdaments," they called them. The gourdaments, as you'll see below (on the left), look a lot like eggs. They're painted bright colors, like red, with alcohol inks and decorated with beads.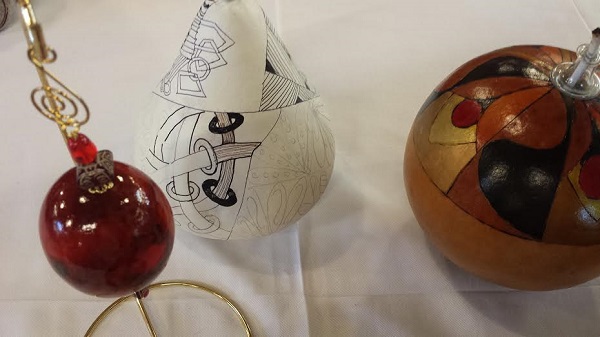 Vanya also used a gourd to make an oil lamp, as you'll see on the right. Apparently, gourds can be made into countless things – like baskets, vases, dolls and animals. Barbara was even sporting a pair of gourd earrings that she'd made from miniature gourds.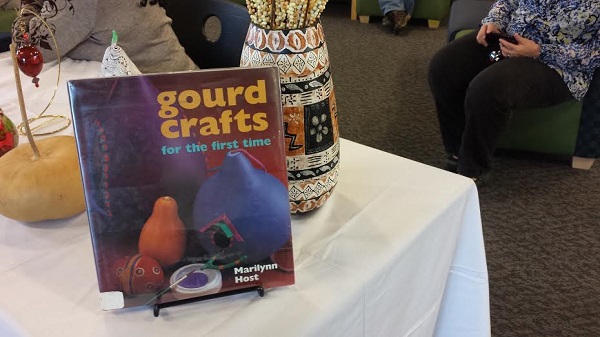 Gourd art can be as funky – or as beautiful – as the artist wants it to be. Vanya made this colorful gourd basket with alcohol inks, beads and a decoupaged napkin.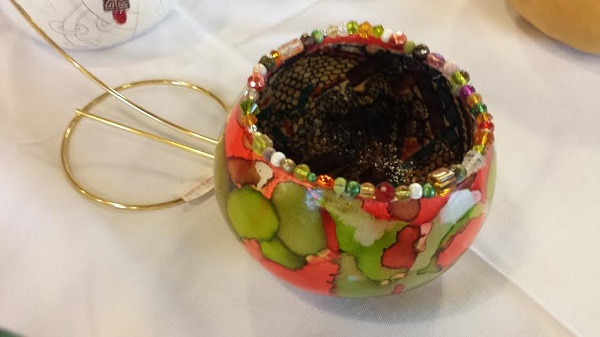 What's Inside a Gourd?
The most interesting thing I learned about gourd art, though, is the process of prepping a gourd. Before you can turn a gourd into art, it has to dry. I'd always assumed that, to dry a gourd, you'd cut a hole in it. Apparently, that's the exact opposite of what is done.
A gourd has to be left alone, un-cut, for about one year before you can use it. When it finally dries, it feels hard – almost like plastic – and, if you shake it, you will hear the dried pulp and seeds that are still inside (much like a pumpkin's guts).
Once the gourd is dry, it's up to the gourd artist to cut it open and remove the pulp and seeds. "You have to wear a respirator mask," Barbara told me, "because the filling is dusty and moldy and bad for you to breathe." Once the dried gourd is cleaned and de-gutted, it's safe to carve, decorate and display in your home as art. Vanya compared it to wood-cutting.
"As you carve your gourd," she said, "a sawdust-like powder can blow up in your eyes. It's best to wear safety glasses in addition to your face mask."
Connect with Gourd Artists
If you want to learn more about working with gourds, visit the NC Gourd Society online. There, you can join the group and learn more about what's coming.
———————————————————————————————————————————
Story and photos by Jessica Patrick.
https://carycitizenarchive.com/wp-content/uploads/2015/11/Gourd-Art.jpg
366
600
Jessica Patrick
https://carycitizenarchive.com/wp-content/uploads/2020/03/cc-archive-logo-450-v3.png
Jessica Patrick
2015-11-18 14:03:47
2015-11-18 15:09:29
Gourd Art: Why It's A Thing in Cary