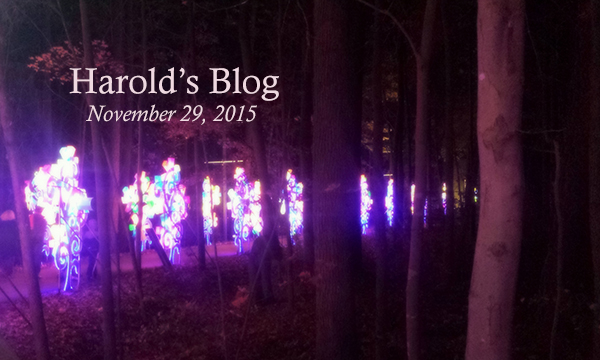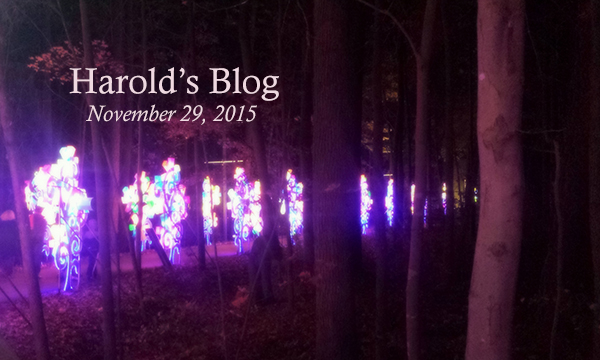 Cary, NC — Here's an update from the short week before Thanksgiving.
Monday
Monday, I gave remarks at the preview of the North Carolina Chinese Lantern Festival, which opened to the public on Saturday, November 28, 2015. The festival includes more than 20 displays, each one comprised of hundreds of parts and thousands of LED lights.
Chinese Lantern Festival
Here is an excerpt from my remarks:
…This is the first time that Tianyu (TEE AN YOO) Arts and Culture has presented its Lantern Festival in the southeastern United States.

Tianyu considered several sites in North Carolina, and we are proud and excited that Cary was chosen to host the Festival. We join other cities such as Spokane, Washington, whose Festival was so well-received that it had to be extended two weeks. Traditionally, the Lantern Festival – a celebration of good luck – takes place on the 15th day of the first Chinese lunar month. We also know that the festival traditionally ends the Chinese New Year period, and in 2015 that was on March 5.

Although it is not the period normally designated for the Festival, when offered the opportunity to share it with our citizens and visitors to our town, we were quick to accept. The cultural significance and beauty of this 2,200-year-old tradition was not something we could pass up. And, knowing that the Festival dates would coincide with the western celebrations of Thanksgiving, Hanukah, Christmas and New Year is a nice melding of our two cultures. Because, no matter the differences between our cultures, we have much in common and so much to learn from and share with one another. This Festival is a wonderful example of that sharing.

For several weeks, we've had a work crew of more than 20 from Tianyu assembling the more than 20 displays you'll see throughout the Festival, each of which is comprised of hundreds of parts and thousands of LED lights.

These extravagant structures include zoo animals, flowers, a dragon and a giant fan. The Festival is going to be tremendous. I cannot wait for the doors to open on November 28th so that those who live in and visit our town can also experience the wonder. Some of you may have heard me say this before, but it bears repeating. Cary is incredibly diverse, and one of our largest population groups is Asian.

We're proud of our diversity and celebrate it throughout the year with events like Diwali, Oktoberfest and the Dragon Boat festival. It's events like this festival that help keep our community strong and successful as we become familiar with the values, experiences, and talents that each of us offers. Thank you for inviting me to be with you this evening. I hope all of you enjoy this preview of the North Carolina Chinese Lantern Festival. Before taking in the beauty of the displays, I'd like to invite Jack and Ed to join me for the countdown to the lighting…
This festival will be a great place to take family and friends over the holidays. My wife and I thoroughly enjoyed it and plan to go back for another visit.
Tuesday
Tuesday, I talked with the interim town manager in our weekly one-on-one meeting.
Property Values
We talked about upcoming property reevaluation, refinancing and a grant. The county is in the process of assessing properties in each municipality. That process will come to a close in the coming weeks, and information will be sent to homeowners about the value of their properties.
Refinancing Opportunity 
A refinancing opportunity was also discussed, and an email was sent to the entire council with the details. Basically, the town could save $1.8 million over 14 years. The interim town manager also let me know that the town was awarded a impact grant by IBM. They will provide free consulting help for social media for the town. It is about $35,000 worth of consulting.
Thanksgiving
The rest of the week was spent with family, friends and grandpuppies. We had a wonderful Thanksgiving with 11 crowded around the table. My oldest daughter was visiting from New York, and my youngest was visiting from the coast with her boyfriend.
I am so glad I got to spend time with them, even if it was just a few days. I am so grateful for all that I am blessed with and for the great community that I am a part of. I hope everyone experienced some joy and peace in their lives during the holidays.
Emails from Staff
Emails from staff this week included a refinancing opportunity of approximately $29.5 million in 2009 General Obligation bonds, which I discussed with the town manager earlier in the week. In the current market, a refinancing would provide about $1.84 million in budgeted debt service savings (worth $1.58 million in today's dollars) over 14 years.
The town's debt management policy states that a minimum of 3% present value savings must be achieved to move forward with a refinancing. The current estimate for this refinancing opportunity is 5.37%. The bonds were originally issued for parks, open space, streets and wastewater projects. If the full refinancing occurs, debt service savings would be split with 53% benefit to the general fund and 47% to the utility fund.
Normally, the Town would conduct this refinancing through a competitive public issuance of municipal bonds. However, the town's financial advisors believe that the Town has the opportunity to refinance the bonds through a direct placement with a bank following a competitive RFP process. If a refinancing bid is accepted, the Town's bond attorneys would have documents ready for two staff reports to come to Council in January.
Emails from Citizens
Emails from citizens included a question about high speed internet providers, a complaint about Lazy Daze on Town Hall campus and several holiday best wishes.
Next Week
Next week will be a busy one. Final interviews with the town manager candidates will take place early in the week. The week will also include welcome remarks to the NCAA committee who are in town for the College Cup being held at Wake Med Soccer Stadium.
In addition, I will be a judge in an ugly sweater contest, provide opening remarks at the Ole Time Winter Festival and provide remarks at the annual tree lighting ceremony.
Get in Touch
Well, that is all for this week. My next post will be on Sunday, December 6th. Although I have Facebook and Twitter accounts those are not the best means of communications with me. Please send all Town of Cary questions or comments to Harold.Weinbrecht@townofcary.org and email personal comments to augustanat@mindspring.com.
——————————————————————————————————————————-
From the blog of Cary Mayor Harold Weinbrecht. Lead photo by Jessica Patrick. Photo with Gene and Julie courtesy of Mayor Weinbrecht.
https://carycitizenarchive.com/wp-content/uploads/2015/11/Harold1.jpg
360
600
Harold Weinbrecht
https://carycitizenarchive.com/wp-content/uploads/2020/03/cc-archive-logo-450-v3.png
Harold Weinbrecht
2015-11-30 10:42:58
2016-01-09 11:59:10
Harold's Blog: Chinese Lantern Festival & More