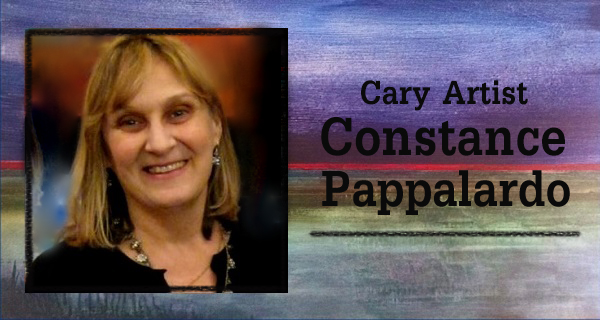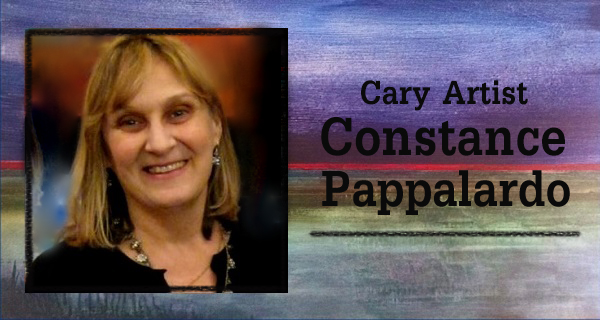 Cary, NC — I met Constance Pappalardo, a Cary artist, to hear her stories about growing up in New York, traveling as a missionary and the art she creates today.
Constance Pappalardo
Constance Pappalardo has lived in Cary for almost 30 years now and has immersed herself in the local art scene. She is a member of the Village Art Circle gallery in Ashworth Village, Artspace in Raleigh, Visual Art Exchange, the Durham Art Guild and more. She helped form the Cary Art Loop and has exhibited her work at multiple venues and galleries around the Triangle – in fact, she has three shows coming up in the first half of 2016 alone.
Constance, who was born in Peru and moved to New York with her family when she was eight, was exposed to a diverse and advanced art scene at a young age. We met for coffee to talk about her paintings, her inspiration and the places she's lived and worked.
Q: How did growing up in New York influence your art?
My mother loved art – she was a very cultured woman – and she'd take me to the Metropolitan Museum almost everyday. I just grew up loving art.
The paintings felt like my friends. As I got older, I got better at anything I did that was creative, and I was surrounded by people who supported me. My teachers would tell me that my paintings were special, and that praise means a lot to a child.
Q: And that inspired you to go to art school?
I went to a very progressive high school called the United Nations International School, which had a huge art program. Then, from there, I went to the School of Visual Arts in Manhattan.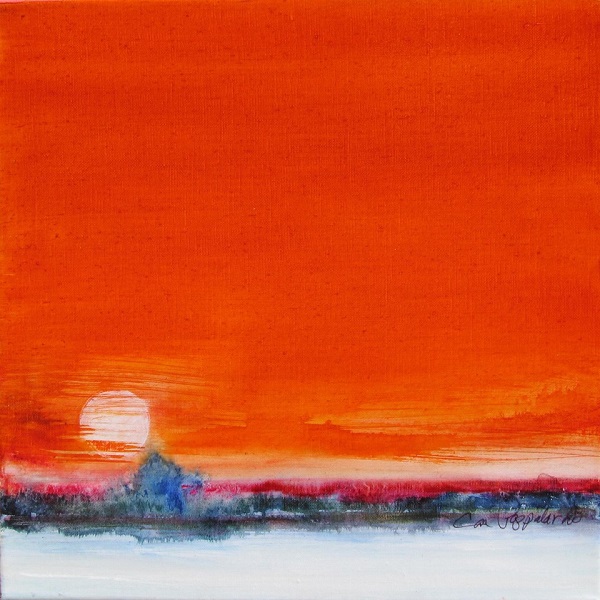 Q: I heard you worked as a missionary. When was that? 
It was after college. One day, I just heard the call. I dropped everything, shocking my family and friends, and left New York to be a missionary in Puerto Rico and the Caribbean Islands. Even though it felt like what I was meant to do, a part of me wondered, "What about my art?"
I felt very strongly that I'd get it back one day, though.
Q: And you did! How did that happen?
I eventually came back to the states to join my husband. We moved to Cary in 1986 and had four children, and, needless to say, I was very busy! Art was not even on the horizon – I wouldn't even feel inspired when I'd help with school art projects. Then, we lost our teenage son, Josh, in 2003. It wasn't a conscious thing, but, within six months, I heard a call to start painting again just as I'd heard the call to be a missionary years ago.
The next day, I bought canvases and just started painting.
Q: And you've been painting ever since?
Yes, though, now, after 12 years, it's not as intuitive and spontaneous as it was in the beginning. I worry a lot more. There are more expectations now that I'm in shows and selling so much of my work. I'm excited to exhibit at The Umstead for the first time in January, because I've always wanted my work there.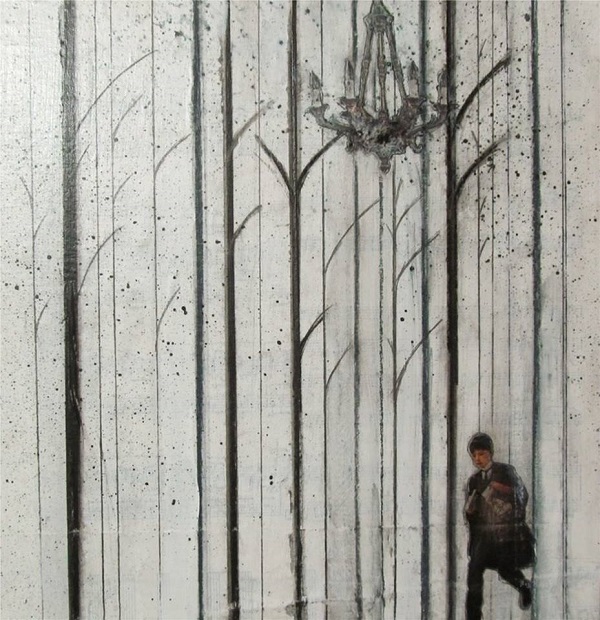 Q: What makes painting special for you?
There are many different types of artists; each with a different motivation. I am the kind who is more interested in beauty than in truth, more interested in the ideal over the reality. I have always strived to create "serious" art and have struggled with the definition.
As I look around this world today I realize that the most serious thing I can do as an artist is to add a bit of beauty here and there, a quiet place to breathe and find our souls again.
Q: You work with pretty big canvases, too. 
Not too big – my largest piece is 72″ x 36″ – mainly because that's the largest size that will fit in my van, which is really something to consider!
Q: Your work is abstract and mostly in watercolor – is that hard to do on large canvases?
I used to paint small and on paper. Then, at an art critique one day, a very well known painter and teacher told me I should "paint large."
It felt very personal – advice sometimes feels like more than just what someone said. I bought my first big canvas, which is small to me now, and started painting. It didn't even occur to me to switch to acrylics or oils, I just kept working with watercolors. It took awhile, but I played with it, and I eventually taught myself techniques to make it work for me.
You can never plan art, and I'm always looking for the "happy accident."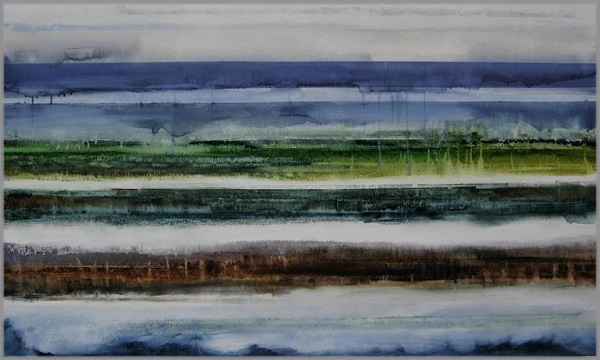 Q: How is the Cary art scene different than that in New York City?
In Manhattan, where I grew up, standards for being an artist are really different. It's all about the cutting edge, political and social commentary and some shock value. That's just not me. And the competition is fierce! Here, there's less pressure – there isn't a feeling of negative competition among the artists. A lot of people paint because it's relaxing and fun, and people buy work because they love it. In New York, many people buy art to be collectors.
They're wondering how valuable it will be years down the road. I think if I had stayed in New York, my work would be really different today.
Upcoming Shows
Constance, as she mentioned in the interview, has a solo show coming up in January at The Umstead. The show will feature two different styles, the color work as well as the black and white series. There will be a reception on January 20, 2016 from 6-8 pm.
Two Minds, One Artist
Opens January 6, 2016 & runs for four months
at The Umstead Hotel & Spa, 100 Woodland Pond Drive, Cary
Constance's other upcoming shows include a January show with another artist, Erin Oliver, at the Carrboro Arts Center and an April show at the Durham Convention Center.
———————————————————————————————————————————
Story by Jessica Patrick. Photos from Constance Pappalardo Art.
———————————————————————————————————————————
CaryCitizen is sponsored in-part by Elegant Stitches in Waverly Place.
https://carycitizenarchive.com/wp-content/uploads/2015/12/Connie2.jpg
320
600
Jessica Patrick
https://carycitizenarchive.com/wp-content/uploads/2020/03/cc-archive-logo-450-v3.png
Jessica Patrick
2015-12-11 08:26:33
2015-12-11 07:27:41
Cary Artist: Constance Pappalardo