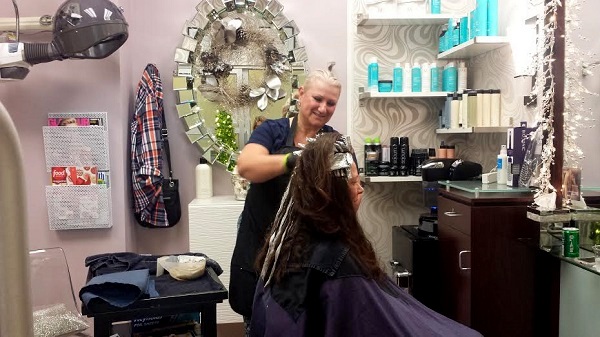 Cary, NC — Last week, I visited My Salon Suite in Waverly Place to learn more about its innovative business model as a place where 30 stylists work under one roof and each have the freedom to be their own boss, set their own hours and own their own salon.
My Salon Suite
My Salon Suite opened in Waverly Place eight months ago and, within weeks, 27 of the 30 available suites were filled with hardworking beauty professionals. Owner Patti Galloway told me that most of the stylists have been in the building since the beginning. "They stay here because they fall in love with this concept and with the independence they get," she told me.
Independence is, indeed, the heart of My Salon Suite, a bright, open space with 30 individual suites available for beauty professionals to rent. "The stylists come here to create their own business," Galloway explained. "They make their own hours, set their own rates and sell their own products." Stylists are even asked to decorate their individual salons as they see fit.
They pick out a paint color, come up with a name for their business and fill it with whatever decorations and tools they'd like. "Their styles and personalities shine through in each room as I get to know more and more of the stylists," Galloway smiled. "I visit someone's suite and laugh because it is so obvious that it's their place. This is already such a creative industry – they're truly artists – so this kind of freedom allows them to bring out their own sense of self."
Not Your Average Salon
When I asked Galloway to tell me more about how the business works, she explained that all the stylists do is pay her a weekly rent. "Outside of that, they don't report their earnings or anything else to me," she said. "They choose what they charge clients and what kind of payments they will accept." In many salons, stylists make a certain percentage based on how long they're been working. This business model lets the stylists choose what they get from clients.
The atmosphere is different is this kind of salon, too. Stylists can play music that they enjoy, invite customers' friends to sit in the suites, serve clients snacks and beverages and allocate as much time as they'd like to interact with their clients, since many are friends, too.
Customers get to come here and feel special. Their services are more personalized.
Since the stylists in My Salon Suite are truly owning their own small businesses, Galloway makes sure to respect their freedom. "I have a master key, but I never enter their suites unless they know," she said. "To me, this is their home. This is their domain."
Galloway told me that one of her tenants is a previous salon owner who didn't want the headache of managing people. She wanted to do what she loved the most, cut hair and love her clients. "There are actually five ladies here who did the same thing," Galloway said.
There are no set hours at My Salon Suite – with a quality security system and 24-hour access to the building, stylists can see customers as late or as early as they'd like. Stylists can work part-time or full-time, and they don't have to work weekends unless they choose to.
Entrepreneurial Spirit
Galloway has owned her own businesses for 15 years now. "What's important to me in being a woman-owned business is being able to help these professionals be as successful as they can – both professionally and personally," she told me. "I bring in industry-specific seminars every month, and the stylists can take advantage of as many of them as they'd like."
The seminars range from training in new hair coloring techniques to workshops on healthcare and financial planning. "We're here to help them grow," Galloway said. "If anyone is interested in renting a vacant suite here, they can contact us anytime."
Book an Appointment
My Salon Suite offers a wide range of hair services – styling, coloring, cuts and more – and eyelash extensions to customers. Each stylist has their own style – some are masters in hair color, while some specialize in make-up and up-dos for occasions.
Find a list of all the stylists and services and book an appointment online.
———————————————————————————————————————————
Story and photos by Jessica Patrick.
———————————————————————————————————————————
CaryCitizen is sponsored in-part by Waverly Place.
https://carycitizenarchive.com/wp-content/uploads/2015/12/Salon-Suite2.jpg
337
600
Jessica Patrick
https://carycitizenarchive.com/wp-content/uploads/2020/03/cc-archive-logo-450-v3.png
Jessica Patrick
2015-12-17 16:59:06
2016-08-08 11:14:50
My Salon Suite: 30 Stylists Under One Roof