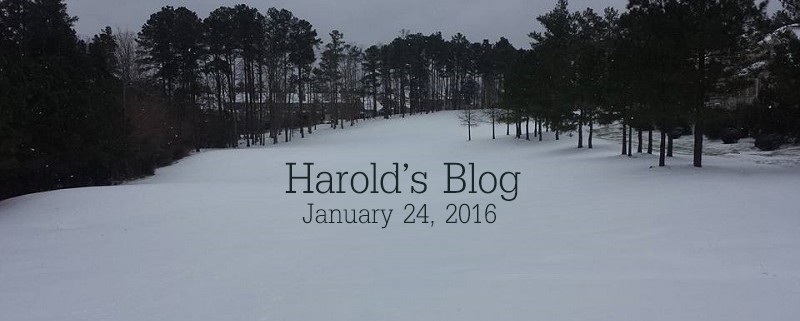 Cary, NC — This week included tapings for Cary TV, meetings with regional groups and an ice storm.
Monday
Monday night, I met with the Wake County Mayors Association.
Mayors Association Meeting
All mayors were present except Mayor McFarlane of Raleigh. New mayors included Mayor Olive of Apex, Mayor Roberson of Knightdale and Mayor Gray of Wendell. I had spent time with Mayor Olive previously, and he seems to be a great guy.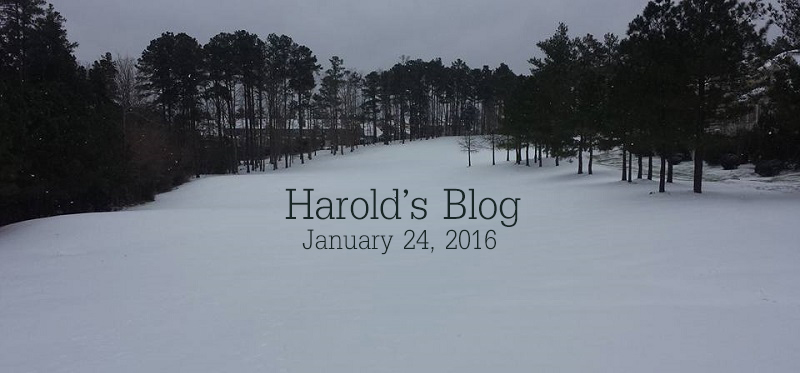 While I had previously met Mayor Roberson, this was the first time I had the chance to sit down and talk with him. In addition to being mayor, he is involved with Wake Tech, and he is very impressive.
I didn't get much time to talk with Mayor Gray and look forward to more conversations with her in the future. She did mention that our former town clerk, Sherry Scoggins, is "whipping them into shape."  In our meeting, we discussed the association's financials and then went around to each municipality's mayor to get an update. I am very impressed with the 11 other mayors in Wake County and think we are all blessed to have such great leadership in our county.
Tuesday
Tuesday, I did the State of the Town taping for Cary TV.
State of Town Address Taping
The official 2016 State of the Town address is over 3,300 words. Since the average pace of speaking is about 125 words a minute, it takes almost half an hour to give the address. The taped address was broken into three pieces with three different camera angles. The producers loved the first piece, and there was only one take. The last two pieces had two takes each. The whole process took about an hour. The edited version of this taping should be available to the public next week. I will give the State of the Town Address live for the first time next week at the Chamber breakfast.
Wednesday
On Wednesday, I attended the meeting of the Capital Area Metropolitan Planning Organization's (CAMPO) Executive Board representing 29 governing entities covering Wake County and surrounding counties.
What is CAMPO?
CAMPO may not be familiar to many, so I took the following from their website to help explain what the group is:
The Capital Area Metropolitan Planning Organization (MPO) grew from a collaborative effort between Cary, Raleigh, Garner and Wake County known as the Greater Raleigh Urban Area Thoroughfare Plan of 1964. During the 1980s and 1990s, Apex, Fuquay-Varina, Holly Springs, Knightdale, Morrisville, Rolesville, Wake Forest, Wendell, Zebulon and Wake County joined the MPO. In early 2005, MPO invited a number of governments in the surrounding counties to become members. Many accepted, and, as of October 1, 2005, the Capital Area MPO expanded its planning boundary to include parts of Franklin, Granville, Harnett and Johnston counties, including the municipal governments of Angier, Clayton, Creedmoor, Franklinton and Youngsville.

Most recently, after the 2010 Census, the Town of Archer Lodge was incorporated within the MPO's boundary and became a member of the MPO.

These counties and towns, which border the expanding Raleigh Urban Area, were invited to join MPO in order to comply with federal regulations that require the MPO to coordinate transportation planning in all the areas that will be part of the "Raleigh urbanized area" within the next 25 years. The Capital Area MPO serves as the coordinating agency between local governments, NCDOT and FHWA. The Capital Area Metropolitan Planning Organization is comprised of three parts – the Executive Board (formerly the Transportation Advisory Committee (TAC)), a Technical Coordinating Committee (TCC) and a staff. The MPO is responsible for carrying out an annual work program that is focused on developing and implementing the long-range transportation plan and is approved by the Executive Board.
Items of Interest for Cary
At this meeting, there were only three items of interest to Cary residents.
Re-Election
First, I was re-elected to serve as the Vice-Chairman of the Executive Committee.
White Oak Greenway News
Second, Cary's White Oak Greenway MacArthur section is scheduled to receive over $2 million in LAPP funding. LAPP, or the Locally Administered Projects Program, was adopted by the NC Capital Area MPO on October 20, 2010. CAMPO uses this program to prioritize all projects in the region that will utilize federal funding that is the responsibility of CAMPO.
Those responsibilities include programs such as the Surface Transportation Program – Direct Allocation STP-DA, Congestion Mitigation for Air Quality (CMAQ), etc. The LAPP process involves a once-a-year call for all local roadway, transit, bicycle and pedestrian projects and results in an annual program of projects in the Transportation Improvement Program (TIP).
Northwoods Elementary
The third item of interest to Cary was that Northwoods Elementary was selected as part of CAMPO's Safe Routes to School program. Our meeting concluded after about an hour.
Thursday
Thursday, I joined council member George in taping the February episode of Cary Matters.
The main topic was an update on road and park projects. The taping lasted about an hour.
Cary's Ice Storm
Friday through Saturday, Cary experienced an ice storm. Most of us saw an ice-sleet-freezing rain mixture of up to two inches. About a quarter of an inch of ice accumulated on trees and power lines and caused power outages for thousands. The good news is that, by Sunday morning, most of Cary had power.
By Monday night (tonight), all residents will once again have power.
Thank You to Cary's Snow Team
Cary's "A team" did an excellent job of clearing the roads. By lunch on Saturday, most of the primary roads in Cary were clear, and most of the neighborhoods had at least one pass-through. The goal was to get close to normal by Monday morning so people could get to work. Given the resources we have, I thought our Public Works crew did an outstanding job.
God bless all of them for working around the clock to get us up and running again.
Emails from Staff
Emails from staff this week included an update on the Morrisville Parkway project, which began construction in May 2014.
Morrisville Parkway Project
NCDOT has announced that Morrisville Parkway, between Crabtree Crossing Parkway and Bristol Creek Drive/Quail Fields Court, will close as early as February 1, 2016 to traffic. Signs will be posted directing traffic to follow the detour route – NC 54, Cary Parkway, High House Road and Davis Drive. All businesses on Morrisville Parkway will be accessible during the closure from NC 54. It is anticipated that the road will open back up August 1, 2016.
Construction is expected to be complete in May 2017. Over the last several years, the Town of Cary and Town of Morrisville staffs have been coordinating with NCDOT on the project and are getting ready for the planned detour. The detour will have an adverse impact on traffic flow and congestion along the planned detour route.
In advance of the detour, NCDOT has made some minor intersection and traffic signal improvements along the detour route to help minimize the impact. The Town of Cary Traffic Management Center (TMC) staff will be implementing new signal timing changes along the detour route in order to keep traffic flowing as best they can.
They expect traffic volumes will be higher along the detour route; therefore, delays will be expected since adjustments to signal timing cannot fully mitigate roadway capacity issues.
New Traffic Cameras
The Town of Cary has also recently installed several traffic cameras (CCTV) at several critical locations along the detour route, including at the intersection of Cary Parkway and High House Road. TMC staff can monitor traffic operations using the CCTV cameras and make timing adjustments as needed to optimize traffic flow.
Get Alerts & Updates
The TMC staff will be coordinating with NCDOT as the construction progresses. NCDOT will be making a traffic alert announcement advising the public on the road closure and detour. The Town of Cary normally picks up these NCDOT alerts and reposts them to the public through our normal Town sponsored communication protocols like emails and social media. Additional information on the project can be viewed at the NCDOT website.
It will be interesting to see how people adjust to this potential traffic nightmare.
Emails from Citizens
Emails from citizens this week included:
A few nasty emails accusing council of trying to prevent public comment because of a staff mistake posting a Planning and Zoning Board public hearing.
Objections to a proposed Publix.
Support for a Wegman's, which has not been proposed to or approved by council.
A complaint that Cary is deforesting (Cary has some of the strictest rules in the state. And, oh, by the way, the state is lessening local rules – like stream buffers).
A complaint about the lack of a traffic signal at High House and Jenks Carpenter (this has been investigated several times and does not meet DOT criteria).
A demand for closed session information about the town manager search from a former council candidate (by law, we can't do that).
A request to redevelop the mall (it is against the law to spend public funds on private property).
A suggestion that we change signal timing at Cary Parkway and High House Road.
A complaint about the rail crossing on Harrison Avenue.
One of the kindest emails I have ever received as Mayor thanking me for my service. Thank you Ms. Frame!
Next Week
Next week will be very busy for me. In addition to typical group meetings, there will be an award ceremony for the Lazy Daze grants, a work session on the Eastern Gateway, a regularly scheduled council meeting, my State of the Town Address to the Cary Chamber of Commerce and the council-staff working retreat Thursday through Saturday.
Get in Touch
Well, that is all for this week. My next post will be on Sunday, January 31st. Although I have Facebook and Twitter accounts those are not the best means of communications with me. Please send all Town of Cary questions or comments to Harold.Weinbrecht@townofcary.org and email personal comments to augustanat@mindspring.com.
---
From the blog of Cary Mayor Harold Weinbrecht. Photo by Jessica Patrick.
https://carycitizenarchive.com/wp-content/uploads/2016/01/HaroldsBlog3.jpg
373
800
Harold Weinbrecht
https://carycitizenarchive.com/wp-content/uploads/2020/03/cc-archive-logo-450-v3.png
Harold Weinbrecht
2016-01-25 14:02:28
2019-12-08 10:25:07
Harold's Blog: Traffic News & Cary's Ice Storm