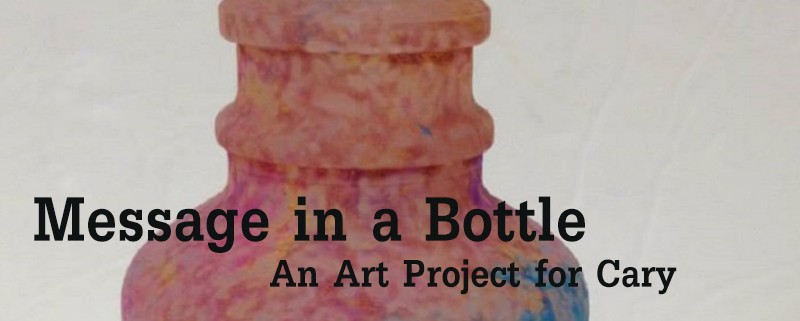 Cary, NC — I had coffee with Cary artist Helen Seebold to learn more about Message in a Bottle, a pubic art project she created to help everyone in the community create art and be a part of making a sculpture.
Message in a Bottle
Helen Seebold lives in Cary and is a ceramics artist and a photographer. "The whole theme behind my art is studying and researching cultural traditions – what people do and why," she told me as she sipped her hot chocolate.
That's why Helen and her sister, Erin Lawler, started a public art project called Message in a Bottle. Together, they travel to different locations around Cary, Durham and Chapel Hill with paints, brushes and small glass bottles and invite the public to paint a bottle (or several) and scribble a message on a piece of paper to slip inside of it. Then, Helen creates sculptures with the colorful bottles and displays them in various places around the Triangle.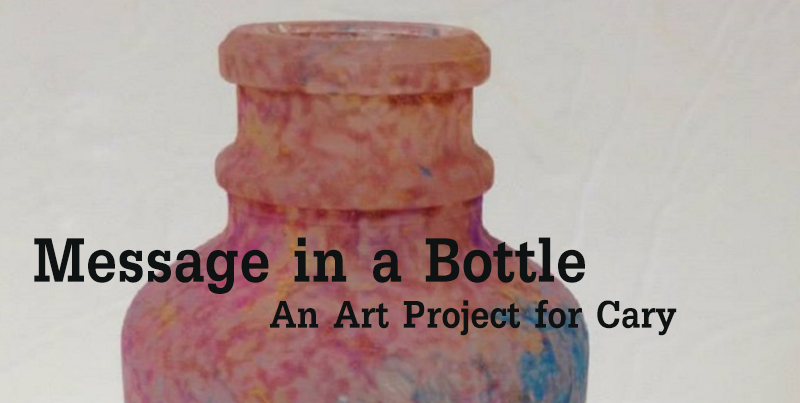 Helen has two bottle sculptures on display in Cary right now and has already planned two more bottle painting "pop-ups" in February at Cary libraries. I asked her some questions to learn more about the project and about why she's doing it.
Q: Tell me how Message in a Bottle started.
Message in a Bottle started in 2013 when I set up a station in front of a Durham store. I really wanted to get art into the community and get it to people who don't necessarily have a chance to be creative. That was the exciting push behind this.
Q: Where have you "popped up" for people to paint?
When we started in Durham, we set up booths at street corners for an hour or two, at homeless shelters, at a cafe…we got rained out a couple of times, so that's when I started thinking of indoor locations like libraries and hospitals. We've popped up at Cary Towne Center, at the Western Wake Farmers Marker and at senior communities. We just painted bottles with participants from Cary's Specialized Recreation Department, and those were put on display in the Cary Senior Center.
Q: Tell me about the bottles. Where do they come from? 
I got all the bottles from the Scrap Exchange in Durham – they had all been donated by a large pharmaceutical company. I was excited to find them because I like to recycle, and, since they are all the same size, they're easy to stack.
Q: Does anyone read the messages that people put in the bottles?
I actually read every message that goes into the bottles.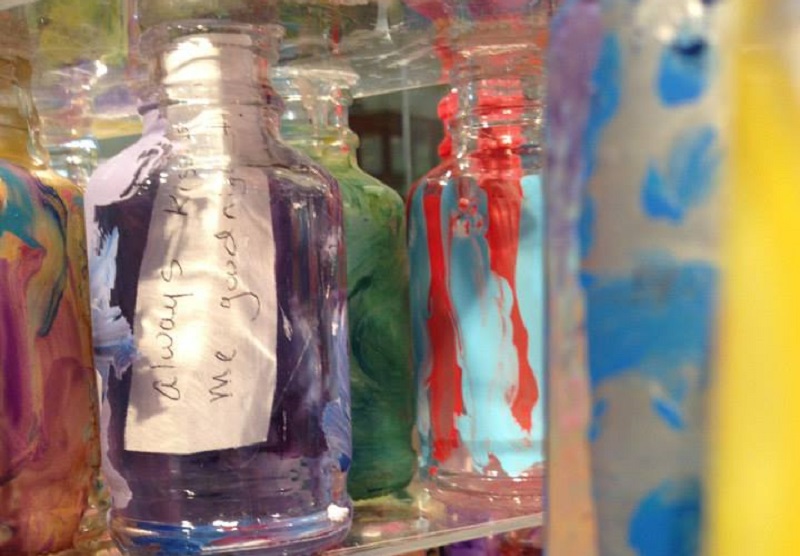 Sometimes, I'll write the messages on a chalkboard or whiteboard and put them out by the sculptures so that people can read what people said. It's really neat because you can see what the community is thinking or what's important to people.
Q: What's something that surprised you about this project?
A lot of adults get really into painting the bottles, but I also I get a lot of questions from people asking me why I am doing this and what am I getting out of it. Some people don't get it. I think art is really special, and I think it can connect people. The funniest part about when we "pop up" is that everyone says, "I can't do this, I'm not an artist." But I want to create a safe haven where people can pause, take a moment from their phone or from their day, and be an artist. There are no rules, and they can paint anything they want and stay there painting as long as they want to.
A lot of people think of art as a picture on a wall – they just stand there and look at it. That's not what I want art to be – I want them to have a connection to it and to be involved in it.
Q: Tell me about one of your most rewarding pop-ups.
We visited the UNC Children's Hospital burn unit, and that was very rewarding. Everyone thinks it's something for kids, but the adults love it just as much, honestly. At the burn unit, the children were busy playing, so it was their parents sitting and painting with us for two hours. It seemed like it was like a therapy for them, painting and telling us their stories.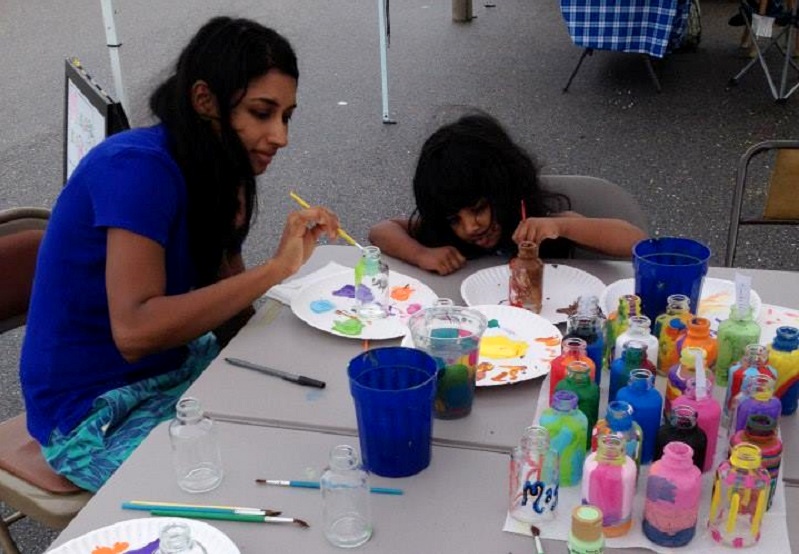 Q: What's next for Message in a Bottle?
I want to find more places to set up the sculptures. Everybody loves us to pop up, and everybody loves to create bottles, but finding a place to put the sculpture is the hardest part. One of the best we ever had was in Ashworth Village – we were able to use two large windows of an empty storefront, and all the bottles we had at that time were in one sculpture.
In the future, I'd love to have a permanent place for the sculpture. The real point of all this – what's most important to me – is to reach others.
Paint a Bottle in Cary
Helen has collected over 900 painted bottles by now, but she's still going! Message in a Bottle will be "popping up" soon in two Cary libraries, so take note of these dates and stop by to join the art project.
West Regional Library- February 20, 2016 at 3 pm
Cary Library – February 27, 2016 at 2:30 pm
Like Message in a Bottle on Facebook to stay up-to-date on other pop-ups.
---
Story by Jessica Patrick. Photos by Message in a Bottle.
---
CaryCitizen is sponsored in-part by Elegant Stitches in Waverly Place.
https://carycitizenarchive.com/wp-content/uploads/2016/01/InaBottle.jpg
403
800
Jessica Patrick
https://carycitizenarchive.com/wp-content/uploads/2020/03/cc-archive-logo-450-v3.png
Jessica Patrick
2016-01-26 09:44:37
2016-01-26 09:47:52
Message in a Bottle: An Art Project for Cary