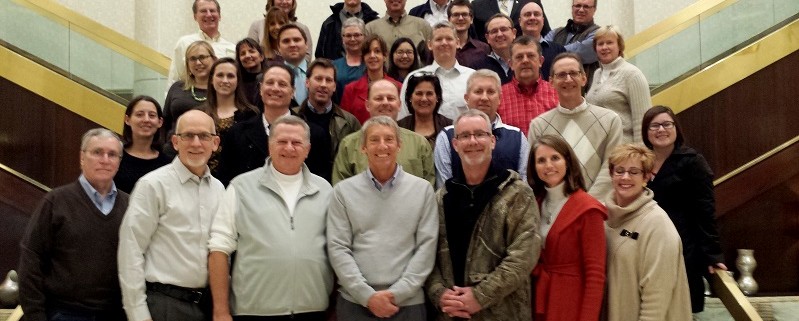 Cary, NC — This week was one of the busiest weeks I will have this year.
Monday
Monday began with calls to council members since this was a week with a regularly scheduled council meeting.
Calling Council Members
I was able to reach all council members except Robinson.
I asked council members about their concerns and questions on the upcoming meeting agenda. In my individual conversations with council members, comments were made about the Holy Brook rezoning, potential artwork for the future parking deck and the public hearing for the Maynard Comprehensive Plan request.
Agenda Meeting
Later Monday, I met with management, directors, legal, public information and administration to go over the items on the meeting agenda. Our meeting lasted about 20 minutes.
Town Meeting
Following the agenda meeting, I joined the Mayor Pro-Tem in a meeting with the Interim Town Manager and Assistant Town Managers. We discussed several items, including the Jones House and Belle restaurant and snow/ice removal.
Lazy Daze Grant Reception
My last event on Monday was the award ceremony and reception for the Lazy Daze grants.
My welcome remarks included the following key points:
This year, the committee offered community groups $35,000 from the 39th Annual Lazy Daze Arts & Crafts Festival that took place on August 22, 2015.
Since the program's inception, the town has returned over half a million dollars to the community, or roughly $650,000.
Lazy Daze is the largest and longest running cultural arts festival the Town produces each year (and one of the largest in the southeast).
Due to construction, last year's festival was at Town Hall campus and was a successful event.
This year's 40th Lazy Daze will also be on town hall campus, where we hope to have another successful event.
After my remarks, I joined council members Yerha, Smith and George in handing out grants to various organizations. Everyone then adjourned into the lobby for refreshments.
Tuesday
Tuesday, the council held a work session on the Eastern Gateway.
Eastern Gateway Work Session
This is a section of town bounded to the north by Chapel Hill Road, to the east by I-40, to the south by Walnut Street and to the west by Maynard Road. The Eastern Gateway plan is part of the Imagine Cary Comprehensive plan. Council's discussion focused on the state site, which goes from the WakeMed soccer facility to Cary Towne Boulevard.
Key Points
Council also discussed the impacts of that site to surround properties like the mall.
Here are some points made at the work session:
Development on the state property should be intense with density.
Development should be integrated and avoid separate stand-alone uses.
Multi-family housing should include condos and apartments.
Office buildings along I-40 should be large.
Development on the state property should complement the mall site and not compete with it.
Plan should take into account what is in Raleigh across I-40.
Council decided to remove a statement in the plan about tax base. It was originally included to exclude certain types of institutional uses that do not pay taxes. Instead, council doesn't want to rule out anything.
A focus group that would provide input to plan would be beneficial but should not be limited to certain groups.
The Eastern Gateway should be pulled out of the Imagine Cary Planning process to move at a faster pace since there are development interests on the state site and the mall site. It will be integrated into Imagine Cary once that is finished.
Staff will bring back additional information about the Eastern Gateway in a little over a month.
Wednesday
Wednesday morning, I gave the State of the Town address to about 150 people in attendance at Prestonwood Country Club as part of the Cary Chamber's monthly breakfast series. I spoke from 30 slides that I had created from the official address, which can be viewed on YouTube. My talk lasted about 30 minutes, was less formal than the official version and included additional information and side notes. There were just a handful of questions afterwards.
State of the Town Address
I began collecting data for the State of the Town address about two months ago. The text was written between the Christmas and New Year's holiday, fact-checked the first couple of weeks in January and taped for YouTube last week.
This was my first live presentation. My next live presentation will be at the Triangle Community Coalition in a couple of weeks and then at Glenaire after that. Each will have different versions and time lengths to match the audience and time available. All will be a subset of the official State of the Town Address and include updates.
Council Meeting
Wednesday night was a regularly scheduled council meeting. There were five public hearings and five discussion items.
Holy Brook Subdivision
Most of the speakers were county residents next to the proposed rezoning of the Holy Brook subdivision (most of which is already built). They wanted the zoning to match county standards of one unit an acre. After much discussion, the council voted to approve the proposed rezoning of one third of an acre minimum for lot sizes.
Art in Parking Deck
Another discussion item was the appropriation of funds for the parking deck. Council decided not to add a sprinkler system but did approve public art. The reasons mentioned in support of the art were that the parking structure was across from the arts center and because it was in an area that is the focal point of art.
New Storage Unit Proposal
The council also had a good discussion on the proposed storage unit behind the Mayfair Plaza that is anchored by Carolina Pottery and Food Lion. This will go to the Planning and Zoning board for their recommendation and return to council for a vote at a later location.
Council & Staff Retreat
Thursday, I traveled to Greensboro for the council-staff annual working retreat.
The focus of this retreat was infill and redevelopment.
Population Growth & Demographics
We started by hearing about what is going on around us. Lee Worsley from the Triangle J Council of Governments made a presentation that included the following interesting points:
This area grew by 800,000 people from 1985 to 2010.
It is expected to grow by one million from 2010 to 2035.
In 2012, 235,000 people crossed counties to go to work.
Cary reduced gas consumption by 6,100 gallons in town vehicles.
North Carolina ranks 9th nationally with people over 65.
We have as many seniors here as we do people younger than 17.
The region has grown together quickly, so we have to quickly learn how to work together.
RTP News
Next, we had a presentation from Bob Geolas, who is the President and CEO of the RTP Foundation.
Some of the points he made included:
60% of companies have 20 employees or less.
The RTP model is old, making it difficult to attract new research companies. The asset for RTP are the universities that surround it.
RTP is losing younger companies because they are looking for flexible space.
The new model for RTP is to have a common center as a hub. The old Governors Inn area was purchased for this purpose. Transit will have a hub there that will provide a transit circulator around RTP.
The new center will have a Global Service Center to market RTP to potential companies.
Infill & Development
Next, staff presented information about infill and redevelopment. Some of the information provided included:
46% of land was available in 1996. 17% is available now if approved plans are included.
One third of residential housing is 40 years or older. The lifespan of a house averages about 40 years. Structures over 40 years old reach a point where it cost more to maintain than just tear them down.
Other cities wait for infill and redevelop. The act once areas are blighted.
Walking Tour of Greensboro
The council then took a walking tour of downtown Greensboro. Downtown developer Roy Carroll hosted us in his home, which was the entire 17th floor of the old Wachovia building, which he redeveloped. From the view at the top of the building, we could see several redevelopment projects which were discussed. Thanks to Mr. Carroll for opening his luxurious home to us.
Planning Director
The final presentation of the day was from the Planning Director of Greensboro. She presented examples of how painful infill can be with residents. She pointed out that infill can be more valuable to developers since services (water, sewer, fire protection and police protection) are already in place.
Tour of Infill & Development Projects
Friday, the council and staff took a guided bus tour of several infill and redevelopment projects in Greensboro. We heard about the difficulties in each project and the public private participation needed to make them happen. It is interesting that, in Greensboro, there were many foundations participating in projects. We need that in Cary!
Lunch with Mayor, Council & Staff
Lunch was in the Greensboro coliseum with the Greensboro mayor, council and staff. I was not seated with a council member or the mayor, so, unfortunately, I didn't have the opportunity for any in-depth conversations. However, based on what I was told and on what I observed, they are dealing with several difficult issues including racial issues.
The topic that was apparently discussed at other tables was whether or not to require police body cameras. I was able to speak with several staff members including a brief conversation with the city manager. The Greensboro staff and the City of Greensboro were great hosts throughout our visit, and I made sure to point that out in my remarks to the group.
Planning Exercise
After our visit to the coliseum, we returned to our meeting room to continue discussion on infill and redevelopment. The council spent a significant amount of time in an exercise that separated the council members into groups with various members of staff. Our exercise was to plan the redevelopment of an older area of town.
For the exercise, the Mayfair plaza that is anchored by Carolina Pottery was chosen. At the end of the planning exercise, the council presented their plans to the group. It was interesting that most council members, including the newest council member, designed the site in pretty much the same way. Expanding the park behind Carolina Pottery, protecting existing neighborhoods, having smooth transitions between density and uses, having significant green space, nice features, structured parking and a mix of uses dominated the plans. The main differences between the plans were the density. The exercise showed staff how the council thinks about redevelopment, the density they preferred and the details that were important.
Summary
Our day concluded with staff and council summarizing all we had discussed on infill and redevelopment.
This is just the beginning of our continuous discussions on these topics. All staff returned home, and the council remained with its direct reports (town manager, town attorney and town clerk). We spent half the day talking about what to expect from each other and how we should communicate with each other. We ironed out details on a quick efficient way to contact and communicate with each other. We also discussed various protocols needed in our work together. The retreat was successful and something we can build off of. Thanks to all the staff for the hours of preparation in making this happen.
Emails from Citizens
Emails from citizens this week included:
Support for a Publix on Green Level.
A complaint about the town plowing neighborhood roads.
Comments about Belle's restaurant closing. By the way, they were having issues before the streetscape. Apparently they didn't pay taxes or the equipment providers. However, they did pay the town rent. We are very sorry to see them close. The restaurant had great food and they will be missed. The town will make sure that site is occupied with another vendor as soon as possible.
A concern about Wegman's not coming to Cary (it is my understanding they may consider multiple locations in Cary).
Next Week
Next week will be much slower for me and I look forward to having dinner with my wife for a change. The only things on the calendar are a few meetings and a quasi-judicial hearing.
Get in Touch
Well, that is all for this week. My next post will be on Sunday, February 7th. Although I have Facebook and Twitter accounts those are not the best means of communications with me. Please send all Town of Cary questions or comments to Harold.Weinbrecht@townofcary.org and email personal comments to augustanat@mindspring.com.
---
From the blog of Cary Mayor Harold Weinbrecht. Photo courtesy of Mayor Weinbrecht.
https://carycitizenarchive.com/wp-content/uploads/2016/02/All-retreat-attendees.jpg
404
799
Harold Weinbrecht
https://carycitizenarchive.com/wp-content/uploads/2020/03/cc-archive-logo-450-v3.png
Harold Weinbrecht
2016-02-01 10:22:13
2016-02-01 09:50:32
Harold's Blog: Planning Retreat in Greensboro