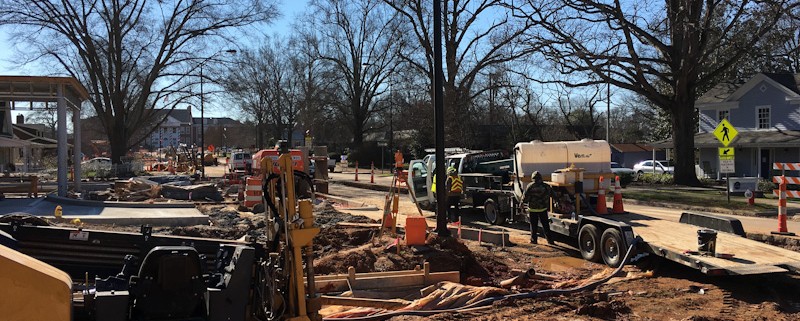 Cary, NC — We visited the small businesses that are in the midst of – or close to – the construction from downtown Cary's Academy Streetscape Project to hear their praise, concerns and overall thoughts about the work.
Quotes from Downtown Businesses
The following quotes were collected from various downtown business owners on and around Academy Street.
Ashworth Drugs
Paul Ashworth at Ashworth Drugs told us, "Obviously, the downtown construction project has created challenges for all the area businesses. However, I have no intention of being negative; one only needs to drive to downtown Raleigh or Durham to see that Cary has fallen woefully behind in our downtown revitalization efforts. There is no reason not to believe that, with the right effort, Cary can also see a significant downtown resurgence, just as our larger neighbor cities have."
The timing for a move away from the suburban lifestyle and towards a more energetic urban lifestyle is absolutely upon us. And the heart of this movement is a strong urban downtown. I am thrilled, that after so many years of planning and talking, we are finally seeing concrete evidence of significant improvements in the infrastructure downtown.

I applaud the Town of Cary for the significant investments it has made over the last few years so that this project could move forward. I have every reason to believe that, upon completion, we will all be very happy with our new beautiful downtown. I would also like to thank our customers for maintaining their resolve to continue to trade with us despite some inconvenience. We feel blessed to have some very loyal customers. We will continue to do our very best to make their shopping experiences with us as pleasant as possible.
Stonehaven Jewelry
The charming home that holds Stonehaven Jewelry is, and has been for months now, right in the middle of the construction. Stonehaven is one of the only walk-in, retail businesses at that end of Academy Street. "Before I say anything about the construction, everyone has to realize that this is a massive undertaking and afford a little grace," Ron, the owner, told us. "The town can only do so much when something like this is going on – I understand that."
"If I can't change what's going on, I can at least try to change my attitude," he said when we asked him about the sign he bought and hung in front of Stonehaven during the holidays to thank workers and staff for working to make the street beautiful.

"I've written letters to the town telling them I understand that there's no way on earth they could recoup the money, business, marketing and revenue I've lost," he said. "But they could at least help cover my property tax. That being said, everyone is very nice and very cordial. There's a whole lot of smiles and shaking hands and talking, but I haven't gotten an offer of remuneration."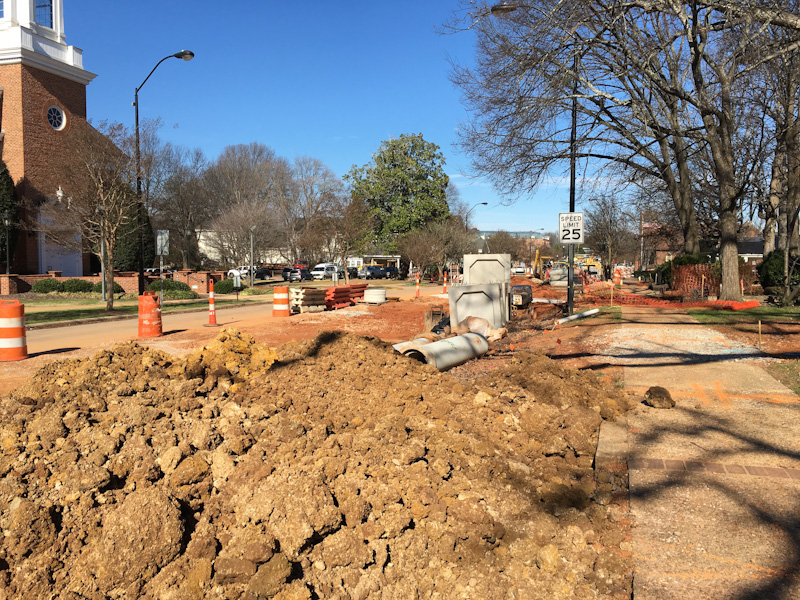 Elizabeth's
"I'm trying to stay positive," Elizabeth from Elizabeth's Home & Garden said when we stopped in for a quick visit. "But this is a bump in the road – it really is a bump in the road for all of us, but I know it will turn right. We just have to have perseverance. Business has been affected, but I'm here for the long haul – I just signed another lease. I have a passion for my business."
What's really sad is the businesses that have closed or that might close. My husband talks to a lot of people who live in Cary who say they completely avoid going anywhere near downtown Cary, so we're not even getting that drive-through visibility.

We don't want to put anything negative out there, because, if people hear that, they are not going to come down here at all. We have to encourage people to come downtown.
Vintage Vogue
Teresa at Vintage Vogue told us that, though her regular clientele has remained loyal during the construction, this year's sales went down from last year's. "The construction is affecting me, but not as much as my neighbors," she said, referencing the other businesses in Ashworth Village. "My neighbors are having trouble."
Once in a Blue Moon
Lily, the manager at Once in a Blue Moon Bakery, shared that, "Our weekend sales continue to be strong with customers driving from all over to pick up cakes for their parties. However, we've had some slow down in weekday and walk in business. There just doesn't seem to be as much foot traffic in downtown Cary. We are looking forward to the completion of this project so businesses and residents can get the most out of our beautiful downtown!"
Academy Street Bistro
Marylynn, the co-owner at Academy Street Bistro, told us that, "Although the town has done a good job of keeping us updated on the construction progress, there is no doubt that the project has negatively affected our business at Academy Street Bistro. However, I do look forward to a more attractive downtown for Cary residents and visitors."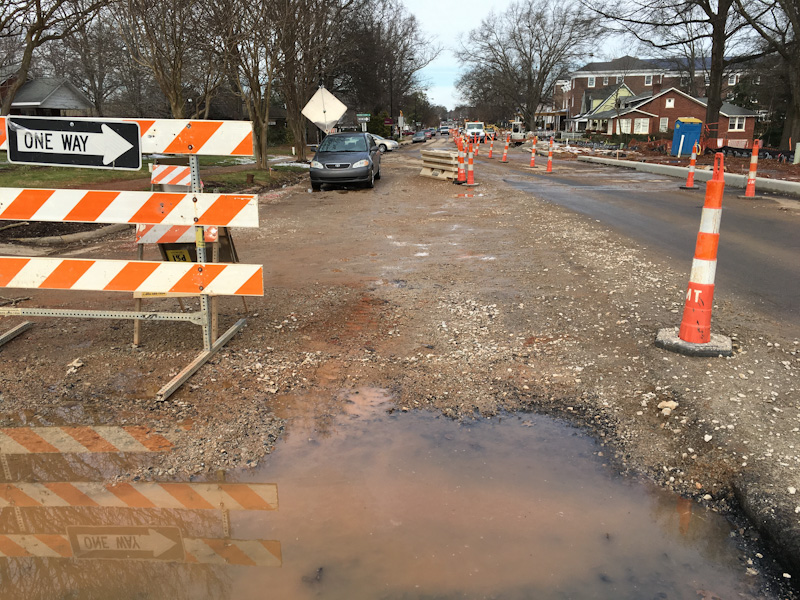 ---
Story from staff reports. Photos by Hal Goodtree.
---
Stories on CaryCitizen are sponsored in-part by Studio 180 Salon in Chocolate Smiles Village in downtown Cary.
https://carycitizenarchive.com/wp-content/uploads/2016/02/academy-street-0068.jpg
600
800
Staff
https://carycitizenarchive.com/wp-content/uploads/2020/03/cc-archive-logo-450-v3.png
Staff
2016-02-04 13:14:56
2019-12-08 10:25:12
Downtown Construction Affects Local Businesses