Cary, NC — This week was difficult for me, as I balanced taking care of my wife after two surgeries and performing my mayoral duties. I would like to thank Mayor Pro-Tem Yerha and the town staff for taking care of my duties and helping me through this time. I would also like to thank all the folks who sent food and for all their well wishes.
We feel truly blessed to have so many people that care.
Monday
Monday, I usually call council members to hear of concerns about the agenda for the meeting later in the week. Since my wife was having the first of two surgeries, Mayor Pro-Tem Yerha made these calls. He then met with staff later in the day to go over the agenda. I participated via telephone to hear any concerns. I also talked briefly with the Interim Town Manager.
Tuesday
Tuesday was my wife's second surgery, and I was with her instead of being present at the work session.
I did WebEx into the work session.
New Town Clerk
Mayor Pro-Tem Yerha ran the meeting and started by asking me for comments. I announced that the council had chosen a town clerk and asked that the council make a motion to approve her.
This was done and Virginia "Ginny" Johnson was unanimously selected to be the next town clerk of Cary. She was selected from a candidate pool of 119, with applicants from as far away as Nevada, Wisconsin and Missouri. We are very excited about having her as our town clerk. Congratulations Ginny!
Work Session Items
Next the council got into the business of the work session items.
Riparian Buffers
The first work session item was to hear limitations created by House Bill 44 on riparian buffers. The biggest concern is that buffers will now be allowed in platted lots. Most homeowners don't know or care what is in a buffer or not. And, if they own property in a buffer, they will likely clear it and use it. This, of course, destroys the buffer. Another concern is that these new limitations allow developers to meet town yield requirements which will result in more lots and density.

It is disappointing that our legislators seem to, once again, be passing bills that favor special interest rather than the interests of citizens and the environment.
Green Level Planning Session
The second work session item was an Imagine Cary Special Planning area for Green Level. There are four special planning areas in Imagine Cary. They include Green Level, Carpenter, Downtown and the Eastern Gateway. At our last work session, we talked about the Eastern Gateway. In this work session we were scheduled to talk about all the special planning areas, but council spent too much time on the first one, Green Level. The others were postponed to another work session.
Most of the discussion in the Green Level special planning centered on the look and feel of the roadways. It was decided that we should propose curb and gutter but allow the rural feel of meandering sidewalks and less manicured medians.
Quasi-Judicial Hearings
Our last work session item was on Quasi-Judicial hearings. It was explained that the town makes three types of decisions. In legislative, council makes the decision. In administrative, staff makes the decision. In quasi-judicial, council makes a decision in a formal environment in which it only considers information presented at the hearing. Most of this presentation was a review for all council members except George, who is the newest of the council members.
The work session concluded after about three hours.
Thursday
Thursday, I met with a group of Weblos (an acronym meaning "We'll Be Loyal Scouts") before the regularly scheduled council meeting.
Scout Meeting
They are out of First United Methodist Church and were working on their "Building a Better World" pin. I talked with them about mayoral duties and then answered a few questions.
We then took photos in front of the town seal in the council chambers.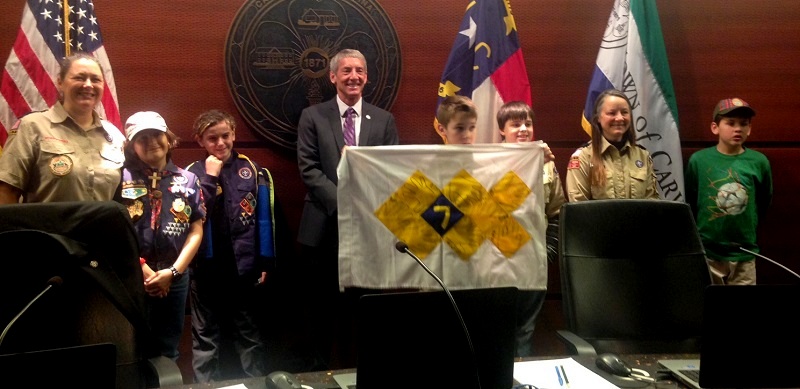 Council Meeting
Thursday night's regularly scheduled council meeting lasted about three and a half hours.
There were 25 consent items, seven public hearings and eight discussion items. Most of the comments from citizens were on the Comprehensive Plan Amendment to add commercial to multi-family at a site on Carpenter Fire Station Road and on Green Level Church Road and on rezoning on High House Road. After discussion, council approved the Comprehensive Plan Amendment to include commercial development. Since this is now part of a mixed use, the developer will be required to submit a preliminary development plan as it moves forward.
There will also need to be a rezoning, which will allow the developer to address some of the citizens' concerns. The comments on the High House Road rezoning were mostly related to traffic. Since High House Road is a NCDOT road, and since they will not allow a traffic signal between Carpenter Upchurch Road and Highway 55, the town staff is working with them on alternative solutions. The rezoning, which included 10 residential units, passed.
Saturday
Saturday I joined local Chinese business leaders and elected officials for dinner at the newly opened East Garden in Cary. They wanted to show us authentic Chinese food in an upscale atmosphere. According to them, this is the only authentic Chinese restaurant in the area. We were served 10 courses, and the food was amazing. During the meal, we discussed what was attractive about Cary to businesses and how Chinese businesses are now looking at Cary as business location. If you want a great authentic Chinese meal in a very nice atmosphere, you must try East Garden.
Sunday
Sunday, I attended a contemporary Community Connection service at Pleasant Grove Church. This particular service was to recognize teachers for their service and contributions to the community.
The key speaker was a representative from the Governor's office. I also made remarks, and then awards were handed out to the eleven teachers in attendance. God bless the men and women to commit their lives to teaching our children despite very little pay and very little recognition for the great work they do.
Emails from Citizens
Comments from citizens this week included:
A concern about pedestrian safety in downtown.
Comments for and against a proposed Publix at Carpenter Fire Station Road and Green Level Church Road. (ABC11 reported that council approved a commercial rezoning, which was not true. Council approved a Comprehensive Plan Amendment. The zoning has yet to be presented to council for a vote).
A concern about trees blocking line of sight at an intersection in Preston.
An offer to help the police department with Spanish lessons.
A concern about traffic on High House Road.
A concern about dangerous dogs. (Council passed an amendment to the ordinance at Thursday's meeting).
Next Week
Next week will be a busy one with several meetings and a session on town manager recruitment. I am also scheduled to participate in "Read Across America" at Kingswood Elementary and Davis Drive Elementary.
In addition, the town will hold a Quasi-Judicial meeting on two topics.
Get in Touch
Well, that is all for this week. My next post will be on Sunday, March 6th. Although I have Facebook and Twitter accounts those are not the best means of communications with me. Please send all Town of Cary questions or comments to Harold.Weinbrecht@townofcary.org and email personal comments to augustanat@mindspring.com.
---
From the blog of Cary Mayor Harold Weinbrecht. Lead photo by barnyz. Photo with the scouts courtesy of Mayor Weinbrecht.
https://carycitizenarchive.com/wp-content/uploads/2016/02/HaroldsBlog5.jpg
318
798
Harold Weinbrecht
https://carycitizenarchive.com/wp-content/uploads/2020/03/cc-archive-logo-450-v3.png
Harold Weinbrecht
2016-02-29 10:22:12
2016-02-29 09:56:25
Harold's Blog: Planning Sessions & Great Chinese Food