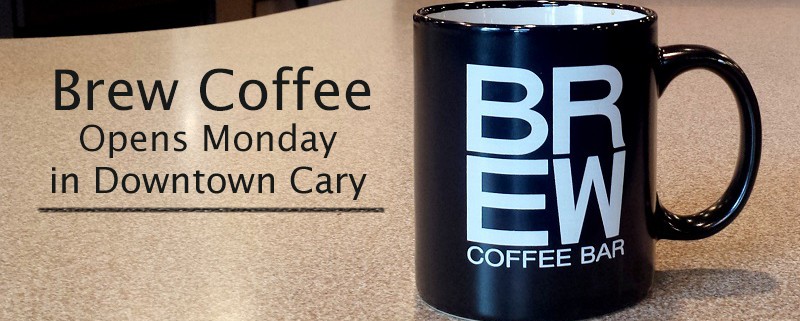 Cary, NC — I stopped by Brew, the new coffee shop opening in The Cary Theater, to find out more.
Brew Coffee Opening in Cary
Brew Coffee Bar will open inside The Cary Theater at 7 am on Monday, February 29, 2016.
A.J. Viola, the co-owner of Brew, is fulfilling a need for a coffee shop in downtown Cary. With a full espresso bar and lounge environment, the shop is creating a new space where people can meet to talk, work or simply hang out.
The Town of Cary approached Viola and his business partner, Mike Sholar, more than a year ago and asked if they'd open a replica of their successful downtown Raleigh coffeehouse in the concession space of The Cary Theater. This new Cary hangout will offer coffee and espresso drinks, food, craft beer and wine. It will be open seven days a week.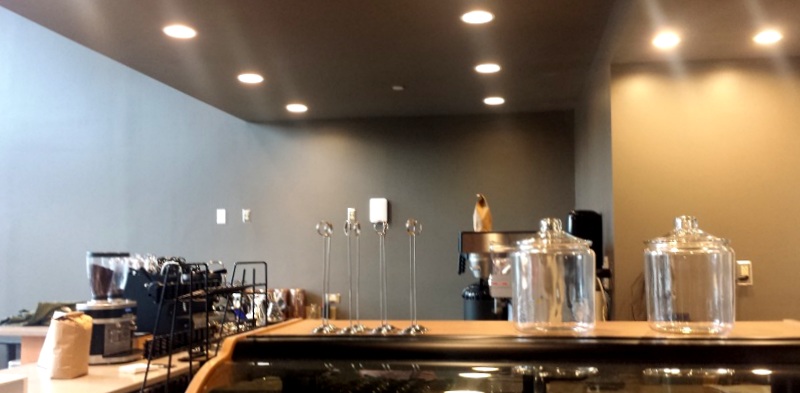 Between lots of planning and necessary renovations to the space, the process to open Brew has taken a year. But now, Viola and Sholar can finally announce that the coffee shop and bar will be open for business on Monday morning.
What's Inside?
When I stopped by Brew yesterday to visit Viola, I saw that the concession space had, in fact, been transformed into a coffee shop. The walls have a fresh coat of gray paint, the spotlights on the ceiling are dimmer and new tables and chairs are scattered throughout the lounge. "Brew's look is very minimalist and simple," Viola told me. "We want it to be a comfortable environment that's also conducive for working or hanging out. It's really starting to look like what we envisioned."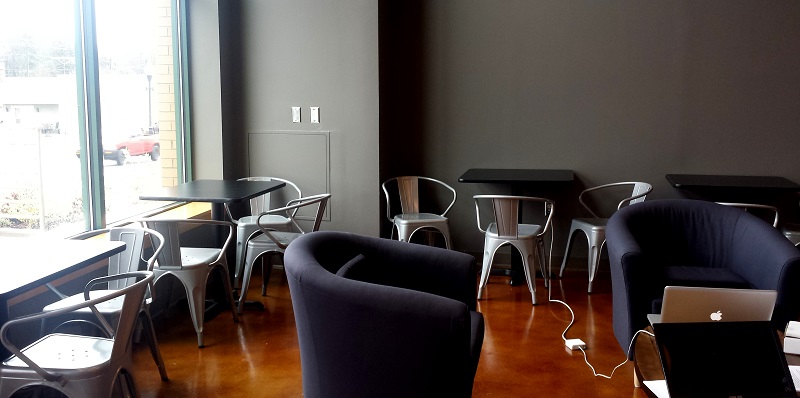 Sholar and Viola started the original Brew in downtown Raleigh almost 18 months ago, so they've done this before. In terms of what they'll offer Cary customers, the shops are very similar, but Viola told me that he's excited to be in such a different kind of environment. "We're in a building with other businesses, and we're also in partnership with the theater," Viola said.
"We wanted to find a balance between being ourselves but also being in partnership with The Cary, and we're so excited to be a part of the growth of downtown Cary from its very beginning."
Coffee, Beer & More
The menu at Brew Cary will be similar to that of the Raleigh store. There's a full espresso bar, of course, which means customers can get lattes, cappuccinos, mochas and other espresso drinks. Brew will serve teas and pour-over coffees, too. The beans are from a local roaster – Raleigh Coffee Company – but Brew will constantly feature other local coffees.
Brew also specializes in beer, so there will be a rotating selection of five craft beers from local breweries on tap along with a selection of wines. There will be food, too, including homemade baked goods that are baked by a company started by Viola's wife, breakfast tacos from Taco Revolution, New York-style bagels from Brown Bag bagels in Wendell and sandwiches made on Yellow Dog Company's bread. The companies are all local, because Viola wants to showcase and support other small businesses. "We wouldn't want to reinvent the wheel when local companies are already doing things so well," he said.
What About the Popcorn?
If you're a regular at The Cary, you know that the concession space has always sold beer, wine and movie staples like popcorn, soda and candy – and, even though Brew is a coffee shop and espresso bar, that tradition will continue. In addition to Brew's full menu of espresso, tea, coffee and food, those "classic movie staples" will always be available.
"We're not used to being a concession stand too – Brew focuses on coffee and beer – but we recognize that we're partnering with the theater so we want to honor that tradition of where we are," Viola told me. Since movies wouldn't be movies without popcorn, Brew will serve bags of freshly popped popcorn from Carolina Popcorn Shop, a local company.
Customers can choose between butter popcorn or kettle corn, and Viola says both are incredible. A selection of candy and soda will also be available. Just as it should be, food can still be taken into the theater, but now you'll have the option to take espresso drinks, sandwiches and baked goods in, too. "We're hoping that, by being inside the theater, both of our businesses will help each other grow," Viola said. "When would ever you want to go to a theater an hour before a show and just hang out? Now people can. This is a unique opportunity to grab a beer, wine or coffee and relax."
Address & Hours
Brew will be open for business at 7 am on Monday, February 29, 2016. Its regular hours will be as follows:
Monday-Friday, 7 am-6 pm
Saturday, 8 am-6 pm
Sunday, 9 am-5 pm
The coffee shop will also be open during all after-hours theater events.
This means that, if you go to The Cary for a movie, a theater production or other evening show, the stand will be open and selling the classic popcorn, soda and candy as well as the full Brew menu.
---
Story and photos by Jessica Patrick.
https://carycitizenarchive.com/wp-content/uploads/2016/02/BrewMonday.jpg
346
800
Jessica Patrick
https://carycitizenarchive.com/wp-content/uploads/2020/03/cc-archive-logo-450-v3.png
Jessica Patrick
2016-02-26 08:55:39
2019-12-08 10:25:21
Brew Coffee Opens Monday in Downtown Cary