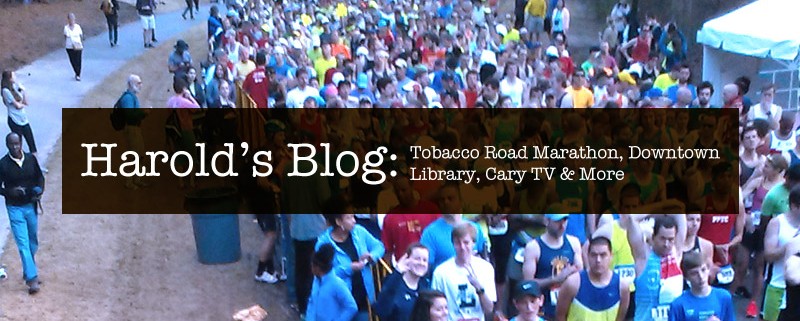 Cary, NC — This was a busy week for me as is typical this time of year.
Monday – Downtown Library
Monday I called council members to hear their concerns about the upcoming regularly scheduled council meeting on Thursday. I was able to contact all council members. They expressed questions and concerns about the Memorandum of Understanding with Wake County on the downtown library and the adjoining parking deck. Specifically the council members would like to review the parking deck design and the integrated art early in the process. Later in the day I met with staff to go over the agenda items. Since the agenda was short our meeting only lasted a few minutes.
Later Monday I met with the two Assistant Managers since the Interim Manager was on vacation. We discussed several items including development interests in downtown and Academy Street construction. Our meeting concluded after a few minutes.
Tuesday: Cary TV
Tuesday the council held a work session to discuss Cary Matters and Imagine Cary. Cary Matters is a council program that has monthly episodes played on Cary TV which is the town's government access channel. The purpose of the program was to inform citizens about current issues. At the work session the council decided that updating and refreshing the eight year old program was in order. Changes will include a shorter program on a three week rotation. In addition the writing duties will be shared with all council members instead of alternating with Mrs. Robinson and me. The episodes will be around five minutes long (currently they average eighteen minutes) with two council members. Most of the show's tapings will be indoors as before but some may be outdoors. They goal is to have these changes in place in about four months.
Imagine Cary Project
Imagine Cary was the next topic. We had planned to cover three special planning areas but were only able to cover one. The Carpenter special planning area was discussed for over an hour and a half. Basically, the council agreed with recommendations to protect the area and keep it historic and rural. The only change was to have major thoroughfares in the area include curb and gutter but with a non-traditional look. That look might include meandering paths, fences, stone walls, and more.
The council also discussed the timeline for the Imagine Cary process. To move our discusses along faster and get a proposal to the public sooner, the council decided to hold a half day work session before Memorial Day. Council was also notified that the final recommendation for the Eastern Gateway Special Planning Area will be presented to council in a staff report in the coming weeks. This special planning area will move ahead of the Imagine Cary but will be included in the overall plan. Our work session concluded after two hours.
Wednesday – Economic Development
Wednesday I met with the town's Economic Development Committee. This committee is different from other town boards in that it is made up of the Mayor, two Cary Town Council members, the Cary Town Manager, the Cary Chamber's President and Vice President of economic development, the chair of the Cary Chamber's board of directors and three citizens. The committee oversees the activities of the Town's economic development program and considers economic development initiatives that can be jointly implemented by the Town and Chamber. Most of the meeting is usually spent reviewing the quarterly report of the Chamber's Vice President of Economic Development. Some of the interesting notes from this quarter's report include:
CoFounders Capital, located in downtown Cary and starts new businesses, has raised about $12 million and has invested $1.2 million on six companies.
The chamber has completed a small business guide for new businesses looking to open in Cary.
The 'state' property located in the Eastern Gateway is still under contract with Columbia development. They have not brought a formal proposal forward to council.
Cary is lacking Class A office space. There is currently an 8% vacancy rate. If all pending projects came to fruition Cary would need about 1 million square feet of additional office space to accommodate the projects.
Construction on the Midtown Square project in downtown is underway and is expected to be completed by late summer. It includes a 25,000 square foot office building, retail, and connects to a building with a beer garden and courtyard.
Cary Chamber's Economic Development hosted a neighborhood meeting of corporate executives in Weston. They hope to hold another in Regency later this year.
Kelloggs Corporation announced they would be investing $19.5 million into their facility in Cary. They are exploring the potential of a major expansion.
Cary's Economic Development is currently working on 11 projects with a potential for 4500 new jobs. These projects could generate over $300 million in new investment which would increase tax revenue by over $1 million.
The unemployment rate in Cary remains strong at about 3.5% which is well below North Carolina and the country.
The committee concluded its meeting within an hour.
Later Wednesday I finished writing the April episode of Cary Matters and finished a Cary Magazine questionnaire.
Thursday – Cary's Legislative Agenda
Thursday the council held a regularly scheduled meeting. On the agenda was one public hearing and two discussion items. Both discussion items were approved unanimously. The first discussion item was the Legislative Agenda for this short session. Our agenda will include:
Support legislation to amend the Iran Divestment Act of 2015 to eliminate the requirement for local governments to require contractors to document their exclusion from the Iran Divestment List.
Support the conveyance of real property with covenants and restrictions and delegate authority to the Town Manager to execute utility easements and agreements on Town-owned property.
Support donating service handlers to their handlers when they retire.
Support the Jordan Lake Rules. Jordan Lake is the region's drinking source
In 2016, the Legislature will be in session from April 25 through mid-July. The Legislature held a two-day special session from February 18-19 to redraw Congressional district maps.
Downtown Library Parking Deck
The second discussion item was a Memorandum of Understanding with Wake County for the downtown library and parking deck. Since the Cary taxpayers are paying over $7 million for a parking deck council wanted to make sure we had plenty of opportunity to review and decide on the design of the deck. After discussion items the council went into closed session on issues related to the town manager search. We adjourned our meeting around 8 PM.
Sunday – Tobacco Road Marathon
Sunday I had the pleasure of welcoming runners at the beginning of the Tobacco Road Marathon and Half Marathon. This is the 7th year of this event and I am proud to say I have been at the start of them all. I have seen this grow from several hundred runners to thousands from about 35 states and all over the world. The course is flat and fast and is on the American Tobacco Trail for a good portion. I might even consider running a half marathon next year.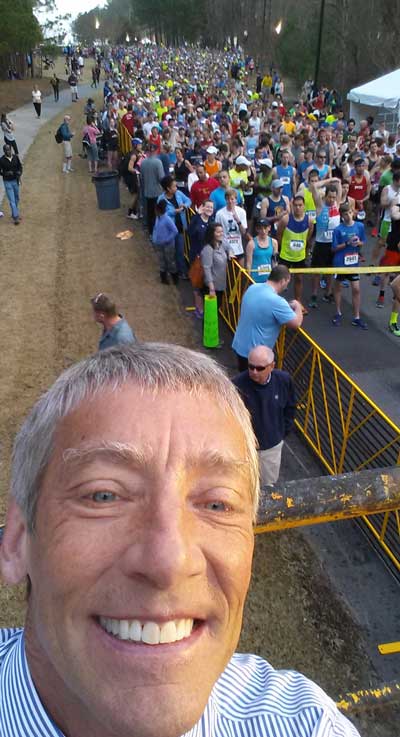 Sunday evening I had the honor and privilege of being present at the kickoff campaign event to re-elect former Cary Mayor Pro-Tem Gale Adcock to the North Carolina House. What a great representative for Cary. She will continue to be an advocate for working together to find the best solutions to all issues. As she says "I don't cross the aisle, I work in it." I am honored to know her and call her a friend.
Emails from Staff
Emails from staff this week included the development and construction activity report for the month of February. Notable items include:
124 residential units, 9 multi-family units, and 48 non-residential permits were issued for additions and alterations.
The average size of a house was 3,472 square feet as compared to 4,164 square feet in 2012.
80 certificates of occupancy were issued for single family homes in 20 different neighborhoods.
Cary issued the 15.3% of the county's single family permits which was second only to Raleigh with 18.5%.
Development plans were submitted for 159 single family lots, 11 multi-family units, and 26,600 square feet in February.
To look at all the approved plans for 2016 go to http://www.townofcary.org/Assets/Planning+Department/Planning+Department+PDFs/planreview/Current+Year+Approved+Projects+(sorted+by+Date).pdf.
To see all the plans under review go to http://www.townofcary.org/Assets/Planning+Department/Planning+Department+PDFs/planreview/Current+Year+Approved+Projects+(sorted+by+Date).pdf.
In other emails from staff I was notified that after several months the intersection at Kildaire Farm Road and Walnut Street will be opened. This will relieve a lot of traffic headaches for downtown. Now if we can just get the rest of the project done…
Ageless Heroes
I also received an email from Searstone retirement community this week. Through April 17th they will be receiving nominations for Ageless Heroes. The categories are as follows:
Ageless Hero of the Year – An individual (age 55+) who has made an indelible mark on our community
Ageless Hero Student of the Year – A middle- or high-school-age student who has improved the lives of Wake County seniors
Ageless Hero Business of the Year – An organization that is not primarily senior-focused but that has made outstanding contributions to area seniors
Ageless Hero Person of the Year – Individual of any age who has made exemplary contributions to area seniors
Ageless Hero Lifetime Achievement Award – An individual or business that has made long-term contributions to area seniors
If you would like to nominate someone go to www.searstone.com/hero.
Emails from Citizens
Other emails from citizens included:
A question about using the Wake Med Soccer Park.
A complaint about downtown construction.
Two complaints about the construction at Walnut and Kildaire.
A complaint about loitering in the shopping center at the corner of Waldo Rood and Cary Parkway.
A complaint about the lack of police presence and the lack of lighting on the section of Morrisville Parkway that is not opened.
Several requests for meetings, events, and interviews.
This Week
This week will be busy with a taping of Cary Matters, a presentation of the State of the Town address to Glenaire, a meeting of the Capital Area Metropolitan Planning Organization, an Arbor Day celebration, a leadership interview, events, and meetings.
Get in Touch
Well, that is all for now. My next post will be on Sunday, March 20th. Although I have Facebook and Twitter accounts those are not the best means of communications with me. Please send all Town of Cary questions or comments to Harold.Weinbrecht@townofcary.org and email personal comments to augustanat@mindspring.com.
——————————————————————————————-————————-———-—
Story from the blog of Cary Mayor Harold Weinbrecht. Picture courtesy of Mayor Weinbrecht.
https://carycitizenarchive.com/wp-content/uploads/2016/03/harolds-blog-march13-2016.jpg
550
800
Harold Weinbrecht
https://carycitizenarchive.com/wp-content/uploads/2020/03/cc-archive-logo-450-v3.png
Harold Weinbrecht
2016-03-14 10:31:12
2020-02-24 19:02:46
Harold's Blog: Downtown Library, Tobacco Road Marathon & More