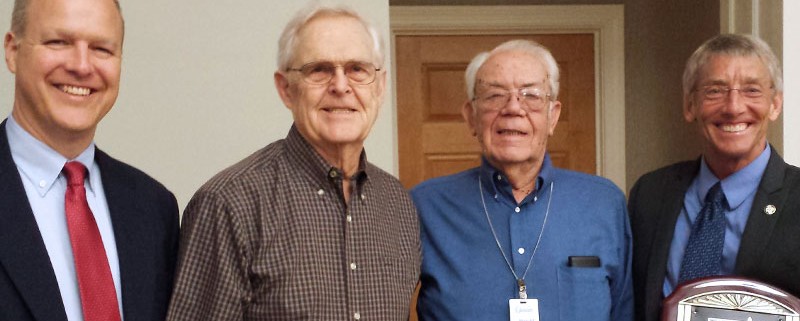 Cary, NC — This week kept me busy for most evenings but overall was a typical week.
Water Treatment and A Visit to Glenaire
Monday I joined Jack Smith in a taping of the April episode of Cary Matters. The main topic for the episode was the Cary Water Treatment Facility expansion. I wrote this episode with a lot of facts and figures giving a little bit of history of Cary's beginnings in water treatment. Council member Smith said it was the hardest episode he has ever done but we both did it without a hitch. The taping only took half an hour.
Monday night I gave my State of the Town address to Glenaire. This was an updated version of the slides I presented to the Chamber of Commerce back in January. Their interests and questions seemed to be in the Academy Street construction and the failing Cary Town mall. After answering questions they surprised me with a Distinguished Citizens Award. What an honor! All the residents there are so very kind. It is such a pleasure to visit them. I hope they invite me back in the future.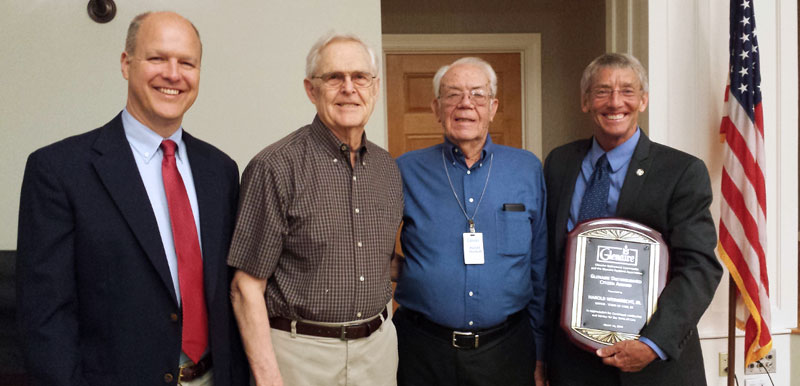 Railroad Crossing Repairs
Tuesday I met with the Interim Town Manager for our weekly one-on-one. We discussed a variety of topics including the railroad crossing repair on Harrison Avenue which will have already been completed by the time this journal is posted. The crew will next move to the rail crossing at Northeast Maynard. This will involve lowering the tracks which sounds like a more extensive repair. And extensive repairs, in my mind, mean a longer time. We also discussed the town seal which a council member will propose to investigate modifying at our next council meeting. The last town seal modification was in the 1970s when the "gourd capital of the world" was removed. It is not clear what this modification request entails. Our meeting concluded after about half an hour.
Later Tuesday I met with Ms. Renee Smith who is the Vice President of Sales for Fonville Morrisey Realty. She is part of a leadership class and was interviewing me as part of the requirements. We had a great discussion about leadership styles, philosophy, and types of personalities. She was an absolute joy and the interview was fun. I wish her the best in moving forward in her leadership class.
Wednesday – More on Railroads
Wednesday I attended the monthly meeting of the Capital Area Metropolitan Planning Organization's (CAMPO) Executive Board. This MPO is responsible for carrying out an annual work program approved by the executive board, a portion of which includes updating the Metropolitan Transportation Improvement Program (a seven-year project programming schedule) and the Long-Range Transportation Plan (a minimum twenty-year forecast of projects and programs). One of the items of interest at this meeting was the setting of a public hearing for April 20th on a study of the Raleigh-Cary railroad crossings. Another item of interest that created a lot of discussion was the development of an Interlocal Agreement for the Wake County Transit Investment Strategy. The Wake County Commissioners want to plan how the money from a half cents sales tax (which is part of the Wake County Transit Plan on the November referendum) is managed and distributed. There is the duty of bookkeeping of the funds which will likely be carried out by Go Triangle. Then there are all the policies associated with distributing the monies. That decision body may or may not be made up of CAMPO and GoTriangle and/or additional entities. CAMPO will need to make a decision on their recommendation at their April meeting for the commissioners to formulate a final plan at their early June meeting. The CAMPO meeting concluded after about an hour and fifteen minutes.
New Cary Sports Venue?
Thursday I attended a private reception for individuals interested in bringing a national sports venue to Cary. It was a Who's Who of Cary that can make things happen so I hope it will become a reality. Since this is still very preliminary I am not allowed to share more information at this time.
Celebrating Arbor Day
Sunday I attended the 2016 Arbor Day Celebration in Cary. Mayor Pro-Tem Yerha gave remarks and I read a proclamation. Arbor Day was first celebrated in 1872 as a special day for planting trees and has grown to thousands of celebrations in communities across our nation each year. It should be pointed out that Cary has been recognized as a 2015 Tree City USA by the National Arbor Day Foundation and North Carolina Forest Service. This marks the thirty-third consecutive year that Cary has received this special designation. Only 12 other cities in North Carolina have received this award for longer than the Town of Cary. So help Cary stay green and go out and plant a tree!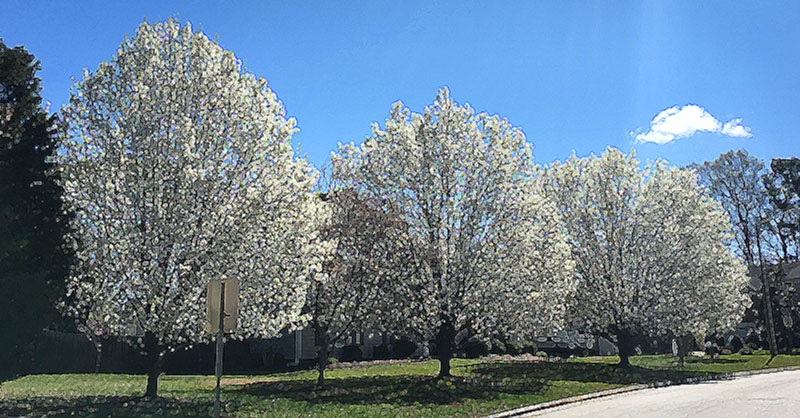 Emails from Citizens
Emails from citizens this week included:
A concern about the Northwoods PDD amendment which has yet to be proposed to council.
A complaint about links on my blog on the Cary Citizen. It is important to know that my blog is posted on www.haroldweinbrecht.com and is picked up by the Cary Citizen. I do occasionally send pictures to Cary Citizen to go with my blog.
A complaint about affordable senior housing in Cary.
A question about Wake Med Soccer Park.
Several requests to attend and participate in events.
Get in Touch
Next week's activities include a Mayors Association meeting, the Parks, Recreation, and Cultural Resources annual volunteer banquet, a regularly scheduled council meeting.
Well, that is all for this week. My next post will be on Sunday, March 27th. Although I have Facebook and Twitter accounts those are not the best means of communications with me. Please send all Town of Cary questions or comments to Harold.Weinbrecht@townofcary.org and email personal comments to augustanat@mindspring.com.
---
From the blog of Cary Mayor Harold Weinbrecht. Glenaire photo courtesy of Harold Weinbrecht. Arbor Day picture by Hal Goodtree.
https://carycitizenarchive.com/wp-content/uploads/2016/03/harolds-blog-glenaire-2.jpg
550
800
Harold Weinbrecht
https://carycitizenarchive.com/wp-content/uploads/2020/03/cc-archive-logo-450-v3.png
Harold Weinbrecht
2016-03-21 13:40:15
2016-03-21 11:41:21
Harold's Blog: Railroads & Sports Venues