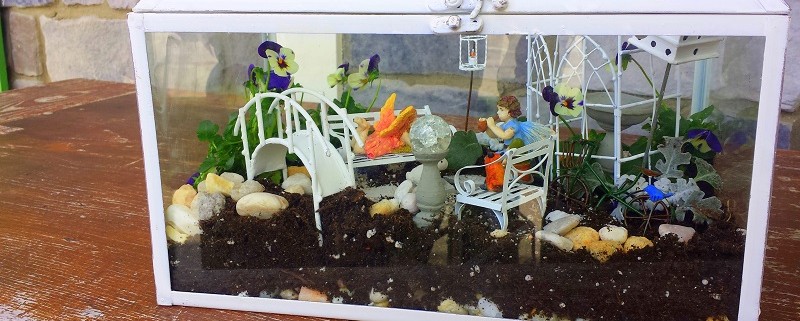 Morrisville, NC — What's a fairy garden, and how do you make one? I'll show you.
Miniature Little Worlds
Last weekend, I visited Ivy Cottage Collections, a gifts, accessories and home furnishings store in the Park Place shopping center on Cary Parkway, to make my first fairy garden. Making a fairy garden is simple – you only need a few supplies. The "tricky" part is the fun part – using your imagination to set up and arrange a tiny little world.
Depending on how much up-keep you want to put into your creation once you build it, you can use real or fake plants in your fairy garden. As a newly-appointed gardener who likes a challenge, I prefer real plants – but artificial can be just as pretty.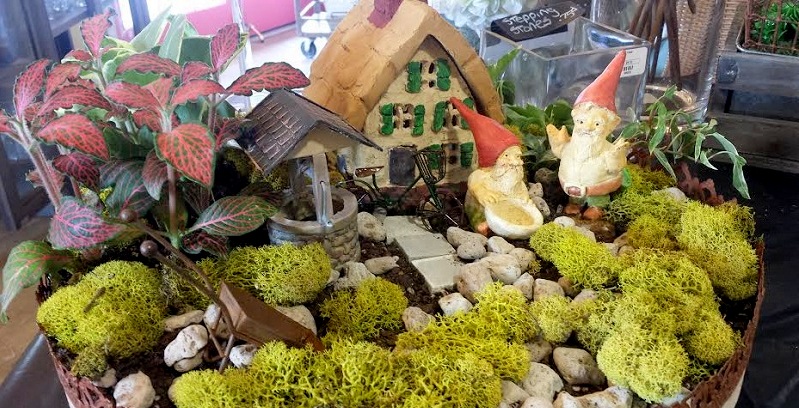 Fairy gardens, along with plants and flowers, often feature tiny houses and lawn furniture, small gnomes and animals, and, of course, fairies – though the fairies are completely optional. Some people really get into the details when they build their fairy gardens by adding pebble walkways, miniature clotheslines, moss-covered hills and more.
The way I see it, making a fairy garden is an excuse for an adult to play with dollhouse furniture. All the miniature decorations are cute, too, so what's not to love?
Fairy Garden vs. Terrarium
You may be wondering – what's the difference between a fairy garden and a terrarium?
There's actually not much difference at all, and knowing how to build a terrarium will help you build your fairy garden. The base building process and materials are the same – an open or closed container of some sort, pebbles, soil and decorative moss. If there's any difference, it's in the decorating stage – fairy gardens take the "accessories" you see in many terrariums one step farther. Fairy gardens have houses, furniture and statues, while terrariums usually contain only a few of these elements – a decorative, colorful mushroom, perhaps – and the focus of the container is more plant-centered.
Build the Foundation
Making a fairy garden is a lot like making a terrarium – before you add decorations and plants, you have to build the base. If you're using real plants, this foundation of pebbles, soil and moss is important. If you're using artificial plants, it's optional – if you choose to include the foundation, it would be for the sole purpose of making the plants appear real.
Here's how to make a foundation for real plants.
Pick your container. This can be large or small, deep or shallow, open or enclosed with a lid – all that matters is that you have plenty of room to add plants, houses and whatever you desire.
Add pebbles, activated charcoal, moss and a thick layer of soil. In that order. The charcoal, which prevents bacteria build-up, is optional – you only need to use it if you're building a fairy garden within an enclosed container. The moss and pebbles help your fairy garden breathe and drain – though you'll never want to over-water it in the first place.
Tip from Jess: If the front of your container is glass and/or transparent, pay attention to how your base looks as you build it. I like to make sure the layers of pebbles and colorful moss show through the container – I think it's prettier that way.
Decorate Your Fairy Garden
Once your foundation is built, you can add plants and decorations.
Since a fairy garden is decoration-based, I like to add my animals, fairies, tables, chairs, houses, etc. first and arrange plants around them. Here's where you can get as creative – or stay as simple – as you'd like. You can purposefully make your "miniature world" look like a little fairy's yard surrounded by gardens and plants, or you can simply place a cute piece of furniture beside a plant and call it done. It's hard to mess these up, because they're so cute already.
My favorite plants for terrariums are nerve plants, ferns, grasses and mossy plants. These need minimal water and sunlight and fare well in tight, enclosed spaces. You can always visit a garden center and ask someone to help you, too.
Find Supplies
As I mentioned, I visited the Ivy Cottage to purchase some of my decorations. Ivy Cottage has a great selection of little animals and fairies, miniature furniture and accessories, artificial plants, fairy garden-friendly containers and even moss and pebbles. You can also find those supplies, in addition to live plants, at Garden Supply Company.
I've purchased beautiful containers from both these stores before, but sometimes I'll re-purpose old containers I have sitting around the house, like fish bowls, aquariums and large flower pots. The possibilities are endless.
On a budget? Here are two more surprising resources for fairy garden supplies – craft stores and HomeGoods stores. I recently found a large selection of fairy garden decorations (all on sale) at Jo-Ann in Cary, and HomeGoods has surprisingly inexpensive glass terrariums and containers. It's fun to wander around different shops collecting supplies for your garden.
Related Content
---
Story and photos by Jessica Patrick.
---
Stories on CaryCitizen are sponsored in-part by Elegant Stitches in Waverly Place.
https://carycitizenarchive.com/wp-content/uploads/2016/03/20160305_134327.jpg
415
800
Jessica Patrick
https://carycitizenarchive.com/wp-content/uploads/2020/03/cc-archive-logo-450-v3.png
Jessica Patrick
2016-03-22 13:44:23
2019-12-08 10:25:29
Fairy Gardens: How to Build a Tiny World