Cary, NC — Spring has officially sprung in Cary, which means it's time to freshen your wardrobe with a few pieces that are lighter in color and weight after all those winter layers.
Spring Fashion in Cary
In Cary, we are fortunate to have a wide variety of independently-owned boutiques who buy close to the season with their very own customers in mind. I spent the last few weeks visiting these wonderful store owners to hear what they feel will be important purchases for Spring 2016.
Four Key Trends
Color: Pink! Whether it's hot pink from Lilly Pulitzer or many shades of coral, this spring color was everywhere. Pick up a swingy top, dress or some jewelry in a shade of pink, and you will immediately feel like spring is in the air.
Shape: Swingy shapes and loose shifts – these are classics for Cary women who value comfort as the temperatures soar.
Trim: Tassels! Fringe from the fall has given way to tassel trims in jewelry and on dresses, ponchos and loosely woven tops.
Prints: Lush florals with a watercolor style rule the day. Tribal and ethnic prints are still everywhere, especially as we near summer. The animal print for spring is snakeskin in cool neutral tones.
What's in the Stores?
Bright Pinks in Comfortable, Feminine Shapes
At The Pink Pearl, (formerly Ashworth Prim and Proper), owner Stephanie Ashworth converted her store to become a Lilly Pulitzer premier specialty store in January. The switch came in time for early spring and resort deliveries.
Numerous shades of hot pink abound here as only Lilly does, but  "flamingo pink" is the pink for spring 2016 – it's bolder, not quite neon and very flattering with all skin tones. White is another important color here for spring. Whites with texture, lace and inserts of lace can be used to add contrast to all the bright solids and prints.
Stephanie added that her, "biggest trend is florals with an emphasis on roses. They brought back an old print called Southern Charm which was introduced at Charleston fashion week. It has a retro look to it."
For her customers, comfort is key with cotton fabrications and lycra added to knits and pants. Shapes are loose-fitting in pants and dresses, and a popular item from last year, the scalloped hem shorts, were brought back again in several lengths.
Coral and Snakeskin Prints
When I met with Karly Hankin at her store, Peachy Keen, store assistants were busy getting ready for the upcoming  Spring Fashion Show, "Aloha," that will take place on April 20, 2016.
Karly stated that, "The biggest color trend I've seen coral. It's in a lot of stuff and in all different brands – from pale to bright, all different shades. It's in jackets, little dresses and sexy tops, and it has snuck into prints in subtle ways, too."
Many of the styles she purchases can be worn almost all year with the addition of a jacket or a cardigan, or a t shirt underneath. "That's what I try to look for. No one wants to wear something for only one month out of the year. Especially since it's so warm here for so much of the year, you can play with the clothes and transition into the fall."
Karly organizes her store by color family. "We like to group it by warm to cool to neutral," she said. In the store, I saw several items in snakeskin prints in a range of color palettes along with watercolor floral and some pastel plaid items and ethnic Ikat patterns. White mixing in with the prints lightens things up.
Going into summer, Karly says there's a tropical vibe with big, bright Hawaiian florals.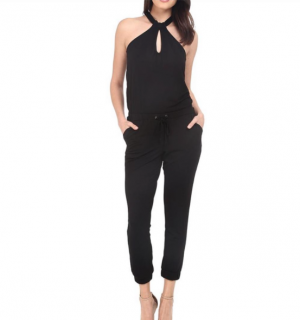 The Newest Shape
Her newest shape is the tie front, whether at the neck or bust. She showed me a fun jumpsuit with a tie front in knit that could be dressed up or casual depending on the accessories.
Back details have cut-outs and crisscrossing straps, and sheer sleeves and bell sleeves keep things loose and comfortable. Karly added, "I'm seeing more of an open neck, like a boat neck or a V,"and cold shoulder tops will be important this season. She sees cropped tops too – not radically short, but good with jeans. Instead of low-rise jeans, more of a mid-rise and a hi-rise waistline has been important.
Jeans Meet Technology
Karly always stocks some great jeans – and for spring, it's either white or dark distressed blue. Technology is changing the face of jeans – the "Play Dirty, Stay Spotless" jean in white will repel spills and stains. The "Clean Cut Crop" has a wicking capability that keeps you cool if you don't want to wear shorts. Flares are back, too – her jeans from Page were very flared with placed distressing and a higher waist. The boyfriend jean continues with a more relaxed fit and is rolled at the ankle.
Tassle Fringe and Comfortable Dresses
Swagger, in Lochmere Village, outfits women in high school and college to moms who work or stay home.
I met with Jillian Farrington, the marketing manager for the store, who said "the Pantone color of the season is Serenity, which is a baby blue, and Rose Quartz, which is a blush, so you'll be seeing a lot of that this spring and summer." The cold shoulder sleeve treatment (where the upper arm is cut out) has been really popular in Swagger, and where you saw more of that first in long sleeves, now you'll see it in shorter sleeves and rompers.
Rompers will be big again this year. Even at my age? "It depends," Jillian said. "Swagger has such a big target market that we buy for both. We are getting some of the longer rompers in, which the moms and that age group is liking."
Shift dresses that are a little baggier are popular, and the Piko dress continues like crazy. Similar in comfort to the Piko are bamboo fabric dresses with amore flattering fit and flare shape, and, at $38, they are a great price point. They're simple to wear, too – throw it on with a pair of sandals and a necklace, and you're dressed!
Just as at Peachy Keen, Jillian said V-necks with a bunch of ties in the front are a big trend. Cool backs, with ties and criss-cross designs, will be seen in both tops and dresses. To keep these interesting and more modest, bralettes are really an essential undergarment for layering.
Kimono layering pieces are still happening, and the additions  Jillian has gotten in have flown out. She also had a range of other loose ponchos and caftans, often with tassle fringe trim, which was also seen on a few spring gauzy dresses.
Ruffle Necklines and Swingy Shapes
Samantha James, owner of Pink Magnolia in Parkside Town Commons, says her customer can range from a girl in high school to her mom and older sister.
Her store reflects a range of swingy dresses and cute tops with a preppy feel this spring. She echoed the trend of cold shoulder tops being popular. Dress shapes include shifts with a swingy shape. Great layering tanks have been important as well, and tops and dresses made from bamboo, with that soft hand in a range of solid colors.
Samantha said, "Trend-wise, you are seeing more of an Elizabethan collar – it stands up." She has it in a dress and several tops. There are even some with little mandarin collars. "The other really big trend is cold-shoulder blouses and off the shoulder," she said.
A ruffle trim stand up collar was seen on several tops and dresses that I hadn't seen at the other boutiques. White jeans by Articles of Society and Dear John were available in boyfriend, slim fit and a new really long flare leg.
These will look great with a bright off-the-shoulder or sleeveless top for summer. Colors that Samantha says will be important for Spring are rose quartz and serenity blue, as predicted from Pantone. She doesn't have them in now, but feels she will be buying this at market next week when she shops to fill in for May and June.
Monotone Tie-Dye
At Paisley in downtown Cary, owner Lauren King was ready for spring with cute racer back dresses and rompers that are popular with her high school and college-age clients. Kimonos will continue, and she had a few in solid colors, one with fringe and another in beige with embroidery. At market, Lauren saw "Lots of florals and lots of tie-dye in mono-toned combos. Lace bras and bralettes are really popular."
She also saw lots of tie accents at the and strappy backs that can be worn with the lacy bra underneath. Blush pink will also be important – she saw that at market, which is similar to what the other store owners had mentioned.
Solid Piko dresses and tops continue to fly out the door, but newer this season is a fit-and-flare shape that is more flattering with a short sleeve also in the bamboo fabrication. She had only one of these left in a blue the day we visited.
News for Paisley-lovers: the store will open two new locations later this month – one at Parkside Town Commons and one in Raleigh's Five Points.
Accessories
In every store, I continued to see long necklaces with horn or tassel charm elements. That's not to say shorter necklaces aren't gaining in popularity, but the long tassel is the necklace to be worn with the swingy dresses and tops. It replaces scarves for the season. A brushed or matte gold color is beginning to dominate as well.
Look for agate (crystals and rocks) to continue as well as pearl accents.
Start Shopping
One day soon, the weather will stay in the 70's for more than a day at a time! In the meantime, start stocking up on spring clothing at your favorite local boutiques. #ShopLocal!
---
Story and photos by Lindsey Chester.
---
This column was sponsored in part by The Green Room located in the Shoppes of Kildaire – they'll keep you looking your best this spring with blowouts, waxing, spray tanning and more.
https://carycitizenarchive.com/wp-content/uploads/2016/04/IMG_1819-e1459726439829.jpg
525
700
Lindsey Chester
https://carycitizenarchive.com/wp-content/uploads/2020/03/cc-archive-logo-450-v3.png
Lindsey Chester
2016-04-15 09:06:07
2016-04-12 11:06:25
Fashion Trends: Spring 2016 in Cary Boutiques