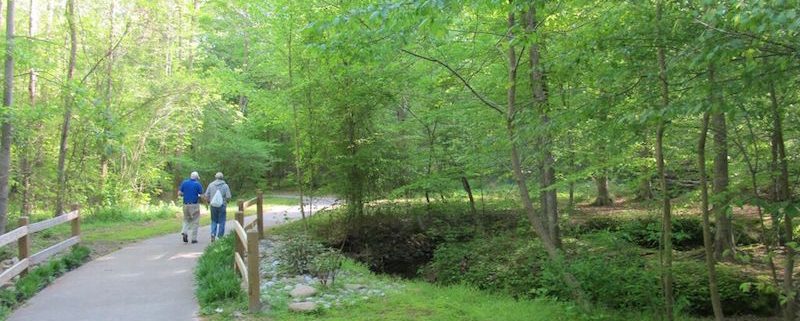 Cary, NC – On April 23rd, I joined members of the Cary Greenways Committee for a survey of Hinshaw Greenway. At 1.7 miles in length, Hinshaw is one of Cary's longest trails, and it includes connections to two parks, an artistically-enhanced footbridge over US-1/64 and a beautiful tree-lined landscape that is part of the Swift Creek Watershed.  This is truly a can't-overlook trail! 
Formerly Maynard Oaks Greenway
The original trail, then-named Maynard Oaks Greenway for its neighborhood location along Maynard Road, was developed in the 1980s and extended just short of 8/10 mile from Southeast Maynard Road to Seabrook Avenue.
It was renamed in 1991 in honor of Robert C. Hinshaw, a member of Cary Town Council from 1981 to 1989, and was extended all the way to the then-new Marla Dorrel Park (or Kids Together Park as it was first named) in 2006.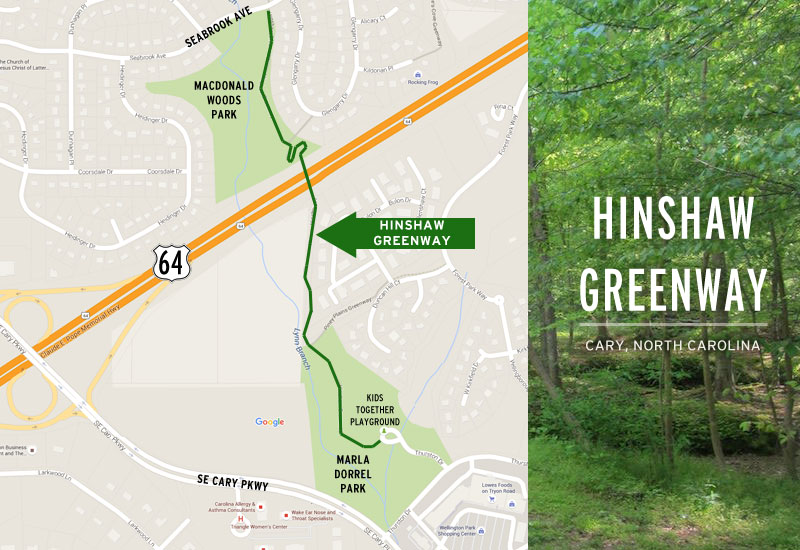 Over the Highway and Through the Woods
Because there is only one true trailhead for Hinshaw Greenway, our walk begins at that trailhead at Marla Dorrel Park, an attractive and kid-friendly park in the Woodshire neighborhood.  Almost immediately, the trail passes along the east edge of a wetland (which is in fact the only designated wetland along a Cary greenway!) created by a widening of Lynn Branch (a creek that empties into Lake Lochmere just to the south) and ultimately to Swift Creek.
This is an excellent spot to listen for frogs in January and February and to appreciate wetland plants and amphibians most of the year.
The character of the trail changes to a meadow as it opens up at a high-voltage power easement where one can cross to the incomplete Piney Plains Greenway that will ultimately connect to Crossroads Plaza.
This intersection offers the sight beautiful aster flowers in high summer and very often bird activity in the form of sparrows, Cardinals, swifts and others.  Bird lovers can appreciate this spot all seasons of the year!
Continuing northward, the trail passes close to the Wellington Ridge condominiums and rises to meet a footbridge over US-1/64.  This bridge incorporates the lovely "Bowstring Vines" artwork created and installed by Mike Jacquish in 2008.  The traffic noise is quite intense but the view of the highway is impressive.
To the north of the switchback ramp, on the north side of the bridge, there is a connection to Pirates Cove greenway via Glengarry Drive. Along the switchback, there is a fine display of decorative landscaping that softens the vista from trail to bridge. I think this looks at its finest in the summer months.
The Magic and Beauty of Hinshaw Greenway
Hinshaw Greenway then passes into thicker and older woods along the edge of MacDonald Woods Park. This is a marvelously attractive wooded corridor that's especially vivid in the fall.
MacDonald Woods is a neighborhood park serving the Stonehaven and surrounding neighborhoods and boasts upgraded playground equipment, a basketball slab and fine landscaping.  The park has grown in popularity in recent years and always seems full of families.  But don't stop for long as the trail crosses Seabrook Avenue and enters its oldest section.
The woods are thicker and deeper here and the trail meets up again with Lynn Branch which we last saw near Marla Dorrel Park.  The greenway follows that waterway (and crosses it twice) until it ends at Southeast Maynard Road.
It is hard not to be mesmerized by the beauty of this segment that winds and bends from glades to wooded ridge to bottomland.  All along the way can be found mature Beech trees, some that are many decades old.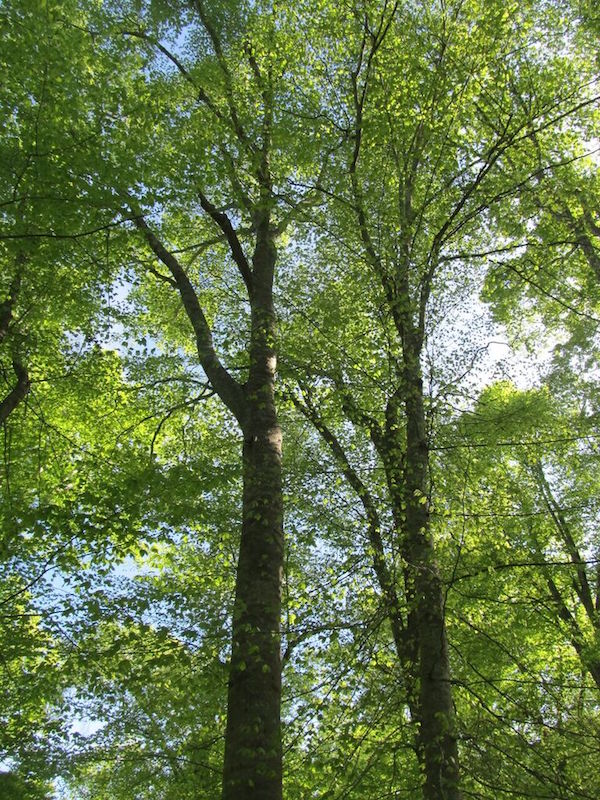 Wildflowers are abundant in early spring. I can reliably observe Trout Lilies, Mayapple and many others as the spring progresses, and spotted quite a few blooming Atamasco Lilies on the day of our walk.
This is also the more physically demanding section of Hinshaw as there is a ridge crossing that is steeper than most in Cary's greenway network.  At the top of that rise is a nearly-invisible connection with the Farmington Woods private trail system.
The greenway ends at Greenwood Circle, just off Southeast Maynard Road.  There is no trail head but visitors can park along the road.  Most of the users here, however, live in the Pirates Cove neighborhoods.
There is a marker here that commemorates Bob Hinshaw that reads "This greenway commemorates the 14 years of outstanding public service Robert C. Hinshaw has given the citizens of Cary to enhance our quality of life throughout the preservation of open space."
Hinshaw Greenway is a special part of the Cary Greenway system.  It offers superb walking, running, and bicycling opportunities, vistas for those studying wildlife and wildflowers and a spectrum of impressive and delightful views.
---
Story and photos by David Lindquist. Map by Hal Goodtree.
https://carycitizenarchive.com/wp-content/uploads/2016/04/unspecified-2.jpeg
600
800
David Lindquist
https://carycitizenarchive.com/wp-content/uploads/2020/03/cc-archive-logo-450-v3.png
David Lindquist
2016-04-27 14:14:03
2016-04-27 19:12:53
The Hidden Beauty of Hinshaw Greenway