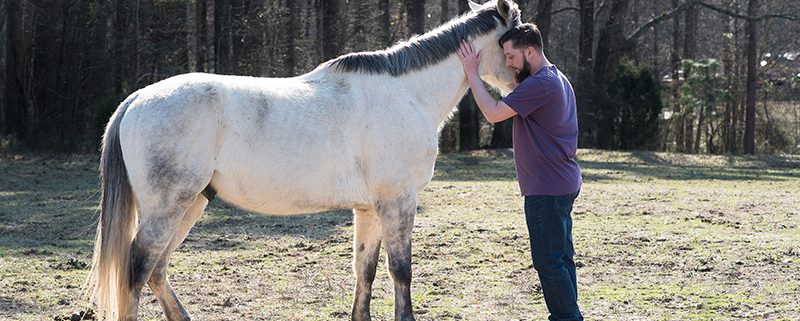 Cary, NC – When men and women return home from the military, they can be injured in ways that are hard to notice or treat. But at Cary's Harbor Reins, veterans and active military with post-traumatic stress disorder (PTSD) work through their problems with horses.

Horses as Therapy
Harbor Reins first saw patients in May 2015, teaching coping skills such as breathing exercises and muscle relaxation. But one of the key components of their Equine Assisted Therapy is something Executive Director and Founder Amy Gressler calls "Rhythmic Riding," developed by riding the horses at Harbor Reins.
"Riding a horse is a new experience so it puts them in survival mode but as they learn and cope with the situation, they move out of that," Gressler said. "The repetitive movement and pattern of it means after a while, they start using other parts of the brain and settling down."
Starting this past Memorial Day (Monday, May 30, 2016), Harbor Reins is beginning a research study, funded by the North Carolina Horse Council.
Gressler said there are a number of reasons why horses are effective at reducing stress and anxiety in patients but said much of it has to do with their nature as herd animals and herbivores.
"Horses are prey animals so they always live in survival mode, which means they are in the moment and are mindful," Gressler said. "And they live in herds so they have to be good at relationships and can call us out when we aren't being good to ourselves."
Horses also have a much slower heart rate than humans and Gressler said Harbor Reins has equipment to show patients their own heart rate so they can monitor it while they are with the horses.
"Also, horses are intimidating and make us feel vulnerable so patients have to work through that when they're with the animal," she said.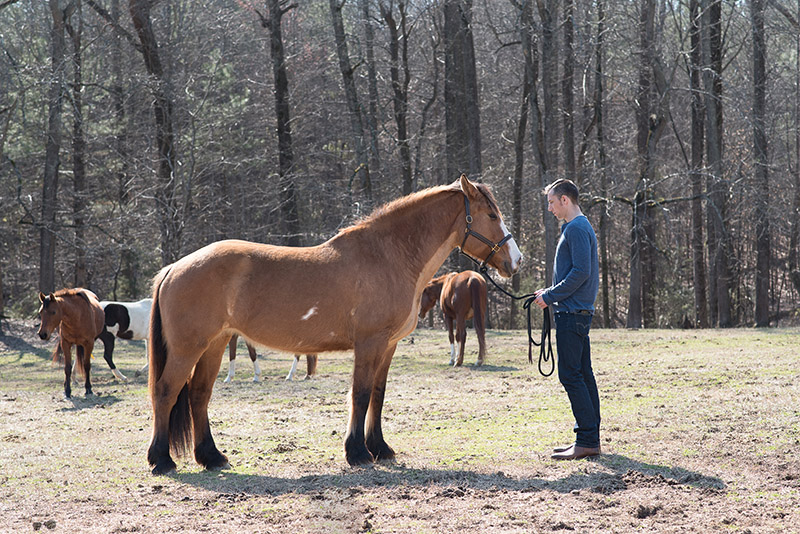 What Patients Go Through
Harbor Reins works with soldiers who have PTSD and while this medical term is familiar to many people, few actually understand what the diagnosis entails.
"Once someone is presenting with PTSD, they are using the survival part of their brain. They're jumpy or restless," Gressler said. "Their mood is stuck where they're sad or irritable and they're unable to use their wide range of emotions."
In some patients, Gressler said they can also have traumatic flashbacks or disassociate from situations by zoning out.
At the first Harbor Reins sessions, these patients share whatever they want about their lives and experiences with staff before going out to the stables.
"For the first few days, they'll go out to spend time with the horses and get to know them," Gressler said. "Then, they'll pick out the horse that they have a connection to and that's their partner."
Harbor Reins uses rescue horses as well as thoroughbreds.
Before working at Harbor Reins, Gressler helped to build the equine therapy program at Corral Riding Academy, another Cary nonprofit that uses equine assisted therapy with at-risk teenage girls. When Gressler decided she wanted to start working with veterans, Corral leased horses and space for her to work.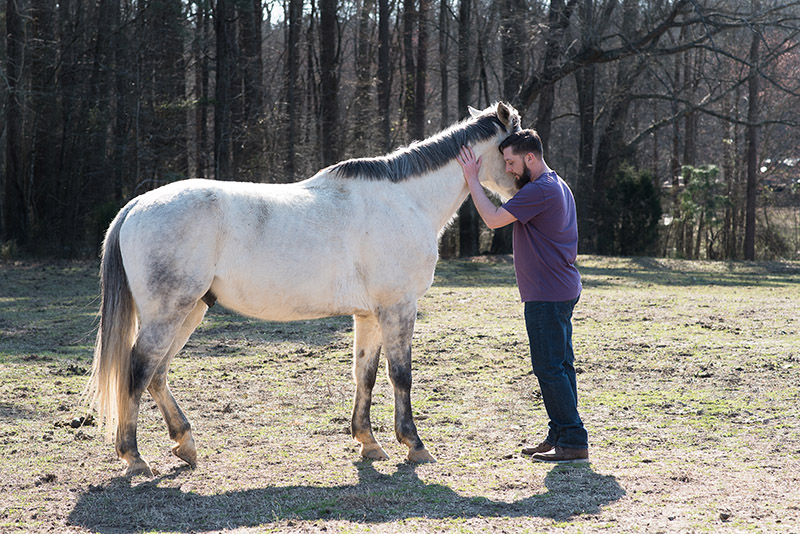 ---
Story by Michael Papich. Photos by Amanda English Photography.
https://carycitizenarchive.com/wp-content/uploads/2016/06/Reins1.jpg
534
800
Michael Papich
https://carycitizenarchive.com/wp-content/uploads/2020/03/cc-archive-logo-450-v3.png
Michael Papich
2016-06-06 09:45:02
2016-06-06 15:01:17
Horses Helping Cary-Area Veterans