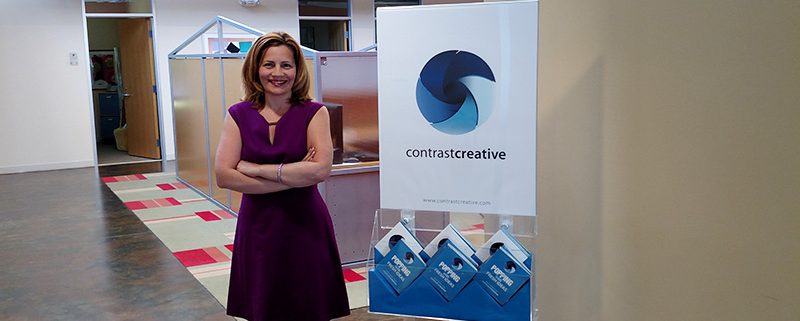 Cary, NC – In an age where marketing is all around us with the explosion in social media and mobile technology, one Cary business has found a way to reach people by focusing on the original form of media: storytelling.

How To Tell A Story
Contrast Creative has been around for nearly two decades but started operating from its current studio between High House Road and Davis Drive in 2006. Kathleen McDonald, Contrast Creative's founder and owner, said while their title is digital content marketing, what she aims to be is master storytellers.
Their specialty is working with healthcare providers and have partnered with Duke University Hospital for seven years to produce short films about the work hospital employees do to help improve or save lives.
"These stories connect people to why they do what they do," McDonald said. "It goes from the head to the heart and that has an impact on patient care."
One of Contrast Creative's recent stories, "Pedal to the Mettle," is about an avid cyclist from West Cary who was diagnosed with cancer and how the staff at Duke got him through his disease. McDonald said her company creates patient stories for several hospitals. One story is about an EMS worker and farmer who was injured while farming and was rescued by his coworkers and the Duke Hospital healthcare team and another story features one of the youngest patients to receive a heart and kidney transplant at Duke.
McDonald said when someone reaches out to them to tell a story, the staff works as a team.
"We work out how best the story can be told and how to bring it to life," she said. "But we need the support and willingness of the patient, their family and the hospital."
This can result in a great deal of personal sharing by the subjects, such as the story of one man who had a heart attack during a sports game and recreated the incident for his video.
"It's not to be self-indulgent but it's to show hospital workers how they are cherished and impact lives," she said. "It's not just to show that patients were saved but they were treated with kindness."
Contrast Creative also works with the Kay Yow Cancer Fund, as well as schools in the UNC system and BB&T.
Beyond the Cutting Edge
As a communications company, and one that existed before the 21st Century, Contrast Creative has seen an immense amount of change. The technology to produce and share their videos has improved but other advances in social media and marketing have necessitated change, which not all companies have been able to do.
"We've evolved with the marketplace," McDonald said. "We are able to be agile in our approach and be creative."
Among these changes are doing more than just the basic promotions McDonald was doing before.
When working with the Kay Yow fund, we are working on their website and their social media presence," she said. "Video production is one specialty service within our full service agency."
Contrast Creative opened its current location just before the recession, which has further pushed them to change. McDonald attributes part of their success to having a diverse array of employees.
"We have staff that all bring something unique, which is good for the client," she said. "I have a young producer from ECU who works in animation, which we never had before."
Contrast Creative has also stayed in business because of long partnerships with their clients.
"A lot of agencies have retainers but we work on a project-by-project basis," McDonald said. "We do great work so we've earned it. We have to be on the forefront of change."
But what is, in a way, the most important reason Contrast Creative can stay around is their ability to reach people through storytelling.
"We show how all these lives can touch one person," McDonald said. "If we can show someone how their kindness mattered, we've done our job."
---
Story by Michael Papich. Photos by Michael Papich and Kathleen McDonald.
https://carycitizenarchive.com/wp-content/uploads/2016/06/ContrastCreative1.jpg
550
800
Michael Papich
https://carycitizenarchive.com/wp-content/uploads/2020/03/cc-archive-logo-450-v3.png
Michael Papich
2016-06-16 10:50:51
2016-06-17 09:14:00
Storytelling is Key at Cary Marketing Agency