Cary, NC – This week was a holiday week so activities were on the lighter side.
Monday – Fourth of July Celebrations
Monday was the 4th of July and I joined thousands of people to celebrate at the Booth amphitheater. When I arrived the Cary Town Band was playing. As always, they do an amazing job. Then I greeted a couple from Japan that has been celebrating July 4th in Cary for years. This year they presented me with a custom made Uncle Sam hat from the Japan's Haberdasher to the Emperor. What an amazing gift. We took pictures of everyone with these hats before I went on stage and welcomed the crowd. In my remarks I made sure to recognize our veterans in attendance because we all know freedom isn't free. Afterwards we enjoyed the North Carolina Symphony, and then a 20 minute fireworks display. What a great way to celebrate our nation's independence!
Wednesday – Ivey-Ellington House
Wednesday started with a couple of quick meetings. I met with the town clerk to go over a couple of logistical things and then with an Assistant Town Manager to provide input on a couple of items.
Later Wednesday I met with a member of the Friends of the Page Walker Hotel. The mission of this group is to be a guardian for the Page-Walker Arts & History Center, advocate for the preservation of Cary historic sites, archive history, and help with historical education. To find out more about this group go to http://www.friendsofpagewalker.org/. This meeting was to express the group's concerns of a proposal near the intersection of Chatham and Harrison. While they generally support the proposal but they are concerned about the plan to move the historic Ivey-Ellington House.  The Ivey-Ellington House was built on its current site in 1874. They believe it would lose its historic designation if moved to a different location. They also believe the proposed 75,000 square foot office building would be out of character in this part of downtown. While I very much believe in the preservation of the Ivey-Ellington House I also want to see the proposal succeed. This proposed project has been in the works for nearly 10 years. I asked that the Friends of the page Walker sit down with the developer and let him explain why the Ivey-Ellington house would have to be moved. I look forward to hearing the details of that conversation.
Thursday – Storage Unit Site
Thursday the council held its monthly quasi-judicial meeting. There was one item on the agenda for a self-storage unit proposed for land near Chapel Hill Road and NW Maynard. Council decided to continue this hearing until the August 4th quasi-judicial meeting. Since this is a quasi-judicial matter, I am not allowed to provide my thoughts or comments about this proposal.
After the quasi-judicial meeting I, along with several council members, traveled to north Raleigh to a visitation for Council member Robinson's father who recently passed away. It is a sad time for all of us when a colleague loses a loved one.
Friday – Cary Police
On Friday I woke up to the tragedy of police officers being shot in Dallas. I called the Cary police chief and left him voice mail. Here is generally what I said:
"Chief,

My heart was broken this morning when I heard the news of senseless shooting of brave officers in Dallas.

This tragedy reminded me of the brave men and women in Cary's Police Department and how much you all do for our community. When Cary officers take the oath they are putting their lives on the line each and every day to keep us safe. Words cannot express how much I appreciate our officers. You have not only my utmost respect but I believe the utmost respect of our citizens. God bless you and thank you for all you are doing!

Please know that I am not only keeping those in Dallas in my thoughts and prayers but and thinking and praying for our officers as well."
It is important that Cary is known for having the best of the best. Our police department is the best! If you believe as I do please reach out to them and let them know.
Emails From Staff
Emails from staff this week included the construction and activity reports. Those reports included:
17 development plans were approved in June.
The average size of a Single Family dwelling in June was 3,731 square feet as compared to 3,808 in June of 2012.
Cary issued more single family permits in May than any other municipality in Wake County (21.6% of all permits).
Single family permits were up 17.8% over the last year.
Non-residential permits were down 26.4% over the last year.
To see a map of development projects around Cary go to http://www.townofcary.org/Departments/Planning_Department/InteractiveDevelopmentMap.htm
To see plans approved this year go to http://www.townofcary.org/Assets/Planning+Department/Planning+Department+PDFs/planreview/Current+Year+Approved+Projects+(sorted+by+Date).pdf
To see plans under review go to http://www.townofcary.org/Assets/Planning+Department/Planning+Department+PDFs/planreview/Active+Projects+in+the+Review+Process+(sorted+by+date).pdf
Emails From Citizens
Emails from citizens this week included:
A question about construction near the American Tobacco Trail.
A concern about a proposed Sheetz near the intersection of Reedy Creek and Maynard.
Criticism about a design of the new library "… I groaned – another rectangular brick building…" (While council can, and does, provide feedback on the design, the decision is with Wake County since it is their library).
Opposition to the proposed move of the Ivey-Ellington House.
Next week the pace will pick up for me. Activities include staff meetings, the Railhawks game with West Ham of the premier league, a meeting with developers about the state property, a town council meeting, the Cary Visual Arts sculptural exhibit, and a fire truck ladder climb.
Get In Touch
Well, that is all for this week. My next post will be on Sunday, July 17th.  Although I have Facebook and Twitter accounts those are not the best means of communications with me. Please send all Town of Cary questions or comments to Harold.Weinbrecht@townofcary.org and email personal comments to augustanat@mindspring.com.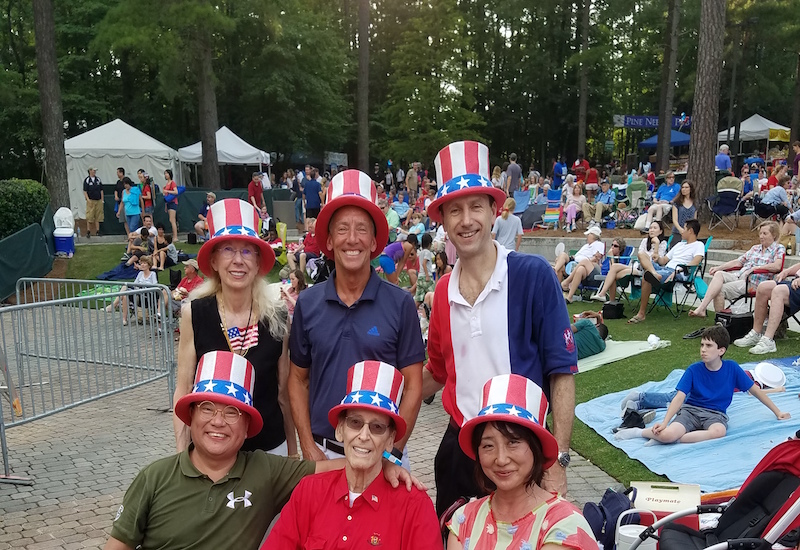 ---
From the blog of Cary Mayor Harold Weinbrecht. Photo courtesy of Harold Weinbrecht.
https://carycitizenarchive.com/wp-content/uploads/2016/07/20160704_190007.jpg
550
800
Harold Weinbrecht
https://carycitizenarchive.com/wp-content/uploads/2020/03/cc-archive-logo-450-v3.png
Harold Weinbrecht
2016-07-11 09:26:19
2019-12-08 10:25:18
Harold's Blog: Fourth of July, Ivey-Ellington and More