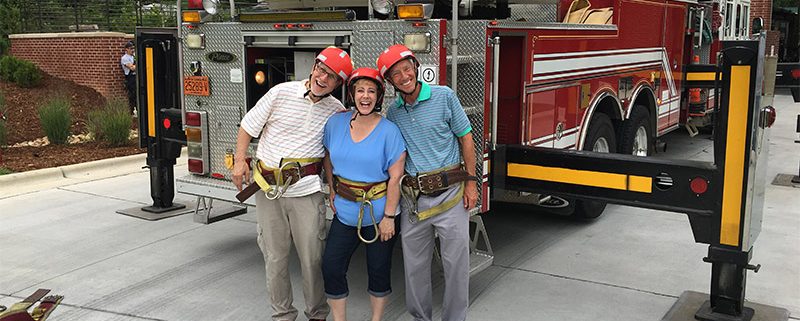 Cary, NC – This week's activities were about the average pace one would expect during the summer.
Monday – Bond Referendum
Since this week included a regularly scheduled council meeting, I called council members to hear of any questions or concerns regarding the agenda. I was able to contact all but one and there were no questions since the agenda was limited. Later in the day I met with staff and the Mayor Pro-Tem to go over the agenda. Because of the very short agenda our meeting lasted about five minutes.
Later Monday I met with the Deputy Town Manager and the two Assistant Town Managers. We talked about several topics including the potential bond referendum and a potential move of the Ivey-Ellington house. Regarding the potential bond referendum, it could be held next year or the year after. The size of the bond referendum will probably be limited by our 15% debt ceiling. The potential referendum would likely contain a fire station, roads projects, and one or two parks but that is all a guess at this point. Council will need to decide by October of this year if it wants to have a bond referendum in 2017.
Tuesday – New Jobs in Cary
Tuesday started with a great announcement that Relias Learning was expanding in Cary with 450 more jobs and an additional $4.5 million in investments. This is the first big job announcement since HB2 went into effect and will be a big boost to Cary's economy. I arrived about 20 minutes before the ceremony and was escorted into a conference room with the Governor and leaders from Relias. They spent their time discussing education in various areas and how Relias could help in many areas of state government. The official ceremony began with officials from Relias speaking, followed by the Governor, and eventually me. In my remarks I expressed our excitement in hearing of their expansion. I also noted Cary's special connection to education – North Carolina's first public high school was at the site of the current Cary Arts Center. The entire ceremony lasted about 30 minutes.
Tuesday night I attended a soccer match between the Carolina RailHawks and West Ham United of the Barclays Premier League, England's top tier of soccer. These are the best players in the world. And while some teams from the Premier League play matches in the America, none have ever played in this region and especially in Cary. So this was a big deal for us. The match was a 2-2 draw with the RailHawks playing great and West Ham using a lot of substitutes. The stadium was packed with a record crowd and everyone seemed to have a great time even though there was a 30 minute delay for a thunderstorm. At halftime in the match the RailHawks announced that they signed Omar Bravo who is considered by some a Mexican superstar. Hopefully these two significant events will keep the RailHawks matches close to capacity the entire year.
Wednesday – Stanley Cup
Wednesday morning I happen to come across another sports event in Cary. Apparently the NHL's Pittsburg Penguins backup goalie lives in Cary. The Penguins are the Stanley Cup champions. Each player gets to have a day with the Stanley Cup and Wednesday happened to be his day. So when I saw him he was planning to take the Stanley Cup around the golf course as he played. I understand that later in the day he was planning to take the Stanley Cup to a swimming pool. How cool is that to have in Cary?
Thursday – Town Council Meeting
Thursday the council held its first regularly scheduled meeting of July. There were 14 consent items, 1 public hearing, and 1 discussion item. The public hearing had no speakers but there were two speakers at Public Speaks out. For the discussion item the council unanimously agreed to ask staff to pursue a sister city relationship with Wardha, India. After closed session the council adjourned around 8 PM.
Friday – Cary Visual Arts
Friday I attended the Cary Visual Arts 9th annual outdoor sculpture exhibition opening reception. I gave remarks as part of the 30 minute ceremony thanking the Cary Visual Arts for all they do for our community improving our quality of life and congratulating them on their first 20 years. The ceremony also included awarding artists from local schools and then hearing from the artists who created the eight outdoor sculptures that are currently on or near town hall campus.
Saturday – Cary Fire Station
Saturday I had the honor and pleasure to spend time with firefighters at our newest station 9. I was joined by council members Bush and George. We also had firefighters from other companies in Cary. The purpose of the event was to get to know our firefighters and experience a small fraction of what they train to do. Our first task was to slide down the fire pole which was actually a lot of fun. We all did it twice. Next we climbed the extension truck's ladder all the way to the bucket while it was fully extended which is about eight stories. We then got in the bucket from the ground and were taken as high as the bucket would go to look at the surroundings. What a different perspective than what you see on the ground. After all the activities we were joined by the firefighters for a lunch of firehouse subs. How appropriate. We all had a great time and I can't thank our firefighters enough for all they do. They are truly the best of the best.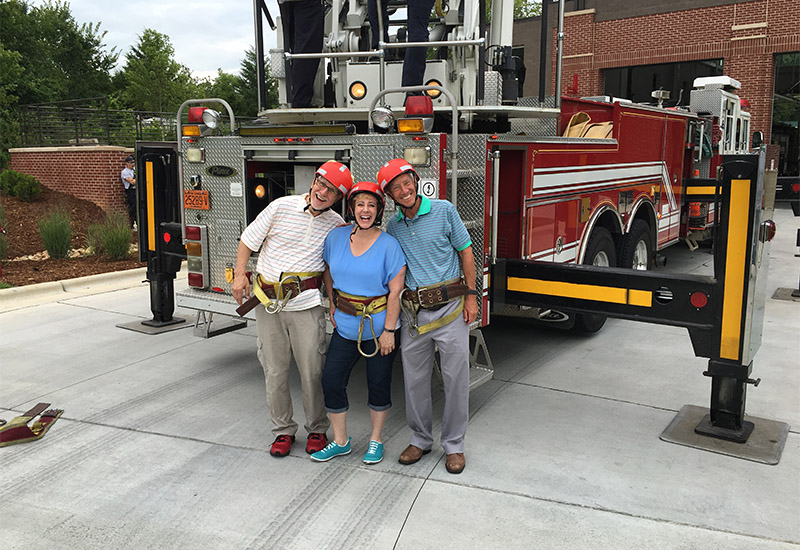 Emails From Citizens
Emails from citizens this week included:
A remark about my praise of our police officers in last week's blog.
Several comments to vote against a Sheetz gas station proposal at Maynard and Reedy Creek.
A complaint about the lack of a signal at Morrisville Parkway and Green Level Road.
A comment about a proposal to move the Ivey-Ellington House.
A request to fund O'Kelly Chapel Road at the American Tobacco Trail Intersection. (That is not in Cary's jurisdiction)
A request to stop an Apex proposal for apartments next to a park that borders Cary. (We have no authority with other jurisdictions but I do plan to talk with their mayor to let him know of citizens concerns.)
Coming Plans
Next week's activities include a meeting of the Mayors Association, a work session on the downtown library, the Eastern Cary gateway, and the council meeting schedule, a trip to Wrightsville Beach for the annual Cary Chamber Planning Conference, and other staff and citizen meetings.
Get In Touch
Well, that is all for this week. My next post will be on Sunday, July 24th. Although I have Facebook and Twitter accounts those are not the best means of communications with me. Please send all Town of Cary questions or comments to Harold.Weinbrecht@townofcary.org and email personal comments to augustanat@mindspring.com.
---
From the blog of Cary Mayor Harold Weinbrecht. Photo courtesy of Harold Weinbrecht.
https://carycitizenarchive.com/wp-content/uploads/2016/07/HaroldsBlog-FireTruck.jpg
550
800
Michael Papich
https://carycitizenarchive.com/wp-content/uploads/2020/03/cc-archive-logo-450-v3.png
Michael Papich
2016-07-18 10:27:38
2016-07-18 10:27:38
Harold's Blog: New Jobs, Town Meeting and More