Cary, NC – Now that we're midway through the Summer, it's time to look ahead for hockey season with our Carolina Hurricanes expert, Bob Fennel.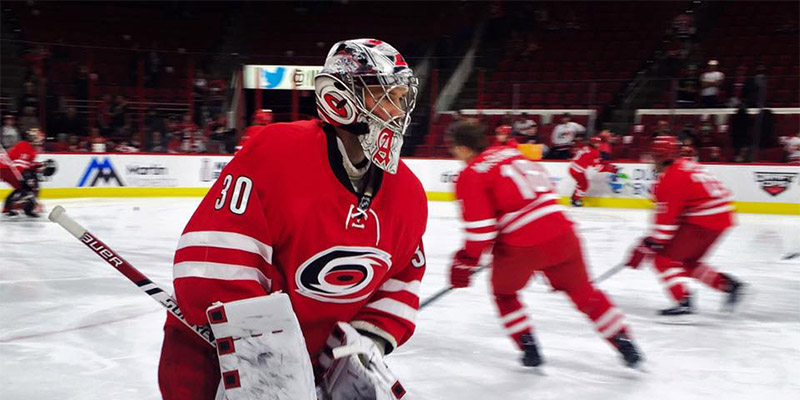 Before we get into the Hurricanes, first congratulations to the Pittsburgh Penguins for their Stanley Cup win. Those that watched the playoffs saw some very exciting hockey in every round with speed and phenomenal goal-tending in nearly every game. A special congrats to former Cane Matt Cullen who had an outstanding playoff. So much so, at the ripe young age of 39, he was contemplating retirement after the season was over but is now thinking "just one more". Sure, the Penguins want him back and despite the rumors of a return to Raleigh, don't count on it with the youth movement GM Ron Francis is building.
On To The Canes
The die hard Caniacs were waiting for the blockbuster move to pole vault this team into the playoff picture. And while none of the trades, draft picks or free agent signings will go down as blockbuster, Francis made some strategic and calculating moves.
Before the draft, Francis is credited with one of the steals of the summer in getting forwards Teuvo Teravainen and Bryan Bickell from Chicago in exchange for a 2016 second-round draft pick and a 2017 third-round draft pick. Chicago is a cap crunch and Francis took full advantage with just giving up draft picks.
Teravainen is an extremely talented player and a winner on every level he's played hockey. He's the one Francis had to be going after first as he's a skilled player in every sense: excellent skater, ice smarts, fast, offensive moves that will amaze the Caniacs and can score in the dirty area of the crease or picking a corner from 30 feet out. He may need improvement on his defensive side but Coach Peters will address that. He was a first round draft pick in 2012 and is still on his entry level contract.
Bickell is a horse. At six-foot-four-inches and 223 pounds, he'll be a presence on any line. A high second round pick in 2004, folks may remember his name during the 2013 playoffs as he became the Blackhawks' scoring machine with nine goals, many which were game winners. The style of the Blackhawks is similar to the Canes: speed, puck possession with little dump and chase in the O-zone, diligence in the neutral zone and 100 percent at all times so expect Bickell to adapt to Peters' system very easily.
Ward Says YES
John Forslund almost has a patent on "Ward says no" when Cam Ward makes an unbelievable save. Ward was a free agent and while Francis did explore other goalies, for the money, he made the decision to resign Ward.
Personally I think this was a good move. In looking at the other options for goalies, keeping Ward was best for the Canes. Take away the first two months of the season when most everyone on the Canes wasn't playing well, then look at the stats: Ward and the entire Cane defense were very good. Fact is they were, defensively, one of the top three teams in the NHL from December to the end of the season. Their biggest problem is still scoring. If the Canes scored just one more goal in every other game, they would have made the playoffs. Score one more goal in every game and they would have been among the league leaders. The Canes ended up 18 in the league. Boston was 17 but scored 42 more goals.
Draft
The Canes didn't make any draft day trades like they did last year yet had two picks in the first round: defenseman Jake Bean and forward Julien Gauthier. While the Canes don't need defensive prospects, Bean was the best player available at #13.
With the Canes buying out James Wisniewski, the D corps, aside from Ron Hainsey, are young. Wiz was a class act that officially has the shortest ice time in Cane player history at 47 seconds when he blew out a knee. Hopefully Wiz will be picked up by another team. The Canes currently have only five D-men on the roster, with Ryan Murphy officially registered as a Checker.
With all the good young defensemen and still in need of another solid hard knuckle scoring forward, I'd have to think Francis is still making calls. Haydn Fleury, the Canes high pick from a couple of years ago, had a great season in Juniors and, in my opinion, missed making the team last year due to other contracts not because of talent.
Victor Rask is a RFA which Francis will be addressing in the very near future. Rask's on-ice sense is among the best in the NHL, let alone the Canes. Expect him to get a significant raise with a minimum four-year deal.
Free Agency Day
Francis signed two forwards on July 1: Lee Stempniak and Viktor Stalberg. Stempniak is the better of the two and may be pegged for a top 6 forward position.
Jeff Skinner led the Canes in scoring with 51 points. Stempniak also had 51 points. As the Canes say, he's a "seasoned veteran," as he's 33 and the Canes will be his 10th NHL team. That has to be some sort of current record. Known as a playmaker who also has a keen scoring touch, think of Cory Stillman. He'll also bring some much needed offensive skill.
Former Canes
Just to keep up on where some of the Canes from last season ended up, here goes: Eric Staal signed a three-year deal with Minnesota; Nathan Gerbe is with the Rangers; Riley Nash, John Michael Liles and Alex Khudobhin are with Boston; Brad Malone with the Capitals. Kris Versteeg and Chris Terry have yet to find homes.
One prediction: don't be surprised to see Erik Cole get a PTO with the Canes. He still considers the Canes his team and would probably like to officially retire as a Cane.
Summerfest
The Canes Prospect Development Camp and Summerfest started July 6-9 and is free to attend. Big item was the scrimmage on Saturday, July 9, 2016. It's always a good time to see what the Canes have in the system and to start the itch for hockey.
From what I've seen, all players from the recent draft will be there as well as some who are expected to make the team this season.
CaryCitizen.com Special
Stay tuned to the CaryCitizen.com for special deals for games this season.  Pick any seat in the PNC Arena for what fits your budget at prices that are unbelievable.

---
Canes coverage by Bob Fennel. Photos from Facebook. Read more Hurricanes coverage.
https://carycitizenarchive.com/wp-content/uploads/2016/07/CaroHurricanes.jpg
291
800
Bob Fennel
https://carycitizenarchive.com/wp-content/uploads/2020/03/cc-archive-logo-450-v3.png
Bob Fennel
2016-07-18 09:42:18
2016-07-18 09:42:18
Plans for the Hurricanes' Future Season