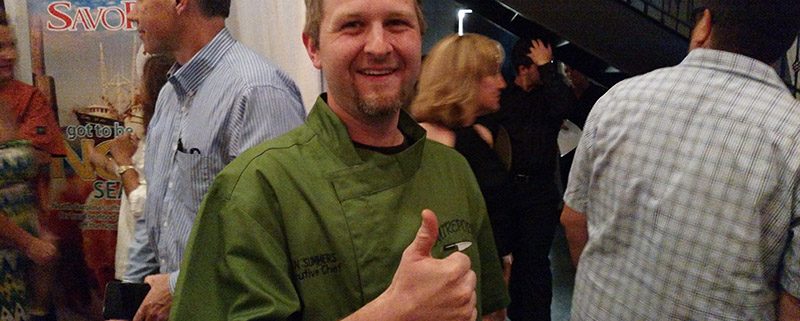 Cary, NC – In their first round in the Got To Be NC Competition Dining Series, Team Mirepoix won, meaning Cary chef Ryan Summers is advancing to the semi-finals.

Best Chefs in North Carolina
The Tuesday, July 19, 2016 event saw dining enthusiasts from around North Carolina gather at 214 Martin St. in Raleigh. Two teams of three chefs compete by creating three dishes each (appetizer, entrée, dessert) that diners voted on in a blind test. Individual dishes were rated on the following criteria:
Presentation
Aroma
Flavor (overall and of featured ingredients)
Execution
Creativity
Use of featured, secret ingredients
Accompaniments (sauces, garnishes)
There were also some professional chef judges who had their own criteria to vote on, including texture, balance and difficulty. And in the kitchen, there was a "chef ref" who evaluated the team's cohesion, hygiene, time management and more.
For the night's competition, the featured, secret ingredients were poulet rouge – a high-class chicken breed that is only raised in the United States in North Carolina – and Kerala Curry powders from Kerala Curry in Pittsboro. These choices highlighted the competition's focus on North Carolina ingredients.
I was there too as a "media judge" and got to eat all of the dishes and voted on them. Here's what we ate and my take on it.
First Dish
Drumstick Confit, Seared Wing, Liver Mousse, all with a Tomato Chutney Vinaigrette
It was the first course and I was hungry so I ate everything before I remembered to take a picture. Didn't make that mistake again.
This first dish gave me an idea of how high the level of cooking would be here. The confit was chopped up thin almost like Carolina barbecue and was delicious, especially mixed with the vinaigrette. It was sour and bright and I wanted to eat more of it. The liver mousse was new to myself and many of the people at my table but when eaten with a provided cracker, it was good – like a cold, meaty peanut butter. I realize that doesn't sound good but it was!
The seared wing was more or less a typical buffalo wing, with what I suspect was curry in the hot sauce. It was certainly hot but I did not get a lot of taste from it otherwise. Everyone else seemed to love it though so what do I know?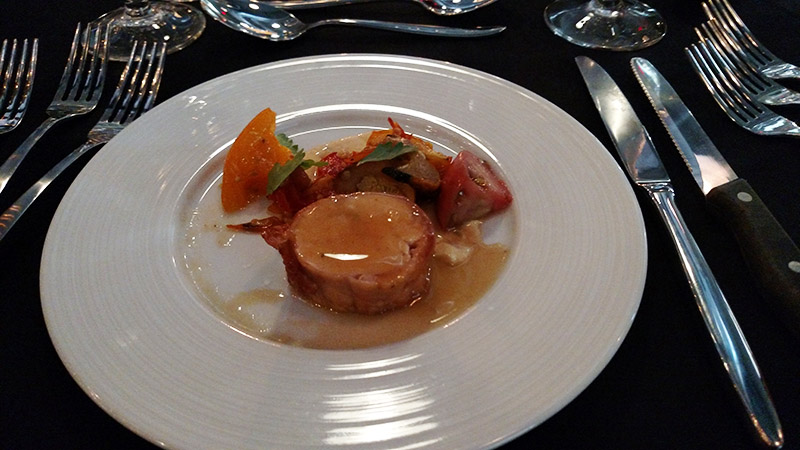 Second Dish
Roulade of Poulet Rouge, Kerala Lemon Curry Yogurt, Charred Pattypan Squash, NC Heirloom Tomato Salad, Cloister Wildflower Honey and Omed Moscatel Vinaigrette
The round roulade was the main element of this dish and it tasted very much like Thanksgiving turkey. I like Thanksgiving turkey but this still lacked much else in terms of flavor. That is, until I got to the last bite and I got it mixed in more with the salad and the sauces soaked in there. Then it was a fantastic array of flavors that I wish I'd gotten more of.
The salad itself, however, was a little disjointed in its flavors. The big pieces of tomato seemed to just be by themselves. But the use of curry in the salad gave it a unique taste, with the cool greens and the sudden hot spice of the curry.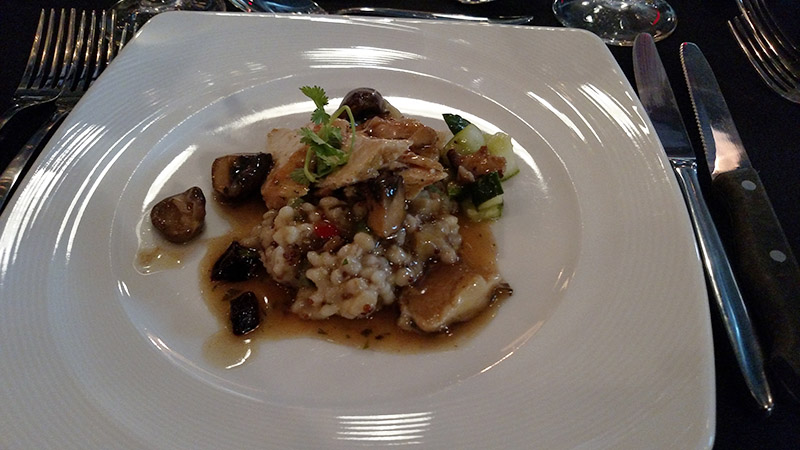 Third Dish
Poulet Rouge Breast Roasted in Gunpowder Kerala Curry, Roasted Vegetables, Pearl Barley and Red Quinoa Risotto with Wild Mushroom Sauté
Now we get to the two best dishes of the night, which were appropriately both the entrées. When I saw "gunpowder curry," I was expecting that bite to make me start sweating and coughing and crying but that was the best individual thing I ate all night. The poulet rouge was tender and juicy and gentle and flat-out tasty. It was a delight.
The risotto was terrific when I managed to gather all the vegetables together in one bite, with crisp and salty and mild and spicy all coming together, but there weren't enough other vegetables to make that happen. Most of the time, the risotto was by itself and it was a good, savory side but it had that one note compared to everything else in the dish.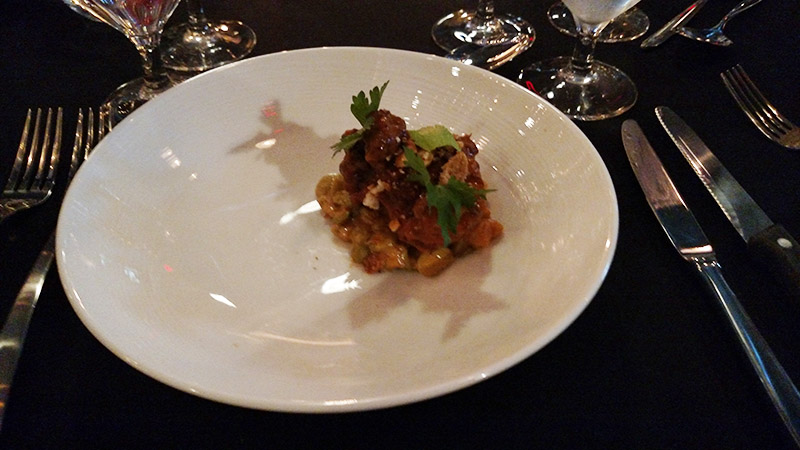 Fourth Dish
Fried Poulet Rouge Thigh, Tomato Kerala Field Pea Succotash and Poulet Rouge Cracklin'
All the food at the competition was good but this dish was the most fun. You could easily reach in and get a big bite of thigh, which had this deliciously mild spicy coating that gave it a Southwestern taste. Combined with the succotash, which tasted a little like refried beans, this was like a nice snack you would have as a kid but taken to extreme heights. If I knew a nearby restaurant served this exact dish, I would go there again and again.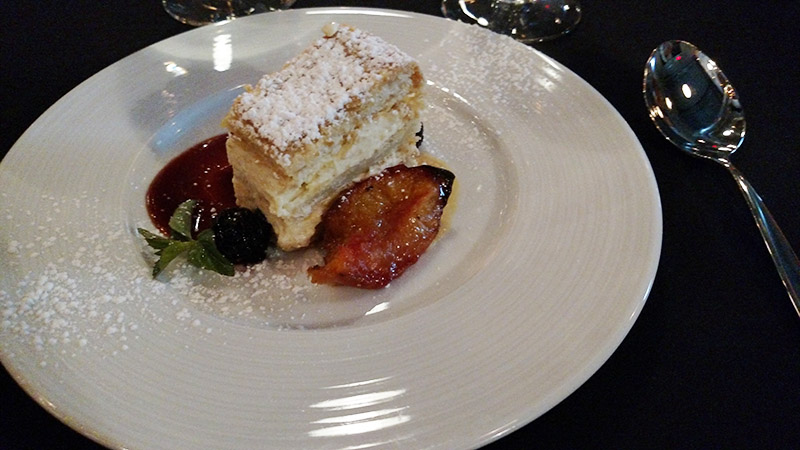 Fifth Dish
Mille Feuille, Mango Kerala Bavarois, Roasted NC Peaches, Tart Cherry and Passion Fruit Coulis
Now we got to the dessert round. Unfortunately, they took away our forks and only let us use spoons because this mille feuille cake was hard to get into. Once knocked down and taken apart, the cake itself had a filling with a very light taste, letting the crisp pastry parts dominate it. Mixed together with the sauces and other fruits, it had a nice, strong tart taste.
Now for the roasted peach, everyone else loved it. However, mine was just bitter. I think I must have just gotten a bad one out of the batch because it was not a good bite.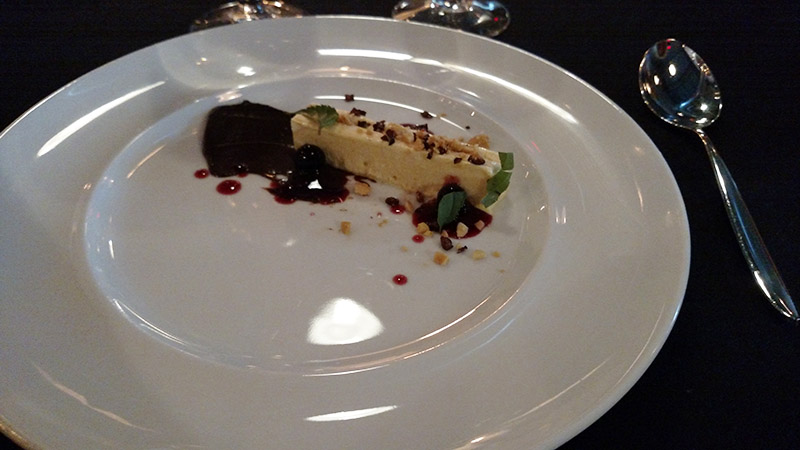 Sixth Dish
Mango Kerala Curry Frozen Yogurt, Chocolate Garache, Macerated Local Berries, Black Mountain Cocoa Nibs and Bertie County Blister Fried Peanuts
Oh man…I was very appreciative that I got the opportunity to go to this amazing event and was fortunate to eat food prepared by these top chefs but wow did I not like this one.
So, from the first bite, none of the components were totally coming together. There was light mango, there was tart berry, there was a little bit of heavy chocolate and there was lots of salty peanut. Not a bad bite but not very impressive.
Then I swallowed and it was a sudden burst of spices in my throat. I immediately began to cough and felt the burning for a while after. Spicy food can be very enjoyable but that's usually when it's in the mouth and on the tongue. This was centralized in my throat and when mixed with the dry, salty peanut, it was not a pleasant feeling. It was certainly creative though. They did not create a boring dessert.
Results
In the end, Team Mirepoix won, which included Ryan Summers from Cary's Chef's Palette, as well as Franz Propst of Peak City Grill and Bar in Apex and Tom Halik from Main Street Grille Café and Bakery in Wake Forest.
They beat out Team Brinehaus, made up of chefs from Pittsboro and Etowah.
Summers and the rest of his team move on to the semi-finals on Thursday, July 21, 2016. If they win there, they compete in the finals on Sunday, July 24, 2016. Unfortunately, both of those events are sold-out.
---
Story and photos by Michael Papich.
https://carycitizenarchive.com/wp-content/uploads/2016/07/GotToBeNC-Summers.jpg
450
800
Michael Papich
https://carycitizenarchive.com/wp-content/uploads/2020/03/cc-archive-logo-450-v3.png
Michael Papich
2016-07-20 09:25:40
2019-12-08 10:30:39
Cary Chef's Team Wins Cooking Competition