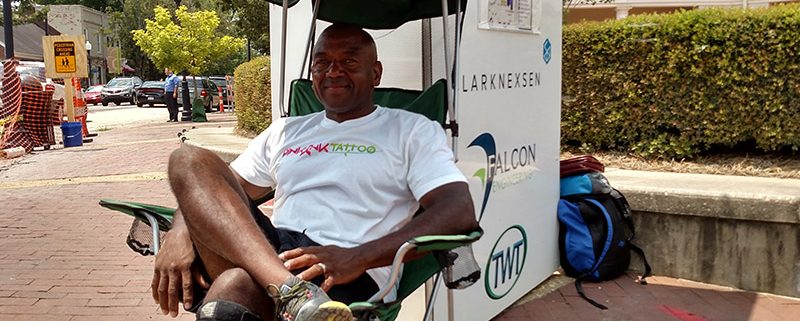 Cary, NC – On the hottest week of the year, one Cary resident has been sitting out day and night to get people to sign up for an event he hopes will create unity between town residents of all backgrounds.

Cary Unity Walk
Jimi Clemons started sitting at the intersection of Academy and Chatham Street on Monday, July 18 and stayed there with the intention of getting people to sign up for the Cary Unity Walk and Fun Run.
"My commitment is not to eat or leave until I get 500 signatures," Clemons said.
Clemons had a fold-up chair, a towel and a few cups and bottles of water from passersby but little else as he sat and talked with locals who visited him in Downtown Cary.
The initial plan for the Unity Walk was developed last Summer but said with the violence across the country, including the attacks of police officers in Dallas, Baton Rouge and Kansas City, he was further animated to act.
"The message I get from everyone is something needs to change but they don't know what to do," Clemons said.
The Unity Walk will take place on Saturday, November 12, 2016 at the Academy/Chatham intersection where Clemons is staying to WakeMed Soccer Park where there will be activities and family fun events. There will also be a 5K and 10K race on the same day. Clemons said the walk is designed to reach people of all races, religions, sexual orientations and backgrounds.
"Love is the only agenda. It's a mass of people who otherwise wouldn't have anything to do with one another," he said.
Bridging Divides
With everything going on in the world, from presidential politics to violence, Clemons said it threatens to increase the distance between different community and between individuals.
"We need to get through all that and connect," he said. "Between all my interactions since sitting out here, it feels like people have exhaled and people se wee have something to do that may help."
And Clemons said he thinks these problems began before the most recent incidents on headlines.
"Electronics have taken over and we don't know how to communicate with one another," he said.
While Clemons has been at the intersection this week, he said Cary police have stopped to ask if he needs anything and get him water. He added that one other town staff member met to check on him but Clemons said he could not remember her position or title.
Looking Back
In our interaction, Clemons said he was close to getting 500 people to sign up and did not expect he would have to extend his stay to another week. But although Unity Walk all the way in cool November, Clemons said he chose to camp out at the intersection on the hottest week of the year.
"I'm here because it's uncomfortable. Because I don't want to do it. But if I'm willing to do this to move the community in a positive direction, what are you willing to do?" he said.
In talking with other community members during his time working for unity, Clemons said he realized he has his own biases to over come.
"I realize how I see other people and how I might assume they see me because of the color of my skin," he said. "I've got to break that down to connect with others."
Registration fees for the Cary Unity Walk and Fun Run go to the 200 Club of Wake County and Read and Feed.
---
Story and photos by Michael Papich.
https://carycitizenarchive.com/wp-content/uploads/2016/07/CaryUnityWalk.jpg
550
800
Michael Papich
https://carycitizenarchive.com/wp-content/uploads/2020/03/cc-archive-logo-450-v3.png
Michael Papich
2016-07-22 09:04:14
2019-12-08 10:30:41
Cary Resident Sits In Heat For Unity Walk