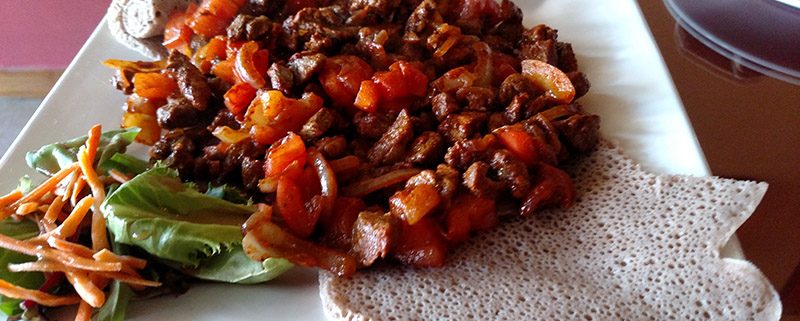 Story originally appeared on FoodCary.
Cary, NC – Cary is full of great restaurants and many of us likely have our favorites we go to over and over again. But if you are looking from a break in repetition and you aren't familiar with Ethiopian or Eritrean food, then Awazé is an excellent dining destination.
Learning About Injera
Located on Maynard Road, Awazé has a wide selection of different kinds of foods and dishes from Ethiopia and Eritrea, two countries in Northeast Africa, in between the Red Sea and Sudan. Because of its location, the food at Awazé takes in a lot of inspiration from Arabic and Mediterranean cooking. There are lots of spices mixed in with the dishes here to create a rich taste.
But for people not used to cuisine from this part of the world, there may be a surprise when the food comes to your table. Traditionally, Ethiopians and Eritreans eat with their hands, using pieces of injera bread to scoop up their meal.
Injera is a thin, spongey sourdough bread and the staff at Awazé not only serves food on a tray of injera but gives customers extra slabs of bread to eat up their big plates of food. Even if you are not accustomed to eating with injera, it is easy to get the hang of and Awazé is happy to provide utensils for anyone who needs it.
Thick, Delicious Dishes
When your food comes to your table, you will see why using injera works so well. The food at Awazé is mostly dishes of wat, a kind of thick stew with lots of simmered and sautéed vegetables and meat that's softened up in the pot. These are easily sopped up and plucked with your injera and each bite is infused with many different spices. You can also get tibs, which is a firmer mix of diced meat mixed in with lots of vegetables and spices.
For non-meat eaters, Awazé has just as many vegetarian options as they do signature meat dishes. There is a long tradition of stewing vegetables and greens in Ethopian and Eritrean cooking and in addition to these, Awazé also has soups made with Middle Eastern ingredients such as garbanzo beans or salads made with Mediterranean dressing.
To go along with your dishes, Awazé serves authentic Ethiopian coffee and has options for wine and beer, plus a small bar for customers to sit and drink.
There is also a diner-like quality to Awazé, with the kitchen and the dining room close together so customers can hear and smell the various dishes being prepared. So if you are not familiar with Ethiopian and Eritrean cooking, check out Awazé on 904 NE Maynard Rd.
---
Story and photos by Michael Papich.
https://carycitizenarchive.com/wp-content/uploads/2016/07/Awaze1.jpg
450
800
Michael Papich
https://carycitizenarchive.com/wp-content/uploads/2020/03/cc-archive-logo-450-v3.png
Michael Papich
2016-07-21 13:29:04
2016-07-21 09:29:22
Specialty Stores: Awazé Ethiopian and Eritrean