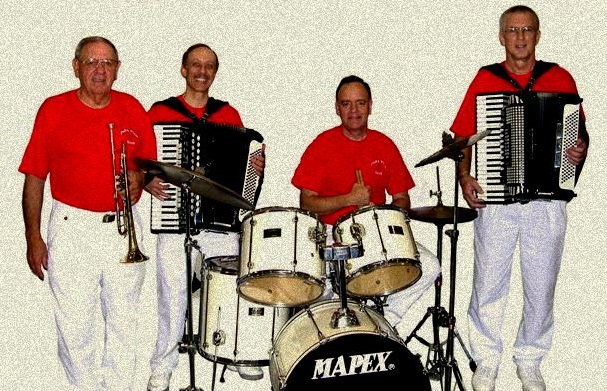 Cary, NC – This week is Cary's 21st Frankie Yankovic Day concert. And with an event that has lasted as long as that, Frankie Yankovic Day has lots of history behind it as the day polka lovers in North Carolina gather and celebrate.
Happy, Traditional Music
Frankie Yankovic Day started in 1996 with performances by the Polka Plus Band, led by Cary resident Dallas Foster. Foster said when he first came to Cary in 1991, he wanted to find other polka enthusiasts in a region that was dominated by bluegrass and country.
"We started with some different personnel than we have now but over the years when we would play, we found different people who would come up to us after a show and say, 'Hey, I play accordion. Could I play with you?'" Foster said.
The members continued to change until the Polka Plus Band solidified in 1995 with Foster and Dennis Bongiorni, Bob Gottlieb and Ed Galloway.
"We have other band members who played with us off and on," Foster said. "For Yankovic Day, many of them will be joining us."
The concert, at 7 PM this Friday, July 22, 2016, is free to everyone who comes and Foster said a polka concert is an incredible event.
"There are happy people. People love the tempo. People love the rhythm and the beat," he said. "Growing up with polka, I can't imagine a world without it. I really can't."
Honoring A Polka Legend
The name that adorns the yearly concert, Frankie Yankovic, belongs to one of the most – if not the most – famous figure in American polka music. Yankovic started his career in the 1930s when he played in a band called "Frankie and the Three Yanks."
"Back in '38, there was a contest in Milwaukee and he won the crown of Polka King," Foster said. "Other bands have modified that but the title stuck with him."
Yankovic preserved his Slovenian style of polka music, although he sometimes adapted it to other American music styles, such as when he played with country music icon Willie Nelson.
When Foster first started the yearly concert in 1996, he reached out to Yankovic who was unable to come. However, the next year, Yankovic came to Cary and was welcomed warmly. He was interviewed live on WPTF and had a large profile in the News & Observer. He also bonded with then-Mayor Koka Booth over them both growing up in the same region of West Virginia.
"We didn't know what kind of crowd we would attract but we had more than 1,200 people show up from as far away as Hickory," Foster said, adding that many brought old record sleeves of Yankovic's music for the Polka King to sign.
Yankovic sang a few songs as part of the concert and the next day, as part of a dance in Cary's VFW hall, the crowds were so big that more tables had to be brought in to accommodate everyone.
Unfortunately, Yankovic passed away in 1998 and was unable to come to future concerts but Foster remembered his appearance fondly.
"I remember, when the music started, he bound up the steps of the music stage and I hoped I could make it up there at his age," Foster said. "Now, 20 years later, I can't run up there but I can still make it."
Event Details
Frankie Yankovic Day Concert
7 PM, Friday, July 22, 2016
Page-Walker Hotel, 119 Ambassador Loop, Cary NC
In event of rain: Cary Arts Center, 101 Dry Ave., Cary NC
---
Story by Michael Papich. Photo courtesy of Dallas Foster.
https://carycitizenarchive.com/wp-content/uploads/2015/05/Polka.jpg
391
607
Michael Papich
https://carycitizenarchive.com/wp-content/uploads/2020/03/cc-archive-logo-450-v3.png
Michael Papich
2016-07-21 10:50:21
2019-12-08 10:30:41
21st Yankovic Day Polka Concert This Friday