Cary, NC – The Monday, July 25, 2016 Cary Town Council meeting saw intense discussion of several items, including rezoning for a possible residential gas station, a new neighborhood near the WakeMed Soccer Park and the removal of a buffer zone around Jordan Lake.
Gas Station Controversy
From the beginning of the meeting, it was clear what would take up most of Town Council's time as eight residents came to Public Speaks Out to voice their opposition to an item on the agenda to rezone a piece of land – 1.93 acres – near the Northwoods at Reedy Creek neighborhood. The plan was to put a gas station and convenience store in that area, which residents repeatedly referred to as a Sheetz although no definite brand was ever put forward.
Residents said a 24-hour gas station and convenience store would exacerbate the already busy street and lead to noise, light and chemical pollution, as well as increase the crime rate.
Cary's Planning and Zoning Board had already voted 4-3 against the rezoning and the lawyer for the applicant spoke at Public Speaks Out, asking the town to send the plan back to the board so they could modify the plan. Among the changes they offered were limiting the hours it was open, taking away outdoor seating and not having the station play music at night.
"I didn't hear them address the overwhelming concerns of the residents," said Councilmember Don Frantz. "I didn't hear anyone complaining about outdoor seating or music."
By the time Town Council got to discuss the item, many questioned whether enough could be changed with the plan to justify sending it back to the Planning and Zoning Board.
"There's quite a big hurdle here and I don't want to waste staff's time," said At-Large Representative Lori Bush.
In the end, Town Council did not find rezoning the piece of land would serve the area any better than the current zoning and unanimously voted to deny the request.
Buffers Around Jordan Lake
Another speaker during the Public Speaks Out segment was Speaker-Pro-Tem in the North Carolina House, Paul "Skip" Stam who represents Apex in his district. Stam was there about another issue on the discussion agenda which deals with buffers around the existing U.S. Army Corps of Engineers buffers around Jordan Lake.
These additional 400-foot buffers prevent development on that land and some, such as the woman Stam spoke on behalf of, bought land there not knowing they could build there. This issue also came before Town Council at a Thursday, April 20, 2016 meeting where councilmembers were receptive to change.
Now, the Chatham County Board of Commissioners favors getting rid of this 400-foot additional buffer but both Chatham County and Cary have to approve it, which the Town Council did unanimously.
"If Chatham County finds it's superfluous, I don't see why we need to go along with it too," said Councilmember Jennifer Robinson.
The Planning and Zoning Board voted 5-2 in favor of removing the buffers, with the two opposing votes saying the extra buffers must have been included for a reason and concerns that Cary already approves and develops too much as it is.
Other Actions
No other items on the agenda saw comments from the public and the town approved a number of rezonings and annexations, including the annexation of land on Winding Pine Trail to build a new middle school.
Speaking of schools, the Cary Town Council also approved a sublease agreement to create a private "soccer school" at WakeMed Soccer Park for students with extreme focus on soccer practice to also get an education. These are rare in the United States and it would be unique in the area.
Doug McRainey, director of Parks, Recreation and Cultural Resources, said this would be an experiment and the sublease would end after 10 months to assess how it is going.
Town Council also discussed a possible high-density residential neighborhood near WakeMed Soccer Park and referred it to the Planning and Zoning Board and voted to look into creating landmark status for the Cary Arts Center, the Jones House on Academy Street and the Nathaniel Jones Cemetery on Tolliver Court.
Public Comments
Additional public comments unrelated to the proposed gas station and the Jordan Lake buffers were one resident who brought up how there have been multiple "100 Year Floods" since 2000, attributing it to overdevelopment and poor stormwater requirements in Cary. The resident also said Cary should have to pay for road repairs because of their stormwater requirements leading to the problem.
One other resident spoke to apologize for her previous letters worrying the new Downtown Cary library would have an "ugly" look.  She said she has been to work sessions on the public art for the library and thanked Town Council and town staff for making sure the new library will look nice.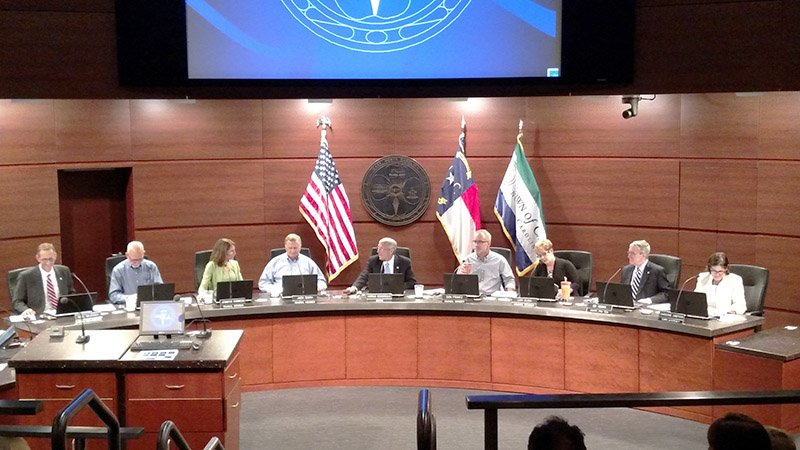 ---
Story by Michael Papich. Photos by Michael Papich and GoogleMaps.
https://carycitizenarchive.com/wp-content/uploads/2016/07/Town-Council-July25-Featured.jpg
450
800
Michael Papich
https://carycitizenarchive.com/wp-content/uploads/2020/03/cc-archive-logo-450-v3.png
Michael Papich
2016-07-26 10:07:57
2016-07-27 09:04:12
Cary Town Council: 7/25/16