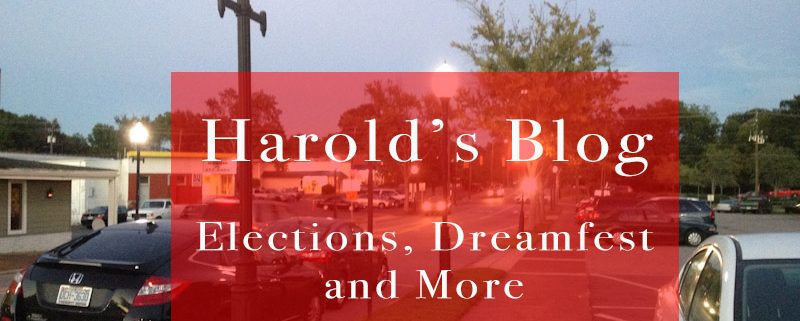 Cary, NC – This week was a little slower than normal.
Monday – Mayors Meetings
Monday I met with the town manager and deputy town manager. We talked about a few items including the hotel/meal tax and working relationships with other governing agencies. We spent a significant amount of time talking about council to staff and council to council relationships. I continue to be more and more impressed with our new town manager as he continues to acclimate himself to Cary.
Monday night I met with the Wake County Mayors Association. Eleven of twelve mayors were in attendance. Only the Rolesville mayor was absent. Each mayor spent time talking about significant events going on in their municipalities. There was also a little discussion about applications for the $3 million in hotel/meal tax money that is being reconsidered for other projects by the county. It is important to know that the decision makers for this money are made up of county commissioners and Raleigh council members even though Cary and Morrisville make up about 40% of the revenue collected. That needs to change.
Tuesday – Leadership Qualities
Tuesday I did an interview with someone in a leadership class. We talked about how I got involved in politics, leadership qualities, and my style of leadership. The interview lasted about 20 minutes.  In case you are wondering about my style of leadership, here are some of the things that I think are important:
Make sure all parties are heard.
Give credit before taking credit.
Always be respectful and work hard to gain respect from others.
Work to bring the most out of each individual regardless of how their philosophies compare to yours.
Keep processes informal as much as possible to help people feel relaxed and positive.
Work to make sure everyone focused.
Work to reduce repetition.
Try to destroy any inkling of majorities and minorities.
Help all of us to be the best they can be.
I am so very blessed to work with the best council in the state. My job is easy compared to many mayors.
Wednesday – Dreamfest
Wednesday I attended an executive board meeting of the Capital Area Metropolitan Planning Organization. On item presented is called Ramp Metering which is a new idea for the the area. Contrary to the title it is not about tolls but instead about placing traffic signals on approach ramps to highways. NCDOT did a study of this and determined that there were 21 sites in this area that would benefit from ramp signals. They will start with a pilot of 4 entrances onto I540 at Falls of Neuse, Six Forks, Creedmore, and Leesville. Based on studies these should reduce overall travel time by more than 10% and reduce congestion on I540. If the pilot is successful we may see more of these installed closer to Cary.
Later Wednesday I met with the Dreamfest group that is planning the 2nd Annual Diversity Conference in Cary. The theme for this year: Created equal: Why the imbalance.
Featured guests will include Rachael Dolezal who is an American civil rights activist and former Africana studies instructor. She was president of the National Association for the Advancement of Colored People (NAACP) chapter in Spokane, Washington, from 2014 until June 15, 2015, when she resigned following allegations that she had lied about her racial identity and other aspects of her biography. In addition, Royce Mann will be attending. He is the 14 year old that had the poem "White boy privilege" go viral. The 2017 Dreamfest promises to even be bigger and better than last year's. I can't wait.
Thursday – Wake Board of Elections
Thursday I joined members from Sister Cities at a dinner hosting a delegation from Le Touquet, France. There were five members in the delegation and we had a wonderful time talking about experiences and travels. My wife and I plan to visit our sister city next April (paid for by us). It is always an honor and privilege to make new friends especially from our sister city.
In emails staff this week I was notified that the Wake County Board of Elections has decided not to include any municipal sites in their early voting being recommended to the state. They stated that they had already voted 2-1 on this recommendation before my letter arrived. To me, their decision seems to be in direct violation with the recent court order. As a result, I sent the following letter to the State Board of Elections:
North Carolina State Board of Elections

441 N. Harrington Street

Raleigh, NC 27603

Dear Board Members:

The Town of Cary fully supports hosting the extended early voting site at our Herbert C. Young Community Center. Our first statement of values is to serve our citizens, and facilitating the democratic process is a service that we cherish. Unfortunately, we did not pass along a similar letter of support to the Wake County Board of Elections before their decision was made.

It is with the strongest encouragement that I, on behalf of the entire Cary Town Council, request you to extend early voting sites to include our community center.

Best regards,

Harold Weinbrecht Jr.

Mayor
As it said in the letter it is important to facilitate the democratic process. I can only hope that all the parties involved put aside the politics and provide the service to our citizens that they deserve.
In other emails I received an announcement that the Morrisville Parkway section that has been closed for the grade separation project will have a ribbon cutting ceremony on August 26th. I am sure everyone will be glad once that ribbon is cut and the road is finally open.
Emails From Citizens
Emails from citizens this week include:
Concerns about RDU's development of Lake Crabtree Park
Opposition to the Carpenter Village rezoning proposal
A perceived notion that council votes to appease a few rather than make decisions for the greater good (ABSOLUTELY FALSE!)
A complaint about repairs of greenways and maintenance of medians (greenway repair appropriations have been approved and some medians are maintained by HOAs)
Opposition to the Holly Springs Road rezoning proposal
A complaint about construction vehicles parking on private property
Next week will be a busy one and an important one as Cary celebrates the 40th anniversary of Lazy Daze (it will be the 39th Lazy Daze since one was cancelled a few years ago). This Lazy Daze will last 2 days which is also a first. Other activities include a work session to appoint Board and Commission members, to continue finalizing the Eastern Gateway of the Imagine Cary Planning process, and to begin planning the council-staff retreat for next winter.
Get In Touch
Well, that is all for this week. My next post will be on Sunday, August 28th.  Although I have Facebook and Twitter accounts those are not the best means of communications with me. Please send all Town of Cary questions or comments to Harold.Weinbrecht@townofcary.org and email personal comments to augustanat@mindspring.com.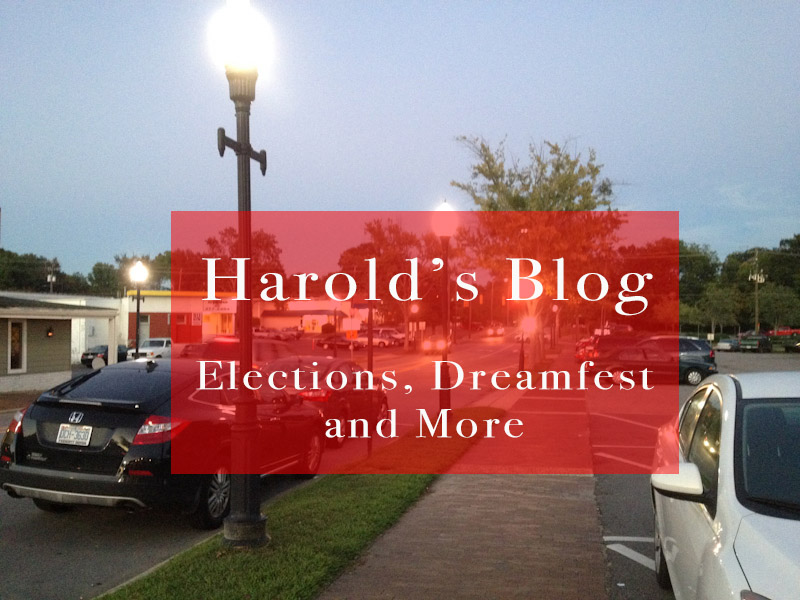 ---
From the blog of Cary Mayor Harold Weinbrecht. Photos courtesy of Harold Weinbrecht and Hal Goodtree.
https://carycitizenarchive.com/wp-content/uploads/2016/08/HaroldsBlog-Aug22-Featured.jpg
600
800
Harold Weinbrecht
https://carycitizenarchive.com/wp-content/uploads/2020/03/cc-archive-logo-450-v3.png
Harold Weinbrecht
2016-08-22 09:30:19
2016-08-31 14:54:22
Harold's Blog: Town Elections, Dreamfest and More