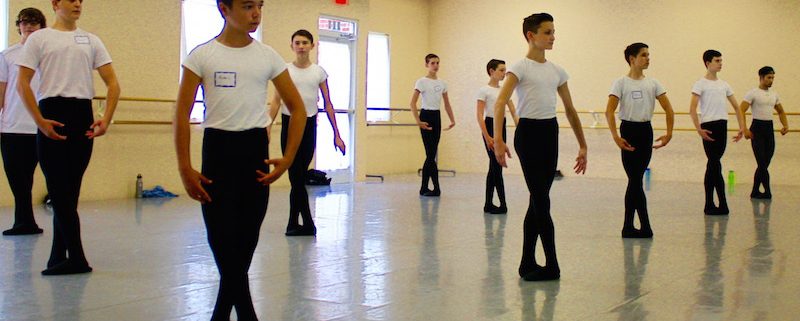 Cary, NC – In America, it is hard to find many ballet schools that teach boys, or if they do, they might be one boy in a class full of little girls in pink leotards. A school here in Cary is trying to change that.
Six Years of High Level Students
Cary's International Ballet Academy (IBA) has had high level male dancers since they began more than six years ago. In fact, when they opened several students moved to Cary specifically to train at the school, directed by Servy Gallardo and Rossana Gahagan. Since then, the school has won numerous awards at The Youth America Grand Prix and the school has sent several on to professional and pre-professional academies to continue their dance training across the United States.
Christina Fanney, the academy's administrative director, is passionate about bringing more boys to dance and trying to eliminate the stigma that seems to exist here in America about male dancers – a stigma that is not seen in other countries around the world. Last year Christina met Kim Frenette, another dance parent and mother of a male dancer who felt the same way. Kim and Christina's passion led first to a weekend workshop in 2015 and then a full week-long camp attended by 30 students at the school this past week.
We spoke with the pair during the week of the Boys Ballet Summer Intensive, or BBSI for short.
Eliminate the Stigma
Kim told CaryCitizen, "The idea came to me a very long time ago when Patrick was a little boy and he was interested in ballet and he was the only boy in the class. It kind of became my life's mission to find a way to create an environment where boys felt like taking ballet class was normal, because it's only in the United States where it's not."
She continued, "When we lived in California, the owner of the studio and Patrick's dad created a boys-only workshop in about 2007 or 2008. That was our first attempt at putting something like this together. There was rhythm and drumming, contemporary dance and ballet. That's kind of where the idea came from."
A New Start in Cary
Later, as her children got very serious about ballet, the family moved to North Carolina. They had to start over and lost momentum.
"When I first met Christina, Patrick had just gone to New York to go to SAB, and my daughter Emma was training locally and was injured so she was coming to IBA to rehab," Kim said. "She eventually became an instructor, and with IBA's support, ended up as a trainee in Orlando. So all of the sudden I had some time on my hands."
She and Christina came up with idea for a project: a "Boys Only Workshop." Twenty-two boys showed up for three day program. In twenty four hours, they had filled the class with primarily local boy dancers. This demonstrated that there was a genuine interest in the area. The workshop was taught by her son Patrick and IBA alum Preston Chamblee, along with Artistic director Servy Guiardo who oversaw the whole weekend.
Let's Go Big
Afterwards, Kim and Christina decided they wished to build on this success.
"Let's go big," Kim said.
Her son Patrick, now dancing at Corps de American Ballet Theater in New York City, really wanted to be involved and make it a real summer program during his Summer home in North Carolina. They began to compile a list of male teachers who would teach and be role models, since the dance world is overwhelmingly female.
"We wanted leadership; someone who'd been in the business a long time, someone that we trust, that we know has a proven record of producing dancers in the professional world," Kim added.
They secured Peter Stark, Associate Director for Boston Ballet II, and Olivier Munoz, principal faculty at Orlando Ballet. Once the staff was in place, a week was chosen (Friday, August 8 to Wednesday, 13, 2016) and a website was built and Facebook page was launched to promote and secure student registrations.
The pair stressed that the program was "all-inclusive," meaning that all skill levels were included. The boys did not audition to be admitted but were evaluated as to which of three class levels they would fit. Students ranged in age from 8-19 and were grouped by ability. The last class of each day was a partnering class with a ratio of one-to-one male dancers partnered with female dancers of similar age and ability, capping the number of female students who could attend to match the male dancers.
30 Dancers
They had no trouble attracting more than thirty dancers to the week-long program, many coming from hundreds of miles away. They also attracted the attention of documentary filmmaker Scott Gormley who is shooting a movie titled Danseur which looks into the world of male dancers and the stereotypes that exist. He shot film of classes and interviewed students, which he has done at schools in New York and around the country. He had heard of this All-Boys experience and was eager to film it. The film will be shown for the first time at NU Arts Production in February 2018.
They are already planning their dates for a BBSI (Boys Ballet Summer Intensive) for next year, to ensure that their teachers will be available.
---
Story by Lindsey Chester. Photos courtesy of International Ballet Academy.
https://carycitizenarchive.com/wp-content/uploads/2016/08/boys-.jpg
378
800
Lindsey Chester
https://carycitizenarchive.com/wp-content/uploads/2020/03/cc-archive-logo-450-v3.png
Lindsey Chester
2016-08-24 09:29:44
2016-08-25 14:48:10
Cary Dance School Holds Special Boys Workshop