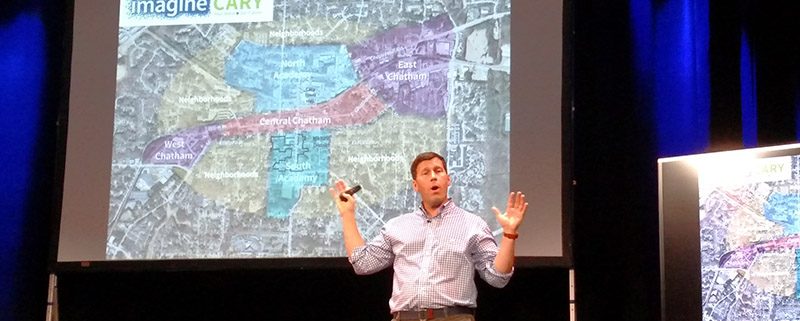 Cary, NC – Downtown Cary has been on the cusp of big changes for a few years now and lots of people want more information. So to help, Cary's downtown development manager Ted Boyd held an open meeting to inform residents in one of his signature Ted Talks.
The Tipping Point
While Boyd's job necessitates a lot of attention on downtown, he predicated the Monday, August 29, 2016 talk on community interest in what is going on in the center of Cary.
"I have a lot of people saying there's a lot of momentum," Boyd said.
Boyd compared the sudden uptick in activity downtown to the way a Tweet can go viral and referenced Malcolm Gladwell's theory of why certain things take off in his book "Tipping Point."
"We're not at the tipping point yet but we're getting there," Boyd said.
The "Tipping Point" theory Boyd used looks at three factors for popularity: context, its interest or "stickiness" and the input of selective tastemakers. In terms of context, Boyd said that downtown had been downplayed for a while following World War II.
"In the 70s, Cary started to grow out," he said, pointing to the growth of the Research Triangle Park. "All of our focus started going out of downtown."
Now, new possibilities such as Imagine Cary and mass transit are bringing more attention to downtown. It's a big change, considering Cary didn't have a downtown development manager until a few years ago.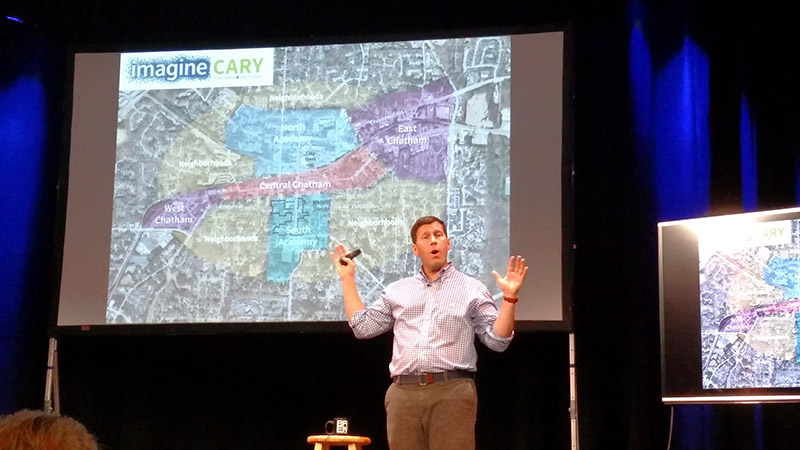 For "stickiness," Boyd talked about having important places that attract people downtown. There's already the Cary Arts Center, the Cary Theater and the restaurants and bars but Boyd said the coming downtown park and the new district library as future attractions.
"The library brings lots of people downtown. It's a community anchor," he said.
Boyd also said the new La Farm production bakery downtown will help both the region in general and the Chatham Street/Harrison Avenue intersection specifically.
"We want to be able to attract more of the food world," he said.
And as for selective tastemakers, Boyd said the Cary Town Council, the Heart of Cary and the Cary Chamber of Commerce have helped to shape what downtown will look like to bolster the area.
Specific Developments
While Boyd's talk explained the history and the cause-and-effect of downtown's developments, for the people packed into the Cary Theater to hear him, they were more interested in specifics: what is coming and when.
One thing that got particular interest was the new district library that is coming. It will be further down on Academy Street and while the plan is currently for it to open in 2018, its progress is connected to the work being done on the street now. As for the current Cary Community Library, Boyd said the town owns both its land and the land behind it – three acres in total.
"It will be redeveloped," he said. "It's a unique piece of land." As for what will be there, there have yet to be community meetings to talk about the land's future.
Another area people were curious about is the park that is coming to the intersection of Academy Street and Dry Avenue. Boyd said the plan is for it to be completed between Autumn and December, with full completion by Spring 2017. He also said there is the possibility to have some kind of playground there in its second phase.
Not only is La Farm coming to the Chatham/Harrison intersection but diagonal from the production bakery is a mixed-use development of office space, apartments and a parking deck.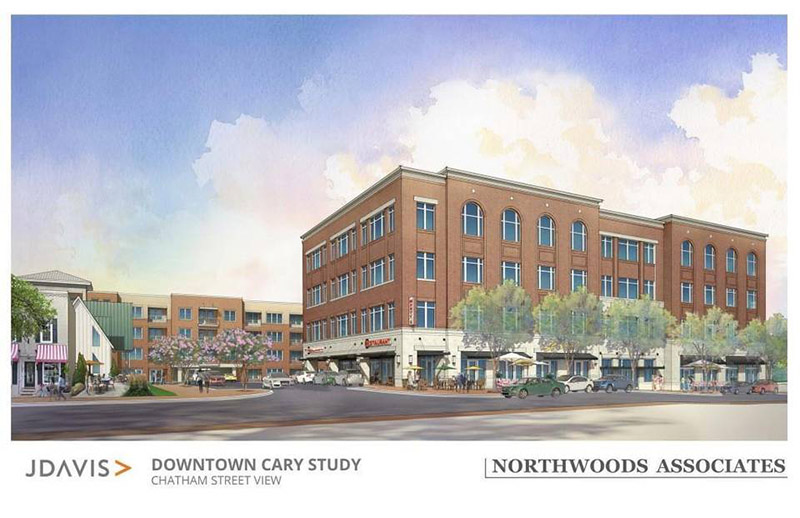 "Town Council has given us enough direction to go ahead with it," he said. "But we still need to develop our plan and give it to Council."
With the coming developments, part of the land where the Ivey-Ellington House is located will be used and residents wanted to know about the plans for the house. Boyd said it will either remain exactly where it is, be reoriented to fit in better or be moved further down Academy Street.
"It will be preserved no matter what," he said. "It will not be demolished."
Boyd also responded to community members interested in meeting the new Town Manager Sean Stegall, telling them Stegall will be at the Thursday, September 1, 2016 Heart of Cary meeting at the Mayton Inn.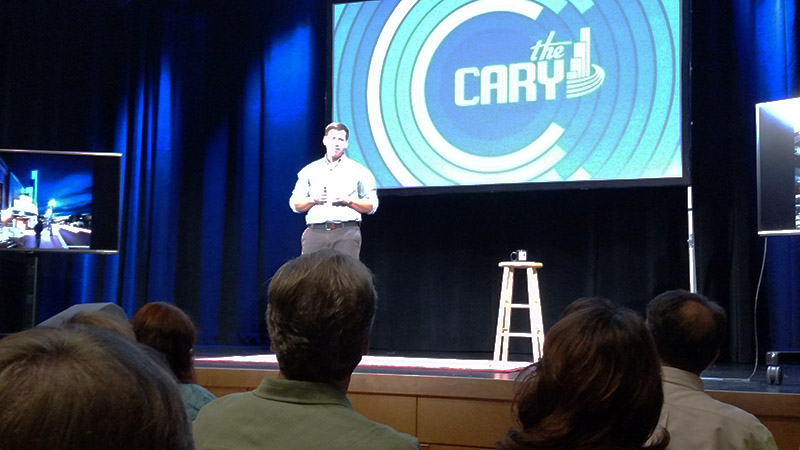 ---
Story by Michael Papich. Photos by Michael Papich and Northwoods Associates.
https://carycitizenarchive.com/wp-content/uploads/2016/08/TedBoydDowntown1.jpg
450
800
Michael Papich
https://carycitizenarchive.com/wp-content/uploads/2020/03/cc-archive-logo-450-v3.png
Michael Papich
2016-08-30 10:28:10
2016-08-30 15:02:01
Community Gathers At Downtown Update Session