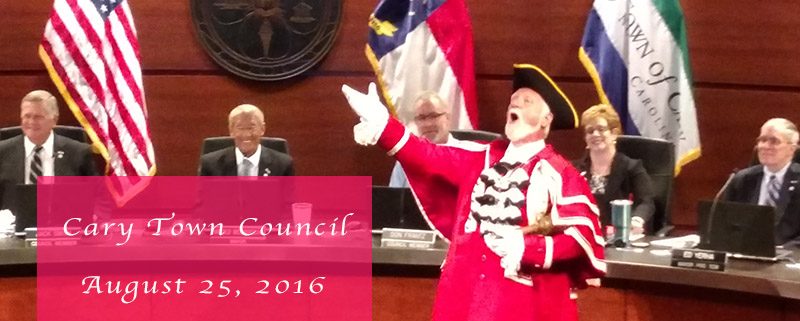 Cary, NC – The Cary Town Council had a stacked agenda at their last regular session, with not only several discussion items but a robust greeting from one of our Sister Cities and a send-off for one of Cary's longest serving employees.
Discussion Items
One of the top items on the Thursday, August 25, 2016 discussion agenda was an amendment to the Carpenter Village development. More residents appeared to be in favor of the plan since it last came before Town Council but a change to part of the commercial section brought up some concerns.
The amendment was to get rid of language in the plan that designated 65,000 square feet for a "retirement center" and instead allow for townhomes and residential units on top of commercial units. This passed the Planning and Zoning Board 5-2, with the two dissenters concerned about traffic and the fact that the development was already deviating from what was proposed.
Two people gave comments at Public Speaks Out, including one of the developers, pushing for the change while another said she approves of the development in general but wants the retail laid out better and said the plan is already changing to put parking lots where they previously were not designated.
Councilmembers said they felt this change could be done responsibly and voted it through unanimously, although some such as Councilmember At-Large Lori Bush said they were weary about more changes down the line.
One of the other most-talked-about issues before the Town Council was the process of changing Wake County's occupancy tax. Cary has alleged for years that it generates a disproportionate amount of revenue compared to what it gets back from the county.
"Cary is a huge, big, unwilling donor and we're being used," said Cary Mayor Harold Weinbrecht.
Wake County is currently in "Phase 2" of reviewing its financial model and this is the only time Cary will be able to get the county to change its policy until 2020. Weinbrecht said he would prefer the county agree to give Cary its "fair share" but said if they have to change the law, they will change the law.
Other councilmembers shared their frustration, with Councilmember Don Frantz saying he had little confidence in Wake County's willingness to change and Councilmember Jennifer Robinson saying in past efforts to change the law, state representative Phil "Skip" Stam said directly that if Cary keeps pushing the issue, the town would be cut out of the tax entirely.
Town Council voted six to one for town staff to continue working on the issue, with Frantz as the lone no vote.
This was also the last presentation to Town Council by Assistant Town Manager Tim Bailey, who is retiring.
One other big discussion item was a vote to lease 29 acres of town property to be a farm. There are several farmers who are going to be working the land, located on Morrisville Carpenter Road and Louis Stephens Drive.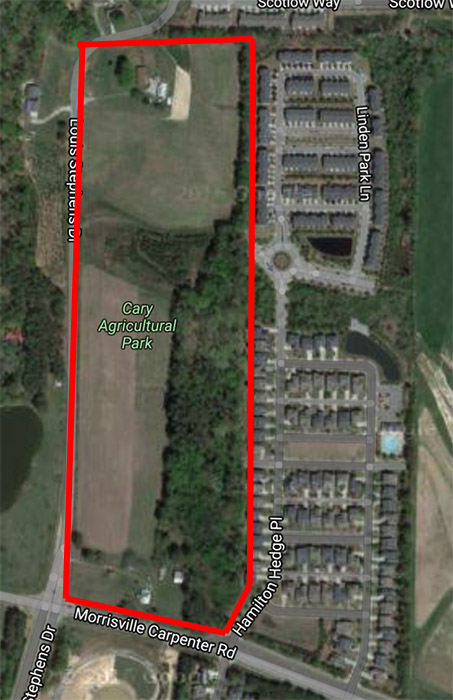 "I can't think of a better win-win-win-win," said Mayor Pro Tem Ed Yerha.
Other items included approving the installation of two sidewalks downtown: along South Walker Street and North Harrison Avenue.
Public Hearings
There were three public hearings at the Thursday, August 25, 2016 meeting, each of which brought mixed opinions from those gathered. The first item was a proposed rezoning on Carpenter Upchurch Road to add new homes near Green Hope High School.
This is very close to land opened by the Upchurch family for farming and one member of the family spoke out against the rezoning. While she said she and her family have supported other changes, she did not think it would be safe to have residences so close to an active farm and brought up fears of noise and congestion. Another nearby resident also said she had concerns about traffic. The developer of the homes also spoke and said they are working to accomodate the farm, given the home's proximity.
Another public hearing dealt with a proposed amendment to the planned development district near Highcroft Village to allow for a day care/pre-school. The developer said this is a growing area with new homes so there is a need for this service.
One issue that came up was the roads near this area that could be further reduced by a new property.
"I don't think this is a place where we need to be reducing the buffer," Robinson said, adding that she would need to see what the roads would look like when this comes back from the Planning and Zoning Board.
Both of these public hearing items had yet to go to the P&Z Board but Town Council did vote on one item in the Public Hearing: a de-dedication of part of the historic Guess-White-Ogle House. The owners of the house wanted the back 0.19 acres de-dedicated, which would open it up to future development.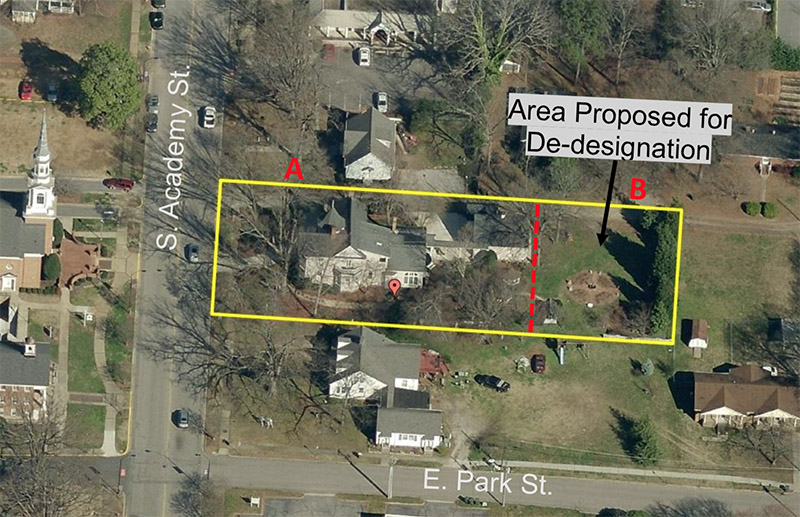 While, as Town Attorney Christine Simpson said, people could not comment on what may come to the de-dedicated area because this may go before a quasi-judicial meeting, several speakers did just that and Weinbrecht said they would have to make a statement acknowledging that at the quasi-judicial meeting.
Speakers were all in favor of the de-dedication except for the vice-chair of Cary's Historic Preservation Commission. The commission voted 4-2 against it and the vice-chair said it would impair the integrity of the site and that 0.19 acres was the original location of the Guess-White-Ogle House. He also said it would set a bad precedent for other historic sites.
Yerha, considered an authority on Cary history, disagreed and said it would not affect the historic integrity because the 0.19 acres were not historically significant and said he wanted to respect the home owner's wishes. Town Council voted unanimously for de-dedication of that section of the property.
Big Greeting
The Town Council meeting began a little differently than usual as John Webster of Markham, Ontario, Canada came to give his declaration. Webster has been Cary's "Town Crier" for more than a decade and this was particularly special because it was the anniversary of Cary and Markham becoming Sister Cities.
Webster presented the town with a framed congratulation as well as some art by residents of British Columbia and the Northwest Territories in Canada. The Markham Town Band also played with the Cary Town Band later that day and they will be performing together at this year's Lazy Daze.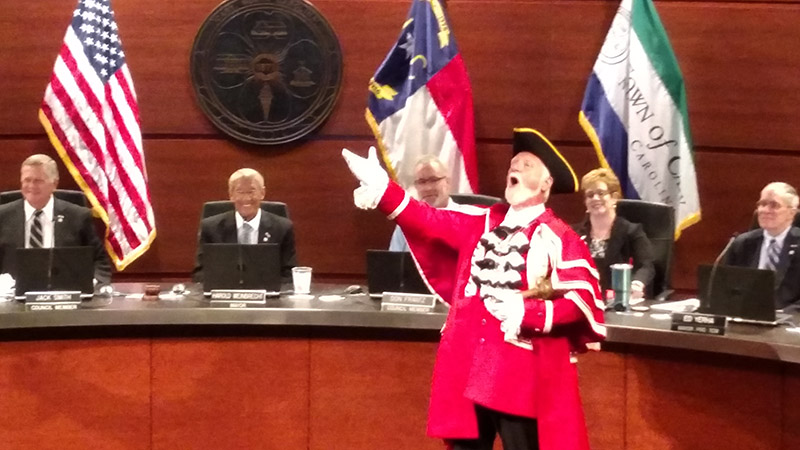 ---
Story by Michael Papich. Photos by Michael Papich, Google Maps and the Town of Cary.
https://carycitizenarchive.com/wp-content/uploads/2016/08/TownCouncil-Aug25-Featured.jpg
450
800
Michael Papich
https://carycitizenarchive.com/wp-content/uploads/2020/03/cc-archive-logo-450-v3.png
Michael Papich
2016-08-30 09:29:19
2016-08-30 09:30:56
Cary Town Council: 8/25/16