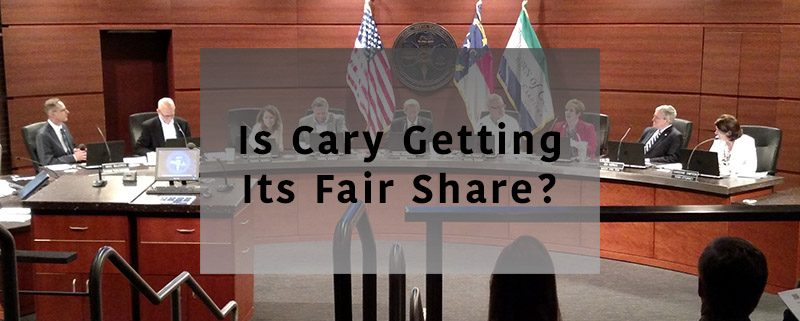 Cary, NC – As Wake County works on its proposed financial models for the coming years, officials from the Town of Cary have brought up issues with the way certain tax revenue is allocated to the cities and towns in Wake and Cary in particular.
Fair Representation
In Wake County, occupancy and prepared meal taxes – taxes on hotels/motels and restaurants – go to fund a variety of tourism-related venues: PNC Arena, the Raleigh Convention Center, Memorial Auditorium and more.
"The law goes onto say other projects for sports in the community," said Tim Bailey, Cary's assistant town manager. "WakeMed soccer park got $9 million in funding through the tax and Cary received a commitment for the tennis center, USA Baseball and others."
But in two letters sent ahead of the Thursday, May 26, 2016 meeting of county and city leaders, Bailey and Cary Mayor Harold Weinbrecht pointed out their issues with the way the taxes are distributed. The occupancy tax revenue is given out in a few different ways: first, there are initial payments all around Wake County, with 5 percent of that going to Cary.
"That amounts to about $1 million a year," Bailey said. "Not counting what the food and beverage tax produces."
However, Cary generates close to 20 percent of Wake's hotel and meals tax revenue, according to town council. Similarly, Morrisville also pays a large sum into that pool of tax revenue but sees even less of it come back than Cary.
After all those initial payments count out, 85 percent of the remaining funds go to debt payments for the convention center, with 15 percent going to the rest of the municipalities. But what Bailey and other Cary leaders argue is not only is the convention center settled but revenues are also set to double in coming years, both of which impel a new financial model.
"While we agree that the dedication of the remaining 85 percent of the available funds to support the Convention Center was needed to fund and start the new facility, now that this has been accomplished, we believe a new model needs to be investigated for the future," Weinbrecht said in a letter to the Wake County Commission Chair James West and Raleigh Mayor Nancy McFarlane.
Weinbrecht proposed a new plan that looks at needs across the county and divvies up the remaining funds in a "fair, balanced, and holistic plan."
The Beginning of a Long Discussion
The question of whether Wake will move away from the 85/15 divide came up at the Wake County meeting as officials started work on the draft, or "straw man," proposal for Wake's financial model. At the meeting, proposals to move more funds into the "85 percent" section were discussed, leading to comments from Cary Councilmember Ken George.
"Why are we married to the 85/15 spit when the 85 is growing and other things are going unfunded?" George said.
George brought up discrepancies in sports facilities being funded around the county, with money going to maintain the Mudcats baseball facilities but not to places such as the WakeMed soccer park.
County officials said the 85/15 rule, as well as anything currently in the proposed financial model, will be up for review in Phase II of the straw man proposal in the Summer. But at their regular meeting later that Thursday, Cary's Town Council made it clear how seriously they are taking the allocation of the tax revenue this time around.
"I am losing patience. We don't have a voice and we're funding all of Raleigh's projects," Weinbrecht said, adding that if the county does not change it, he would go to the state legislature.
Every member of town council expressed their frustration, pointing out how the decision-making on the tax allocation is only done by Raleigh city council members and the Wake County commissioners. George pointed out how those funds are even being used to build a new soccer park in Raleigh as opposed to repairs and improvements for WakeMed.
"They're creating competition with our money," George said.
Also as part of the Wake County meeting, Bailey sent a letter (Page 1, Page 2) to the county manager's office to not only remind everyone of Weinbrecht's proposed changes but also to ask for funds for Cary's facilities.
"We'll need to replace the video board for WakeMed," Bailey said. "We know it will need to be replaced soon and it's better to do it while we still have the support structure in place."
Bailey also asked for funds to replace and repair the courts at the Cary Tennis Park, among other things.
Denise Foreman, assistant to the Wake County Manager, said this proposal will also be looked at in Phase II.
"We haven't had a chance to dive in and see what's behind it," Foreman said.
Once Phase II is complete, the next review of Wake's financial model won't be until 2020.
---
Story by Michael Papich. Photos by Michael Papich, Hal Goodtree and the Raleigh Convention Center.
https://carycitizenarchive.com/wp-content/uploads/2016/06/OccupancyFeature.jpg
450
800
Michael Papich
https://carycitizenarchive.com/wp-content/uploads/2020/03/cc-archive-logo-450-v3.png
Michael Papich
2016-06-02 09:41:57
2016-06-02 09:41:57
Cary Seeks Changes to Wake County Taxes