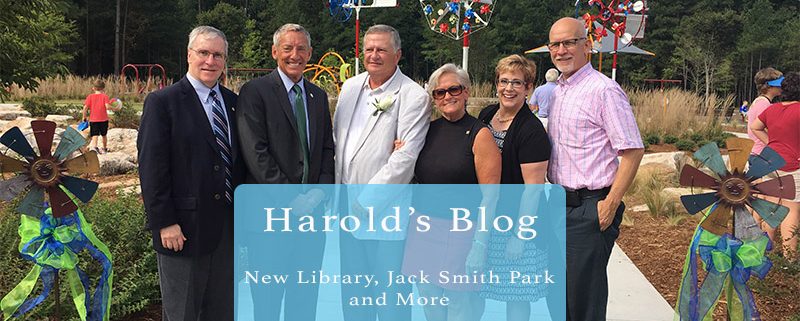 Cary, NC – This week fall began in earnest as events and meetings became more frequent.
Monday – Labor Day
Monday was Labor Day and I spent that like many Americans, laboring in my yard.
Tuesday – Economic Update
Tuesday started with contacting all council members since the week included a regularly scheduled council meeting. Since the agenda was very short there were no questions or concerns from council. Later I met with staff to go over the agenda and prepare for the meeting later in the week.
Afterwards I met with management, legal, and public information to go over several items. Included in our discussion were the quasi-judicial meeting process, the town's sign ordinance, and the upcoming work session on the downtown library and parking deck design.
My final meeting Tuesday was with the Economic Development Committee. The committee first discussed the potential economic impact of the Imagine Cary's Eastern Gateway plan. It was expressed that if office should be the focus and if not we are missing one of the few opportunities we have left for undeveloped land. Some of the points made in the quarterly report included:
Cary CoFounders lab in downtown has invested in 11 startups with $2.5 million.
La Farm Bakery will be moving their production operation along with a café to downtown Cary at the corner of Chatham and Harrison. It will keep its Preston location. Production will be relocated by the end of the year and the small café is projected to open next spring.
A lot of interest in bringing jobs to downtown including one needing a 100,000 square foot building.
In July Relias Learning announced 450 jobs and $4.5 million in new investment.
Recent accolades include:

#11 best city for online startups (Highspeedinternet.com – August 2016)
#8 best place to live in North Carolina (Smart Travel – August 2016)
#10 most educated mid-sized city in America (Mysidewalk.com – July 2016)
#13 safest city to raise a child (safewise.com – June 2016)

There are about 3715 jobs in the pipeline with about $287 million in new investment mostly in IT
Cary's class A office space vacancy rate is about 8%
Cary's unemployment rate is about 3.6%, Wake County is 4.3%, North Carolina is 5%, and the US is 5.1%
Our meeting concluded in less than an hour.
Wednesday – Town Manager
Wednesday I met with the public information officer, the town clerk, and the town manager to plan our presentation to the joint meeting of Cary's Boards and Commissions. I plan to talk about current proposal trends, the Eastern Gateway, and give a fiber installation update.
Next I met with the town manager. We discussed the Hotel Occupancy and Meal tax, Information distribution between staff and council, and his new weekly update. In his new update he wants the council and public to know what he is doing. What a fantastic idea!
Thursday – Council Meetings
Thursday the council held its first regularly scheduled meeting of the month. There were 8 consent items, no public hearings, and 3 discussion items. Council approved a request from staff to apply for federal funding for vehicle charging stations. Council also gave staff direction to investigate planting medians that are less than 6 feet which would result in concrete today. On a tabled quasi-judicial matter, council approved the Amberly Glen subdivision after the developer tripled gathering spaces, added round-a-bouts to calm traffic and reduced the number of units. After a closed session the council adjourned and began a work session.
At the work session the council approved the final design for the downtown library and parking structure. Council agreed on artwork covering the parking deck's north wall and the glass enclosing the stairwell. In addition, council agreed to providing restrooms under the library and to create a "dark shell" for future use. This was/is an expensive endeavor for council. The parking deck with its art work comes out to about $25 a parking space which is high. While I am disappointed in the high cost of everything I do believe the library and the parking structure is of the highest quality. And the artwork on the north wall will be an attraction in the core of our downtown.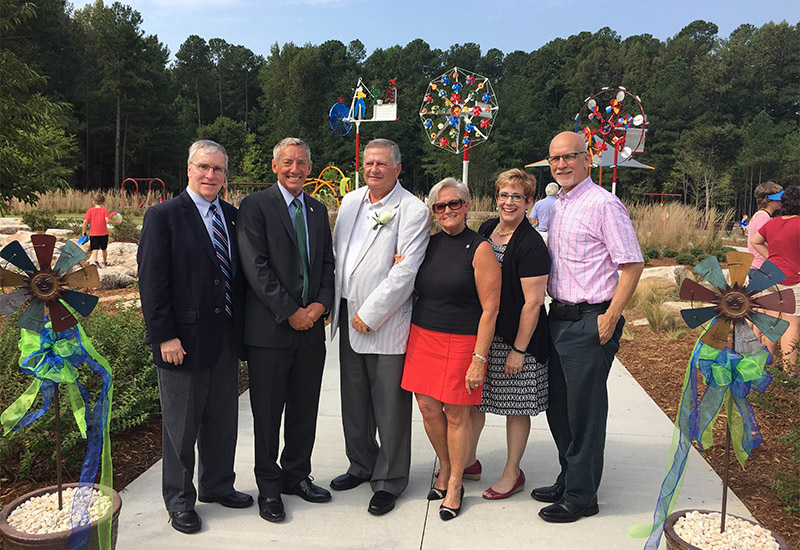 Saturday – Jack Smith Park
Saturday I was honored to speak at the dedication of Jack Smith Park. Here are some excerpts from my comments:
"It's wonderful that so many of our friends and neighbors have joined us. I see members of the Bartley family, whose farm once stood where our 50-acre Park now resides. We also have council members Bush, Frantz, George, Smith and Yerha joining us, Cary's former council member Representative Gale Adcock and individuals from JM Thompson the general contractor for the park. Thank you all for being here today.

…

As the longest serving Council member, Jack has preserved and protected the Town of Cary, always putting the community and our citizens first. His public service is nothing short of a sacrifice, and it is without hesitation that I can say confidently that our community is better because of Jack's service."
I was at the event about two hours.
Sunday – 9/11 Day of Service
Sunday I participated in the town's third 9/11 Day of Service. I, along with volunteers and firefighters, built raised beds for vegetables at Fire Station #3 on Kildaire Farm Road. It is the least we can do to recognize the brave men and women who are dedicated and committed to making sure our community is safe. We completed the project in about an hour and a half.
Emails From Staff
Email from staff this week included the development and construction activity report. Here are some of the notable items from that report:
In August the average square footage for a single family home as 3,560 as compared to 3,911 in 2012.
Certificates of Occupancy were issued for 88 single family homes, 331 multi-family units, and roughly 200,000 square feet of non-residential.
Cary had 16% of the county's single family permits which was third behind Raleigh and Apex.
Six new development plans were submitted including 84,336 square feet of commercial and 105,000 square feet of self-storage.
Sixteen development plans were approved for 236 single family dwellings, 59 townhomes, 18 condos, an elementary school (Horton Creek), and Homewood Suites at Crossroads.
Emails from staff also included the town manager's 1st weekly update. The goals for his updates are:
To increase ongoing communication with the Council for those items that fall outside the formal Council meeting process;
To provide the Council with project updates, status reports, and other miscellaneous information in a manner designed to reduce the number of individual emails you receive;
To consolidate in one section information that has been provided to individual council members in order that other members may receive the same.
Here are excerpts from his update:
Funding Request for Hotel Occupancy

I'm happy to report that the Town's request for Hotel Occupancy funding from Wake County has been chosen as the highest ranked project and will be presented to Wake County Commissioners for their approval on Monday, September 12. Wake County has shared their presentation and full packet of information that will be shared with the Board; it is available on their website.

The Town's project is for transitioning fields to artificial turf, adding public Wi-Fi at WakeMed Soccer Park, and adding spectator seating, lighting and court resurfacing at Cary Tennis Park.

Meeting Regional Partners

Per Council's direction, I have made a concerted effort to establish relationships with our neighboring communities.  To that end, I have had meetings this week with Ruffin Hall, Raleigh City Manager, Jim Hartmann, Wake County Manager and Dennis Edwards of the Greater Raleigh Convention and Visitor's Bureau. They were productive conversations focused on areas of mutual interest and opportunities to collaborate in the future.

One focus area was the Town's share of the occupancy tax and the inequities contained therein.  All three gentleman who play a critical role in this decision making process understood our position and made suggestions on how Cary may better position itself in the future. The Town's funding request project is an example of this increased level of collaboration.

I've also had the pleasure of presenting at the Heart of Cary's monthly meeting as well as meeting with The Friends of Page-Walker.

Meeting with State Property Office

On Friday, September 2, Town staff met with representatives from the State Property Office and the Attorney General's Office to discuss the soccer school at WakeMed Soccer Park and general questions regarding the lease and sublease. While it seems the school will be able to continue to operate for the remainder of the academic year, the meeting brought forward questions concerning the concept of what "recreation purposes" mean under the lease agreement. The Town will continue conversations with the State Property Office in hopes of crafting a new lease agreement.

Black Creek Bridge

Through a joint letter, Mike Hunter and Kyle Ward have formally requested that the Town of Cary assume the responsibility of rebuilding and permanently maintaining the Black Creek Bridge. This bridge is located near the lower end of Linton Banks Place on the Town's greenway system. It was recently damaged in July due to flooding. As a first step, I have asked staff to put together information about what this potential takeover would mean for the Town.

Greenway Repairs Underway

Several greenways have been closed for repair after the flooding and storms in July. You authorized funding last month ($630,000) for repairs, and staff has been working to secure repair contracts. This is where we stand:

Construction repair contracts have been signed for Black Creek and Hinshaw Greenways and work will begin in the coming weeks.
Green Hope School Greenway boardwalk temporary repairs have been made and it is now completely open.
The design contract was executed for the Bond Park Lake Trail repairs and design should be complete this fall.

Carpenter and Jack Smith Parks are OPEN.

Co-location of Trash and Recycle Containers

At the October 2015 priority work session, Council directed staff to explore further and implement the co-location of trash and recycle cans at high-use facilities, to be determined by staff.

Approved in the FY17 budget was $10,000 to begin the purchase of such containers. Upon further investigation, we applied for the "Away From Home" grant, issued by N.C. Division of Environmental Quality. The Town was awarded the maximum potential grant of $30,000. This grant is effective October 1, 2016.

With the addition of the grant, the Town will have $40,000 to order the containers in early October. We plan to have them placed in high-usage areas by year-end. A staff report will be forthcoming for Council to approve the receipt of these grant funds."
Emails From Citizens
Emails from citizens this week included:
Complaints about development on Morrisville-Carpenter Road.
A complaint that we should have spent money on Wake County's park on the RDU site rather than build a parking lot at the trailhead of Black Creek greenway.
Several invitations to attend and speak at events.
Next week my calendar is booked with the Cary Tennis Championships and events. I will be involved in the pro-am and the award ceremony. Other activities include the Chamber banquet, the Dragon Boat festival, Miracle League's 10th anniversary celebration, and the PRCR volunteer appreciation picnic.
Get In Touch
Well, that is all for this week. My next post will be on Sunday, September 18th.  Although I have Facebook and Twitter accounts those are not the best means of communications with me. Please send all Town of Cary questions or comments to Harold.Weinbrecht@townofcary.org and email personal comments to augustanat@mindspring.com.
---
From the blog of Cary Mayor Harold Weinbrecht. Photo courtesy of Harold Weinbrecht.
https://carycitizenarchive.com/wp-content/uploads/2016/09/Jack-Smith-Park-Dedication-1-Featured.jpg
550
800
Harold Weinbrecht
https://carycitizenarchive.com/wp-content/uploads/2020/03/cc-archive-logo-450-v3.png
Harold Weinbrecht
2016-09-12 09:22:19
2016-09-12 11:46:11
Harold's Blog: New Library, Jack Smith Park and More